Italy and Russia: Between Economic Cooperation and Mediterranean Problems
Publication: Eurasia Daily Monitor Volume: 14 Issue: 78
By: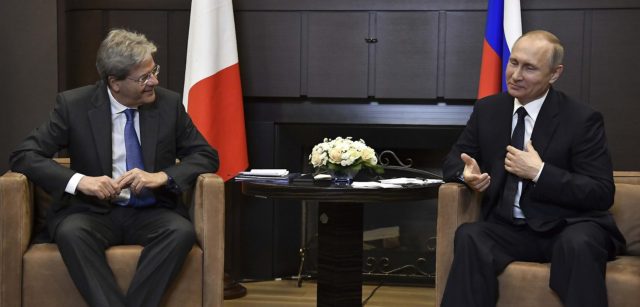 Italian Prime Minister Paolo Gentiloni met with Russian President Vladimir Putin, in Sochi, on May 17, a few days before the G7 summit, which was organized by Italy and held in Taormina, Sicily. The Trump-Gentiloni meeting focused on a number of pressing issues, from economic dossiers to regional and international crises. Although the discussion touched on several important political matters, economic concerns were at the top of the agenda (TASS, May 17), thus reinforcing the notion that bilateral economic relations have regained momentum. In the first two months of 2017, the economic turnover between the two countries rose by 30 percent, year on year. And during the Sochi meeting, Italy and Russia signed six new agreements, mostly related to the oil and natural gas sectors. Russian oil giant Rosneft signed a deal with Italian ENI to relaunch joint energy projects. In addition, Rosneft will boost its collaboration with energy-sector-component manufacturers Pietro Fiorentini and Tecnoclima to produce their technologies in Russia (Gazeta.ru, Milano Finanza, May 17). Finally, Italy and Russia signed an agreement to allow Russian engineers and technicians in the field of oil and gas to study and train at the Polytechnic University of Turin (AGI News, May 17).
Russia is keen to reduce its dependence on imports. Over the past few years, it has launched a number of projects to increase its domestic production capacities. This strategy of import-substitution has encountered a number of problems (see EDM, September 25, 2015) and come under criticism from external partners, namely the European Union. Nevertheless, Russia continues to move ahead with this economic policy. Italy, in a display of its classic pragmatism, has decided to grab this opportunity to launch projects to help boost Russian production capacities. Furthermore, Italy continues to eye Russia as a valuable market for its exports, but EU sanctions against Russia represent a burden for many Italian companies, especially in the energy sector. As such, since Rome cannot advocate for the removal of European sanctions tout court, Italy is trying to find new ways to expand its own economic ties with Russia (see EDM, April 18, 2016).
The economy was not the only topic of discussion in Sochi. The two leaders additionally spoke about strategic developments characterizing the Mediterranean region. Particularly following the eruption of the Arab Spring, Russia has strengthened its regional role as well as enhanced its military and naval presence in the Mediterranean basin (Pravda.ru, May 5, 2016). In recent years, Russia has also started playing a much more active role in the Maghrebi region (Jeune Afrique, March 17, 2017). The chaos of the civil war in Libya and the relative diplomatic disinterest displayed by the United States for the future of this North African country has created a geopolitical vacuum that Russia aims to exploit.
This growing Russian role is of particular importance to Rome, given the historical interests that Italy has in Libya—being its former colonial patron—and for more immediate geopolitical concerns, namely the migration crisis. In Libya, Italy remains possibly the most important external supporter of the United Nations–recognized Government of National Accord (GNA), led by Fayez al-Sarraj (Corriere della Sera, January 24). In the joint press conference with Gentiloni, in Sochi, Putin openly addressed Italian concerns of a potential disintegration of Libya, saying that "a divided Libya would not help the stability of the region" (La Stampa, May 18). These words were even more important if looked at in conjunction with Italy's ongoing diplomatic efforts to find a solution to the Libyan crisis. In April, Prime Minister Gentiloni traveled to Washington, where he sought to prompt much more significant support from the US on the Libyan dossier; but President Donald Trump's reaction was noticeably tepid. As such, Moscow seems keen to exploit this Italian policy goal and is presenting itself as a potential key player to helping find a solution on Libya. To this end, Russia has a number of assets. For instance, Moscow has worked to maintain dialogue with al-Sarraj, mostly through the Ministry of Foreign Affairs, but it also continues to back the rival center of power in Libya headed by Khalifa Haftar. Despite some concern in Italy about the role Russia is playing in Libya (Corriere della Sera, March 3) as well as anger at Moscow's subversive support for the Italian anti-establishment Five Stars Movement party (La Stampa, Nov 2, 2016; Formiche, Mar 9, 2017), many in Italian diplomatic circles nonetheless consider the growing Russian influence an opportunity to build dialogue with Haftar and his camp—especially since the latter's anti-Italian rhetoric has grown significantly in recent years (ANSAmed, January 26; Libya Observer, May 13). Italy had unilaterally tried to show willingness to cooperate with Haftar (Libya Herald, February 14), but Russian pressure on this Libyan leader may be much more effective to bring about a rapprochement of sorts. Russia is the only actor capable of delivering this for Italy, as Italian relations with Haftar's other major international supporters—Egypt and the United Arab Emirates—are limited.
This latest Italian-Russian top-level meeting confirms, once again, that Italy remains one of the EU countries more sensitive to Russian interests. Economic considerations have historically driven Italian policies vis-à-vis Russia, and the current situation is no different. Rome wants the EU to progressively reduce sanctions against Russia. In the meantime, however, it seeks to launch projects to help Russian companies develop their domestic production capacities, exporting Italian know-how and equipment. However, the growing Russian role in the Mediterranean, particularly in Libya, is turning Russia into a significant potential regional partner for Italy as well. Moscow, meanwhile, perceives Rome as a major diplomatic tool in its strategy to reduce EU pressure on the Russian economy. To strengthen these ties, Russia has thus shown willingness to address Italian concerns in the Mediterranean, particularly in Libya, in contrast to the more muted position of other external partners, not least the United States. Given these dynamics, Russia and Italy can be expected to maintain relatively close ties and continue to cooperate on a number of strategic political and economic issues—despite pressure from some other EU member states, mostly from Central and Eastern Europe, which have tried to weaken these relations.