PRESS RELEASE: Jamestown Welcomes New Board Members, Michael Carpenter, Scott Robins and Michael Vickers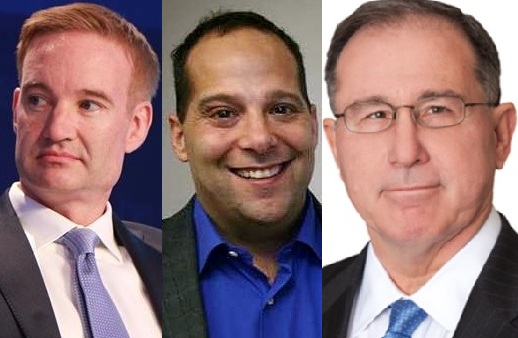 FOR IMMEDIATE RELEASE
Contact: Matthew Czekaj
pubs@jamestown.org
202.483.8888
The Jamestown Foundation is proud to announce the addition of three new members to its Board of Directors: former Deputy Assistant Secretary of Defense Michael Carpenter, Virtual Procurement Services CEO Scott Robins, as well as former Under Secretary of Defense for Intelligence Michael Vickers.
Jamestown President Glen E. Howard stated that the Foundation is excited about being able to add such diversity to the Board in the areas of national security and business. "Mike Vickers has had an exemplary career working in the US government in intelligence and security policy. He played a key role in forcing the Soviets out of Afghanistan during the Cold War and, after 9/11, had a major policy and planning role in the successful operation to take out Bin Laden. Michael Carpenter is someone who has served in the US State Department, Department of Defense and more importantly as an advisor on Eurasia to the Vice President of the United States. Scott Robins has years of experience in investment and business that will be of value to Jamestown in its efforts to reach the corporate world," Howard noted. "Jamestown is fortunate to add such persons to our Board," he added, "each of these individuals possesses a valuable skill set that can help Jamestown deepen its importance to the US policy community."
Board Chairman Willem de Vogel stated, "These new members have a long record of believing in the Jamestown Foundation mission. They bring new expertise and energy to help bolster our ability to continue to fulfill Jamestown's objective of providing valuable and unbiased information and analysis to policymakers."
Dr. Michael Carpenter is currently Senior Director of the Biden Center for Diplomacy and Global Engagement at the University of Pennsylvania. Dr. Carpenter is a former Deputy Assistant Secretary of Defense with responsibility for Russia, Ukraine, Eurasia, the Balkans and Conventional Arms Control. Prior to joining the Department of Defense, Dr. Carpenter served in the White House as a foreign policy advisor to Vice President Joe Biden and as Director for Russia at the National Security Council. Previously, he was a career Foreign Service Officer with the State Department, where he worked in a number of different positions, including Deputy Director of the Office of Russian Affairs, speechwriter to the Under Secretary of Political Affairs, and Advisor on the South Caucasus.  Dr. Carpenter also served abroad in the US Embassies in Poland, Slovenia and Barbados. During his career at the State Department, Dr. Carpenter received four Superior Honor Awards and three Meritorious Honor Awards.  He holds an MA and PhD in Political Science from the University of California at Berkeley and a BA in International Relations from Stanford University. Dr. Carpenter was a Fulbright Scholar at the Polish Academy of Sciences and has received fellowships from the American Council of Learned Societies, MacArthur Foundation, and IREX Foundation for his academic research.
Scott Robins, is a serial entrepreneur who currently is the CEO of Virtual Procurement Services (VPS), which he founded in 2009. Virtual Procurement Services combines predictive analytic data and proprietary processes to help enterprises and governments in the US, Asia and the Caribbean to recover money already spent on technology assets as well as reduce the cost of their acquisition. VPS is considered a pioneer in the augmented analytic space and was one of the first profitable companies in the United States to leverage predictive analytic data and processes. Prior to founding VPS, Mr. Robins started and ran successful companies in the fields of hospitality, advertising and technology. Currently residing in Westport, CT, Mr. Robins and his wife enjoy volunteering their time and serving on the boards of many non-profit organizations.
Dr. Michael Vickers is widely recognized as one of the country's top national security professionals, with unprecedented senior tenure across Republican and Democratic administrations. He was a key operational strategist for the two great wars of our time: the operation in the 1980s to drive the Soviets out of Afghanistan, which helped bring an end to the Cold War—the largest and most successful covert action program in the history of the CIA—and the ongoing war with al-Qaeda.  He also played a major policy and planning role in the operation that killed Osama bin Laden.
From January 2011 to May 2015, Vickers served as the Under Secretary of Defense for Intelligence, the Chief Executive Officer of the Defense Intelligence Enterprise, an $80 billion, 180,000-person, global operation that includes the National Security Agency, Defense Intelligence Agency, National Geospatial-Intelligence Agency, National Reconnaissance Office, Defense Security Service, and the intelligence components of the Military Services and Combatant Commands. As the USD(I), he conceived and led a comprehensive transformation of defense intelligence capabilities.
From 2007 to 2011, he served as the first and only Assistant Secretary of Defense for Special Operations, Low-Intensity Conflict and Interdependent Capabilities.  As the ASD SO/LIC&IC, Vickers served as the "Service" Secretary for all Special Operations Forces—a 70,000-person, $10 billion enterprise with personnel deployed in 90 countries. In this role, he had policy oversight of all of DoD's core operational capabilities: strategic forces (nuclear forces, missile defense, space, cyber), conventional forces (air, ground and maritime), and Special Operations Forces.  He conceived and led the largest expansion of Special Operations Forces in our nation's history.
Earlier, during the nearly decade and a half that spanned the operational phase of his career, he served as a Special Forces Non-Commissioned Officer, Special Forces Officer and CIA Operations Officer, and had operational and combat experience in Central America and the Caribbean, the Middle East, and South and Central Asia.  As the principal strategist for the multi-billion dollar effort that defeated the Red Army in Afghanistan, Vickers oversaw the policy, operations, training, and logistics of a covert enterprise that spanned several continents.
Dr. Vickers has received the nation's highest awards in the fields of intelligence and defense, including the Presidential National Security Medal. He holds a PhD from Johns Hopkins, an MBA from the Wharton School, and a BA from the University of Alabama.
He is currently working on a memoir of his career, to be published by Knopf in 2018. He is an executive vice president with In-Q-Tel, the Intelligence Community's strategic investment arm, a senior advisor to the Boston Consulting Group, and a principal with the Telemus Group. He also serves on several corporate, government and non-profit boards.
*     *     *
Founded in 1984, The Jamestown Foundation is an independent, non-partisan research institution dedicated to providing timely information concerning critical political and strategic developments in China, Russia, Eurasia and the world of terrorism. Jamestown produces three periodic publications: Eurasia Daily Monitor, Terrorism Monitor and China Brief. Jamestown research and analysis is available to the public free-of-charge via Jamestown's website, www.jamestown.org.