KARIMOV ACCUSES KYRGYZSTAN OF ASSISTING TERRORISTS
Publication: Eurasia Daily Monitor Volume: 2 Issue: 174
By: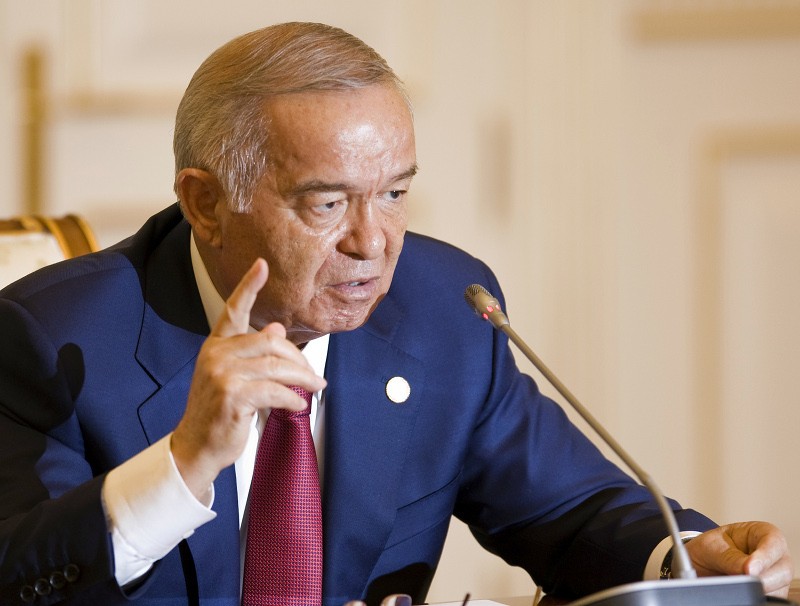 Tashkent's latest official explanation blames Kyrgyzstan for the bloody Andijan
riots on May 13. At a parliamentary meeting on September 5, the Uzbek
Prosecutor-General accused the Kyrgyz government of allowing up to 70 religious
extremists to train on its southern territories ahead of the Andijan riots, claming
that 60 professional gunmen actively participated in the riots and were Kyrgyz
citizens. Deputy Secretary of the Kyrgyz Security Council Vyacheslav Hah denied
these allegations, saying the Kyrgyz side had not found any evidence to back the
charges (Kabar, September 7). The governor of Osh oblast, Naken Kasiev, dismissed
Tashkent's allegations as nothing less than fantasy.
Uzbekistan's accusations and its refusal to supply gas to Kyrgyzstan this winter
(see EDM, September 6) point at a deepening Kyrgyz-Uzbek rift. This cooling of
interstate relations reflects the deteriorating security situation in Uzbekistan.
Uzbek President Islam Karimov always defined armed opposition to his regime as a
phenomenon originating in neighboring territories, not at home. Karimov had openly
blamed Kyrgyzstan and Tajikistan for their inability to adequately insulate their
national territories against guerilla groups, thus contributing to spread of
regional terrorist networks.
While official Tashkent insists on the validity of its allegations, leaders of the
unregistered Uzbek opposition party "Ovoz Dehkhonlar" (Free Farmers) doubt that the
new anti-Kyrgyzstan charges will be accepted internationally. "Authors of such
'information' submitted assessments and conclusions that in reality represent poorly
and badly fabricated disinformation," according to the party's official declaration
(centrasia.ru, September 10).
Kyrgyzstan may respond to the gas deficit by reducing the amount of water released
to Uzbekistan during irrigation periods. For Uzbekistan's cotton-dependent economy
Kyrgyzstan's water management policies are critical during summer and winter. Water
released in southern Kyrgyzstan risks flooding Uzbekistan's flatlands, but the
country still needs to generate hydroelectricity.
With talks of a possible reduction in the water supply, Kyrgyzstan is openly
confronting Karimov. The former Akayev regime in Kyrgyzstan hardly ever took such
radical measures because, as often claimed by Uzbekistan, "The difference between
gas and water is that gas requires production and transportation that bear costs.
But water runs by itself, not necessitating any labor or expenses"
(unitedcoalition.org, September 18).
The Kyrgyz government enjoys wide public approval for its handling of the Andijan
refugee crisis. Despite the full awareness of the looming gas shortage this winter,
there are few regrets about following requests from the UN refugee agency and
ignoring pressure from the Uzbek government. Amid rapidly falling support for
President Kurmanbek Bakiyev and his cadre politics, the refusal to repatriate the
Andijan refugees issue stands as the most popular accomplishment of the new
government. As a member of a local NGO summed it up, "It is doubtful if Akayev would
be courageous enough to make the same decision and openly contradict Karimov."
Meanwhile, Bakiyev dismissed Prosecutor-General Azimbek Beknazarov on September 19.
The surprising news came shortly after Aidar Akayev, son of former president Askar
Akayev, was stripped of his seat in parliament by a parliamentary vote. Besides
closely dealing with the Andijan refugees this summer, Beknazarov had chaired a
special committee investigating Aidar's case. Beknazarov commented, "I had two goals
– abolish Akayev's regime and fight corruption. The regime fell, but the battle
against corruption I lost" (Kabar, September 20). Beknazarov said he would join the
opposition.
Following the 60th session of the UN General Assembly, Acting Kyrgyz Foreign
Minister Roza Otunbayeva noted that almost all of the delegations had acknowledged
Kyrgyzstan's efforts to abide by international laws in solving the Andijan refugee
crisis. Also, "At the meeting with European Commissioner for Foreign Affairs Benita
Ferrero-Waldner we discussed issues of bilateral cooperation, gas supply, and
provision of heating this year" (Akipress, September 19).
There are three Kyrgyz citizens among the 15 individuals arrested for the Andijan
uprising. Their trial begins today, September 20, in Tashkent. Tolekan Ismailova,
leader of the Kyrgyz human rights NGO Civil Society against Corruption, has
condemned the detention of the Kyrgyz citizens. Along with other activists,
Ismailova has also reported increased activity by the Uzbek Special Services in
southern Kyrgyzstan, and she thinks the Kyrgyz government should prevent Uzbekistan
from operating on its territory (Fergana..ru, September 19).
Hundreds of Uzbek refugees who fled during the Andijan massacre still reside
throughout southern Kyrgyzstan. Many were not able or refused to officially register
at the refugee camps in Jalalabad. Most of the refugees live with their relatives
without legal registration by Kyrgyz immigration officials. They try to remain
inconspicuous, because the Uzbek government is persecuting family members of the 439
refugees deported in late July to Romania (Vecherny Bishkek, September 19; Radio
Azattyk, September 10). The Kyrgyz Ministry of Foreign Affairs is investigating the
issue of illegal immigrants to formulate a solution to confer some type of legal
status. But local residents are generally negative towards the Uzbek citizens in
their cities, comparing them to religious extremists.
The Kyrgyz newspaper Obshchestvenny reiting (September 15) has questioned
Kyrgyzstan's ability to accommodate more Uzbek refugees from future crises. The
newspaper comments that Kyrgyzstan is doomed to be a victim of Tashkent's inhumane
politics towards its own citizens: "The Andijan crisis brought us a murky
perspective – the [Uzbek] central government's showdown with religious groups will
turn into Kyrgyzstan's refugee headache. The international community will not be
able to endlessly accommodate Uzbeks around the world."