Kazakhstan and El Salvador Establish Diplomatic Relations
Publication: Eurasia Daily Monitor Volume: 11 Issue: 25
By: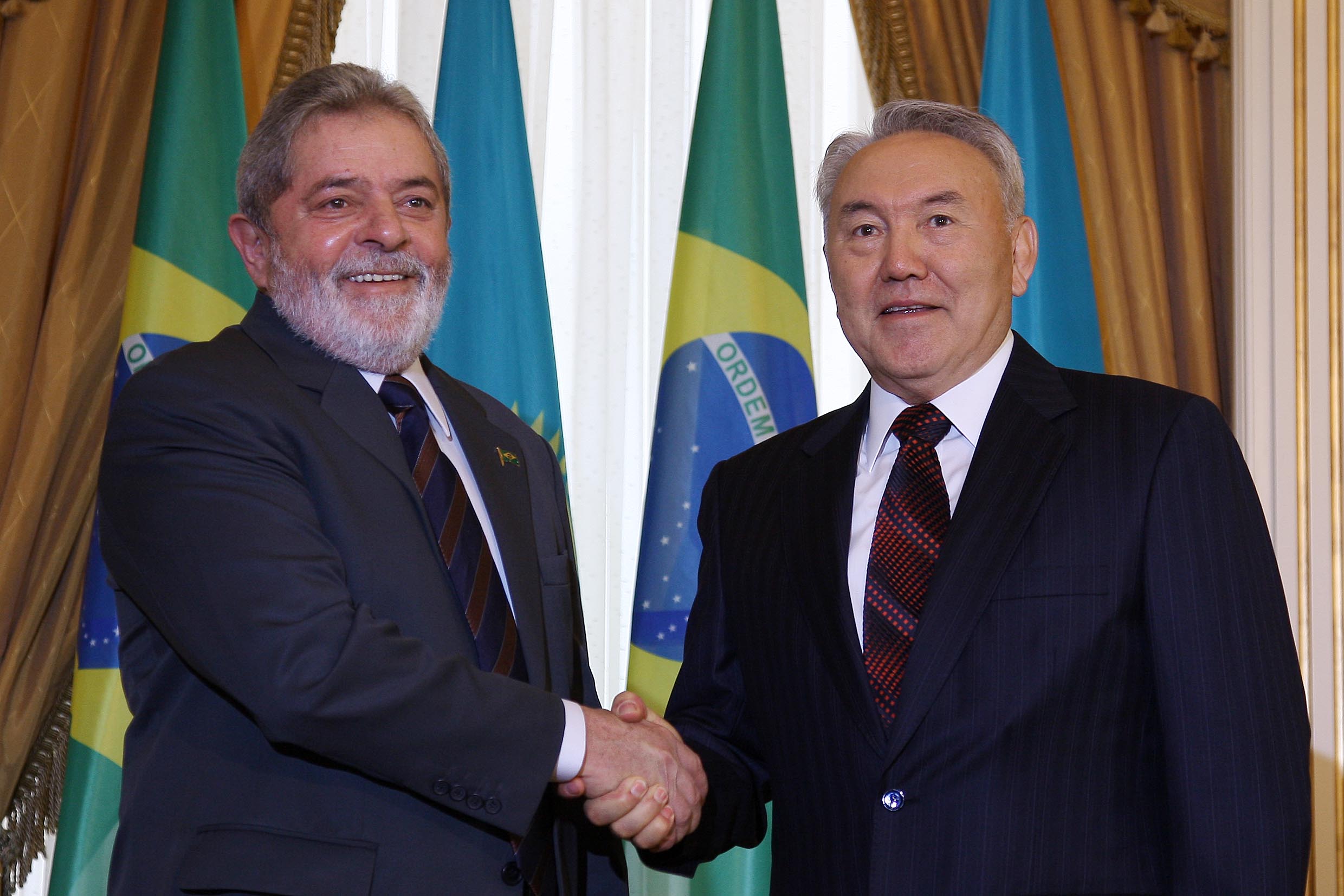 On February 4, 2014, Kazakhstan and El Salvador established diplomatic relations. Kazakhstan's permanent representative to the United Nations, Kairat Abdrakhmanov, and his Salvadorian counterpart, Enrique Garcia Gonzalez, signed a communiqué to this end in New York on January 30 (Trend, February 4). On January 16, Abdrakhmanov signed a similar joint communiqué on establishing diplomatic relations with Trinidad and Tobago (Trend, January 21).
Following years of modest and often unofficial ties with what is the most geographically remote region for Kazakhstan, Astana now has formal diplomatic relations with 31 of the 33 countries in Latin American and the Caribbean, which the Kazakhstani foreign ministry has described as a new priority region for Kazakhstan's diplomacy (Trend, February 4). This focus has been evident since the beginning of last year. In 2013, Kazakhstan established diplomatic relations with nine Latin American and the Caribbean countries. In late September and early October 2013, Erlan Idrissov undertook the first trip by a Kazakhstani foreign minister to Chile, Argentina and Brazil. This landmark visit to the most economically important countries of South America imparted considerable positive momentum to Kazakhstan's relations with the continent (Astana Times, Oct. 7, 2013).
Soon after gaining independence in December 1991, Kazakhstan established diplomatic relations with most Latin American countries. However, it has only been in the last few years that Kazakhstan has raised its profile in the region. Before then, Kazakhstani diplomacy addressed Latin America through its embassy in Washington, DC, and, reflecting their Soviet-era ties, had its most developed ties with Cuba, where Kazakhstan had its only diplomatic mission in the region (a consulate general). Cuba had an embassy in Kazakhstan, but Argentina, Guatemala, Mexico, Uruguay and Venezuela were represented through non-resident embassies in other cities. Kazakhstan inaugurated an embassy in Brazil last year and intends to open a diplomatic mission in Mexico in 2014 (Tengri News, January 31).
Kazakhstan's relations with Latin American are focused on energy, trade, access to regional markets, tourism and education. Kazakhstan is at a similar stage of economic development to many South American countries and both regions have experienced substantial economic growth in recent years. Some Latin American states see Kazakhstan as a means of accessing other Central Asian economies and have expressed interest in developing ties with the Customs Union established by Kazakhstan, Russia and Belarus. In addition to promoting economic ties, Kazakhstan is encouraging leading South American countries to send representatives to EXPO-2017, relax visa entry requirements, and sustain regular diplomatic contacts (Astana Times, Oct. 7, 2013).
Cuba remains an important regional partner of Kazakhstan. The two countries established diplomatic ties on March 24, 1992; one year later, Cuba opened an embassy in Almaty (later transferred to the new capital of Astana). Since then, Kazakhstan and Cuba have participated in several bilateral and international agreements. In September 2007, a "Parliamentary Group of Friendship with Cuba," was created in the Majilis (lower house of Kazakhstan's parliament). Kazakhstan has joined most other countries in voting for the repeal of the United States' economic embargo on Cuba in the UN General Assembly. Regular conferences and gatherings occur between official delegations of both countries relating to such areas as industry and commerce, science and health, culture and sports and, more recently, tourism. Tourism between the two countries is growing, building on student and specialist (primarily in the health sector) exchange programs that have existed since the Soviet period (Kazakhstani Ministry of Foreign Affairs website, accessed February 7).
Kazakhstan has had diplomatic relations with Brazil since September 22, 1993, but it was not until 2006 that Brazil established an embassy (the second from a Latin American country) in Astana. The next year, President Nursultan Nazarbayev visited Brazil, where he met President Luiz Inacio Lula da Silva and members of the Brazilian parliament and supreme court. In addition, he signed agreements on trade and economic cooperation during his visit. Lula da Silva then visited Astana in 2009, meeting Nazarbayev, Prime Minister Karim Massimov, and other Kazakhstani officials (Trend, June 16, 2009). In October of last year, Kazakhstan opened an embassy in Brasilia in a ceremony attended by Foreign Minister Idrissov, who also participated in Kazakhstan's first business forum in Brazil, a two-day event in San Paolo organized by Kaznex Invest, a national export and investment agency (Trend, October 4, 2013). Air Astana has leased or purchased several of Brazil's medium-haul Embraer 190 civilian aircraft (Kazinform, November 2, 2012). The two foreign ministries are cooperating to make it easier for Kazakhstani tourists and sports fans to attend the FIFA World Cup, which Brazil will host this summer. Furthermore, in January 2014, Idrissov and Brazilian Foreign Minister Luiz Figueiredo signed a mutual visa cancellation agreement for their citizens (Tengrinews, January 17).
Kazakhstan's ties with other South American countries are less developed but growing. During Idrissov's visit to Chile in September, the two governments established a visa-free regime for their diplomatic and service passports holders; they are negotiating to eliminate all entry visa requirements for their citizens (BNews.kz, October 2, 2013). When Idrissov visited Buenos Aires, he signed agreements on regularizing bilateral political consultations and on repealing entry visa requirements for official delegations. In his meeting with executives of the YPF National Oil Company, Idrissov discussed technology exchanges and other energy cooperation between the two countries (Astana Times, October 7, 2013). Ecuador's diplomatic relationship with Kazakhstan began only on January 24, 2012.
Under Foreign Minister Idrissov, Kazakhstan has pursued a kind of "Global Kazakhstan" policy, similar to the diplomatic and economic dimensions of the "Global Korea" policy undertaken by Seoul after South Korea joined the ranks of the 30 most developed countries. This is precisely the goal of the Kazakhstan-2050 long-term development strategy adopted in December 2012. Idrissov has himself linked the two by noting that it is natural for an aspiring leading economic power to have a global diplomatic agenda. In an article published in Kazakhstanskaya Pravda last week, Idrissov said that, "It is precisely today, when Kazakhstan is becoming a stable and dynamically developing state and has established some ambitious strategic goals to reach before 2050, that the prerequisites have appeared for conducting a more large-scale and ambitious foreign policy (Kazakhstanskaya Pravda, January 31).