Kazakhstan Proposes to Expand its Transit Facilities on the Caspian to Facilitate NATO's Withdrawal from Afghanistan
Publication: Eurasia Daily Monitor Volume: 10 Issue: 95
By: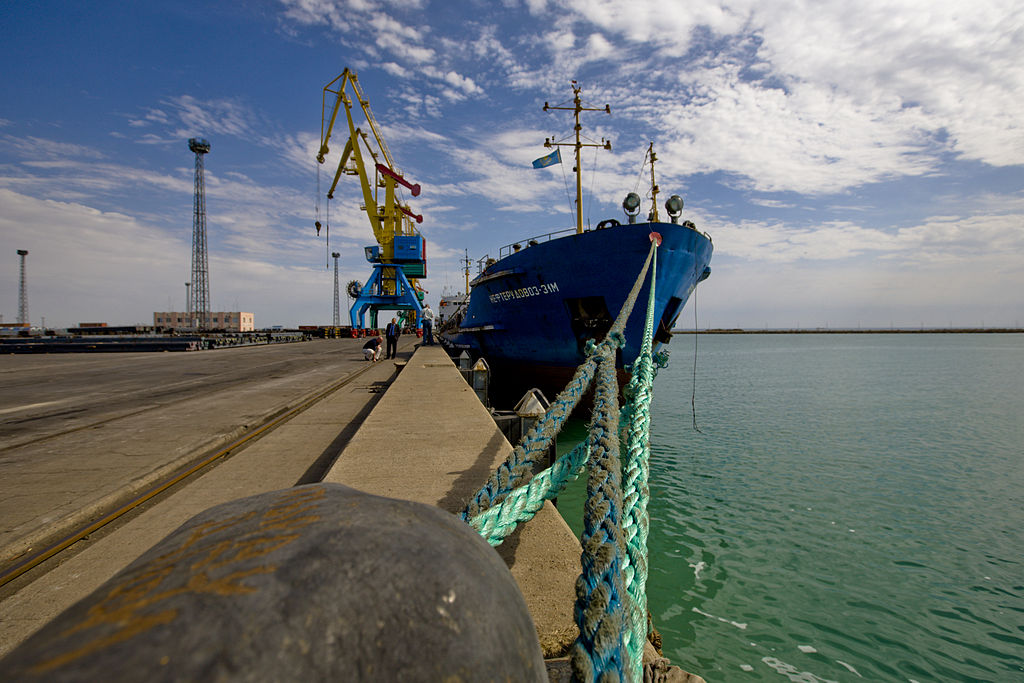 On April 26, Kazakhstani President Nursultan Nazarbayev opened the third ministerial meeting of the so-called Istanbul process, an international initiative for reconstructing and stabilizing Afghanistan in view of the International Security Assistance Force's (ISAF) forthcoming departure from this country. Speaking before the delegates of the 14 founding members of the "Heart of Eurasia" group as well as representatives of observer parties, including the United States and the European Union, Nazarbayev reminded them about Kazakhstan's continued efforts to help neighboring Afghanistan revive its economy and better integrate into the region. He also stressed the importance of his country's multilateral cooperation with the North Atlantic Treaty Organization (NATO) and, on a bilateral basis, with such members of the international coalition in Afghanistan as the US, the United Kingdom, France, Germany and Spain. Finally, Nazarbayev spoke about the ongoing preparations to extend the Aktau Seaport's transit capacity for NATO cargo to be withdrawn from Afghanistan as part of the drawdown plan (see EDM, May 3; Forbes.kz, April 26).
Following this announcement, several Russian newspapers, including the daily Nezavisimaya Gazeta (NG), started speculating about Kazakhstan's purported willingness to provide a military base on its territory for Washington and its NATO allies. According to Russian journalists, Nazarbayev's declaration could have been the result of an earlier meeting between US Assistant Secretary of State for South and Central Asian Affairs Robert Blake and Kazakhstani State Secretary Marat Tazhin. Blake was visiting Astana on April 23 before paying a brief visit to Tashkent to meet with Uzbekistan's authorities. "Should Nazarbayev's proposal be accepted […], the already fragile security architecture of the Caspian region would be de facto undermined," the NG article read, further adding that "Kazakhstan had apparently been chosen [as the new center of American military presence in Central Asia]" (Nezavisimaya Gazeta, April 29; The Kazakhstani President's official website, April 23).
According to Alexander Knyazev, the former senior fellow of the Institute of Oriental Studies at the Russian Academy of Sciences, the deployment of US military capabilities in Aktau could create a direct link between western Kazakhstan and the Caucasus. In Knyazev's view, this could lead to the "transfer of various threats from the Caucasus to Kazakhstan's troubled Mangistau region." In his turn, the director of the Almaty-based Institute of World Economics and Politics Sultan Akimbekov interviewed by Russia's analytical journal Military Review believes that Nazarbayev's statement has been largely misinterpreted on the Russian side. He stressed the purely technological aspect of Kazakhstani-NATO cooperation comparing a potential cargo facility on the Caspian to NATO's transit hub in Russia's Ulyanovsk. As Akimbekov said, Kazakhstan has no interest in allowing the establishment of a foreign military base on its territory at a time when NATO troops are already leaving Afghanistan. Moreover, Nursultan Nazarbayev earlier reaffirmed his country's attachment to its multi-vector foreign policy, which proves that Moscow's strategic concerns would necessarily be taken into account in the course of bilateral talks with NATO partners (Topwar.ru, May 5; Nezavisimaya Gazeta, April 29).
While the Russian media and policy experts are fomenting fears about NATO's planned expansion into Kazakhstan, it should be remembered that the Aktau Seaport has already been used by the ISAF since 2009. The Kazakhstani territory might therefore have served for the transit of more than 15,000 containers filled with non-lethal equipment reserved for the Afghanistan-deployed troops, effectively bypassing Russia. Earlier in June 2011, Kazakhstani media published translated excerpts from the diplomatic cables sent by the US embassy in Astana to Washington two years before. According to these materials, the deputy secretary of Kazakhstan's Security Council proposed to the US Transportation Command to set up a logistics center in Aktau to streamline the transit of cargo bound for Afghanistan. He had also mentioned a possibility of boosting procurement contracts in Kazakhstan, with the country's government ready to ensure the selection of qualified contractors to supply non-military goods for the US armed forces (Inforos.ru, April 30; Zakon.kz, June 6, 2011).
Kazakhstan has recently been active in strengthening its bilateral ties with the North Atlantic Alliance. In late March, Kazakhstani Defense Minister Adilbek Dzhaksybekov received the NATO Secretary General's Special Representative for South Caucasus and Central Asia James Appathurai, together with the Organization's new regional liaison officer. After commending its decision to refill this vacancy that had previously remained for some time without an occupant, Dzhaksybekov called on NATO to enhance its participation in the "Steppe Eagle" annual military exercises in Kazakhstan (this year, they will take place in August). Earlier in January, the Latvian embassy in Astana was designated as the Alliance's contact point for Kazakhstan until the end of 2014. Recently, Uzbekistani media reported that NATO would establish its first permanent regional office for Central Asia in Tashkent, starting from June 3. The Kazakhstani-NATO bilateral partnership was already upgraded in 2008 when the two sides agreed to create a regional training center, KazCent, on the basis of the Military Institute of Kazakhstan's ground forces. In December 2010, KazCent was officially recognized as NATO's 19th educational and training center in the world under its Partnership for Peace (PfP) individual programs (I-news.kz, May 6; Tengrinews.kz, March 26; Gazeta.kz, January 4).
While Nazarbayev's proposal to expand the Aktau Seaport's throughput capacity for NATO's logistical needs is being debated in several capitals, it remains far from certain that this plan will eventually be implemented. Not only does Kazakhstan have to accommodate Moscow's military concerns regarding the situation on the Caspian, but it also has to anticipate Iran's potential reaction to such a probability. Although the current proposal is aimed at enabling the smooth withdrawal of Western coalition troops from Afghanistan, it could serve as an additional catalyst for a multilateral arms race in the Caspian region, after both Tehran and Astana had recently received modern missile ships for their local navies. Moreover, Kazakhstan already failed to implement its decision to send four soldiers to the ISAF headquarters in Kabul, when the country's Senate refused to ratify a bilateral agreement with NATO in June 2011, following threats aired by the Taliban. Should this new plan once again require parliamentary support, history could easily repeat itself (News.nur.kz, June 20, 2011).