Kazakhstan Responds to Russian Plans for New Space Facility
Publication: Eurasia Daily Monitor Volume: 9 Issue: 82
By: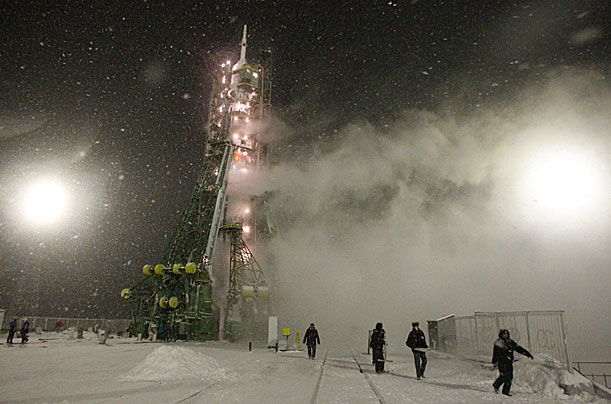 Russia's recently reaffirmed plans to decrease use of the Baikonur Cosmodrome presents Kazakhstan with both a challenge and an opportunity. The joint use of the facility over the past two decades has strengthened Russian-Kazakhstani scientific and technical cooperation as well as a means of elevating Kazakhstan's global status. But Baikonur's transformation does offer Kazakhstan an opportunity to develop new foreign partnerships and new uses for this valuable facility.
Russian officials have reiterated their intent to complete construction of their new Vostochny Cosmodrome (in Amur Oblast, in Russia's Far East) and begin launching spacecraft, first unmanned and later manned, from there by 2015. As of January 2011, almost 65 percent of Russian space launches occurred from Baikonur; the new Vostochny Cosmodrome, coupled with the existing Plesetsk spaceport, could reduce that number to 11 percent by 2020 (Moscow Times, January 11, 2011).
In 1994, Kazakhstan and Russia ratified an agreement that recognized Kazakhstan's ownership of Baikonur but allowed Russia to continue using the site and its facilities under a 20-year lease. A January 2004 accord, which entered into force in 2005, extended the leasing arrangement through 2050, with Russia paying $115 million annually to use the facility, as well as $50 million to maintain it (tengrinews.kz, April 13).
The initial decade of the leasing agreement was characterized by strong collaboration and cooperation between the two countries. Although some Kazakhstanis opposed the facility's continued use as an environmental hazard, others consider Kazakhstan's major role in space as an important driver of scientific and technological development, as well as economic growth. Its presence drove Kazakhstan to create a national space agency (Kazcosmos) that, in 2006, launched its first satellite.
But the past decade has seen several policy disputes between Kazakhstan and Russia that may have encouraged the subsequent restructuring of Kazakhstan's space launch program. Citing environmental damage and other costs, Kazakhstanis have pushed to raise the lease payments (en.tengrinews.kz, September 20, 2011). The debate over Baikonur's continued use sharpened in 2007, when a Russian rocket crashed shortly after launch. Kazakhstani authorities claim that the accident produced approximately $60 million in damage. Between 2009 and 2011, Kazakhstan banned Russia from launching intercontinental-range ballistic missiles from the site, spurring Russia to move more of its military launches elsewhere (tengrinews.kz October 9, 2011). Having Vostochny as well as Plesetsk will enhance Moscow's bargaining leverage with the Kazakhstani authorities, since Russia could more easily abandon the facility if not offered suitable terms.
Despite the construction of Vostochny, the Russian and Kazakhstani governments want to continue using Baikonur. On April 12, 2008, Anatoly Perminov, then-head of the Russian Federal Space Agency (Roscosmos), told journalists that Russia intended to use the facility until 2050 (RIA Novosti, April 12, 2008). The joint declaration at the May 2008 Russia-Kazakhstani presidential summit pledged that the parties would employ Baikonur in a way that benefited Kazakhstan, Russia and other countries.
Russia wants to increase commercial use of Baikonur while moving the Russian government's military and civilian launches mainly to Plesetsk and Vostochny. Prime Minister Vladimir Putin has openly encouraged greater commercial use as well as increasing cooperative projects with foreign space programs (UPI, April 12). Russian analysts foresee growing global demand for space launch services that Baikonur could help meet. In February 2012, the current head of Roscosmos, Vladimir Popovkin, announced that Russia aimed to place at least one hundred additional military satellites over the next decade, some of which will likely use Baikonur (RIA Novosti, February 22). Last month, Russia launched another military satellite from that facility (Interfax-AVN, March 30).
In 2008, Talgat Musabaev, head of Kazcosmos, predicted that Russia would end manned space flights from Baikonur over the next decade. He added that Kazakhstan and Russia would move to "a new strategic stage of space partnership" (Interfax-Kazakhstan, February 2008). Nonetheless, the uncertainty of this space partnership has prompted Kazcosmos to begin shifting its focus away from Russian space projects and more towards domestic projects such as enhancing the country's communications capabilities and developing Baikonur into a center for developing high-technology products.
In 2010, Kazakhstani authorities approved an ambitious new program to develop an integrated national space research and development program with several centers located throughout Kazakhstan, including at Baikonur. In a July 2010 interview, Gabdullatif Myrzakulov, the president of National Company Kazakhstan Garysh Sapar (part of Kazcosmos), justified such programs, stating "if we want to develop space industry, we need to establish design engineering centers and build a manufacturing and technological base (Interfax.kz, March 2012). The 2011-2015 strategic plan for Kazcosmos called for establishing a comprehensive terrestrial infrastructure, such as engineering production and additional satellite launch facilities, and robust acquisition and development of space technologies (Office of the Prime Minister, http://www.pm.kz/page/article_item-101).
Kazakhstan is also more consistently applying its famed "multi-vector" foreign-policy approach to the outer space domain. In 2010, Kazcosmos signed an agreement with the French firm EADS Astrium that includes technology transfers, the creation of assembly and development centers in Astana, and the training of 100 Kazakh designers, engineers and developers over a three-year period (EADS Press release, October 27, 2010). Beyond the development of a technological infrastructure, the agreement provides for the replacement of several malfunctioning Russian telecommunication satellites as well as adding new earth remote sensing satellites. Kazakhstan wants to use these satellites and other resources to establish itself as the communications hub of Eurasia.