Kazakhstan-Turkey Presidential Summit Deepens Economic Ties
Publication: Eurasia Daily Monitor Volume: 9 Issue: 191
By: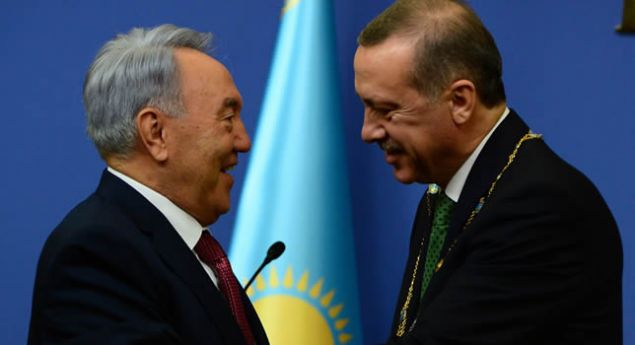 On October 10–11, Kazakhstan's President Nursultan Nazarbayev conducted an official visit to Turkey, which focused on deepening economic ties between these already strong partners. The main event was the first meeting of the High Level Strategic Cooperation Council, which was established after Prime Minister Recep Tayyip Erdogan's visit to Kazakhstan in May 2012. During the Council meeting, Nazarbayev called Turkey "one of the closest strategic partners" and said that, "There are no unresolved issues between Kazakhstan and Turkey" (Astana Calling, October 12). Erdogan noted, "Today, Kazakhstan is making a significant contribution to strengthening regional and international security thanks to its effective and balanced foreign policy. A stable political system has taken shape in Kazakhstan that provides harmony between nationalities as well as dynamic economic development" (Astana Calling, October 12).
For Turkey, such political and social stability, along with Kazakhstan's successful economic reforms, incentivizes deeper economic ties (Gulay Mutlu, Journal of Turkish Weekly, October 15). Kazakhstan has become Turkey's most important economic partner in Central Asia, and has attracted more than $20 billion in Turkish construction projects and $2.5 billion in direct investment in the Central Asian republic (Anadolu Agency, September 27). Trade grew 80 percent between 2010 and 2011, totaling $3.3 billion in 2011 and reaching $2.4 billion in only the first half of 2012 (Astana Calling, October 12). More than 3,000 Turkish enterprises operate in Kazakhstan, while some 150 Kazakhstani companies operate in Turkey (CaspioNet, October, 13).
Yet, Kazakhstani and Turkish officials and business leaders see the potential for much greater economic interaction given that only about one percent of Turkey's trade now goes to Kazakhstan, despite the extensive cultural, personal and other ties between their nationals.
After the inaugural meeting of the High Level Strategic Cooperation Council, Nazarbayev and Erdogan signed an action plan for implementing the "New Synergy" program for expanding bilateral economic cooperation during the 2012–2015 period, which aims to raise bilateral trade to $10 billion and increase investment by $500 million each year (Journal of Turkish Weekly, October 12). Toward this end, the two governments signed a $1.5 billion agreement on expanding commercial—primarily energy—ties. They also plan to increase bilateral trade in their industrial, transportation, science, banking, tourism and technology sectors (Sabah, October 12).
The recent agreements establish special Kazakhstani-Turkish industrial zones (KTIZ) in Kazakhstan for Turkish investors that should improve the investment climate in Kazakhstan and provide Turkey with more access to the Central Asian country (KazWorld, October, 11). In addition to new special economic zones, existing technical parks and private economic zones like Morport Aktau, Kurik Village, Ontustik and Ondiris will receive increasing attention (Hurriyet Daily News, October 13). Other areas covered by the agreements include industrial exchanges, transportation corridors like TRACECA and SILKWIND, and science and technology collaboration. Turkish and Kazakhstani scientific bodies will likely cooperate more in the future (Hurriyet Daily News, October 13). Furthermore, the metallurgy, chemical, machinery, food, industrial and construction material sectors are all expected to gain from the New Synergy action plan (Sabah, October 12).
After meeting separately with a group of Turkish business leaders in Ankara, Nazarbayev joined some 600 representatives of Turkish companies and 50 representatives of Turkish firms at a Turkish-Kazakh Business Forum in Istanbul later that day (Journal of Turkish Weekly, October 12). At this forum, Nazarbayev highlighted the 2010 Customs Union of Kazakhstan, Belarus and Russia as providing opportunities for Turkish businesses, telling them: "If you cross the border of Russia, you will have a lot of obstacles. And if you open the production in Kazakhstan, you can export to Russia and Belarus without any obstacles" (Kazinform, October 13). Erdogan urged investors at the forum to diversify beyond the energy and tourism sectors (Hurriyet Daily News, October 13).
A current bilateral economic priority is strengthening transportation links between the two countries by completing the Turkey-Iran and Iran-Turkmenistan-Kazakhstan railway lines. Not only will the railways facilitate bilateral trade and investment, by they will help Kazakhstan export its energy and other products to European markets via Turkey. Kazakhstan hopes to increasingly contribute to the Baku-Tbilisi-Ceyhan pipeline as its natural gas exports expand (Journal of Turkish Weekly, October 15). Kazakhstani officials see Turkey as a key transit country for Kazakhstan's goods entering European and Mediterranean markets—a view that corresponds well with the vision of many US, European and Turkish analysts about Turkey's role as an emerging gateway between the Caspian region and Western markets.
Although economic and cultural ties dominate the bilateral relationship, recent years have seen an increased emphasis on foreign policy coordination and security cooperation. During Nazarbayev's visit, the two governments signed a Memorandum of Cooperation between the Kazakhstan Agency for Civil Service Affairs and the Public Service Directorate of Turkey (Caspionet.kz, October 10). Nazarbayev and Erdogan discussed Afghanistan, Syria and the Middle East situation in their joint meeting (Kazinform, October 12). The Turkish government provides the Kazakhstani military with some defense equipment and training. In addition, the two countries cooperate on counterterrorism issues. For now, the levels of these security interactions remain low, however, compared to Kazakhstan's more extensive cooperation with NATO and especially Russia.