KAZAKHSTAN'S EU STRATEGY BASED ON REGIONAL ASCENDANCY
Publication: Eurasia Daily Monitor Volume: 3 Issue: 219
By: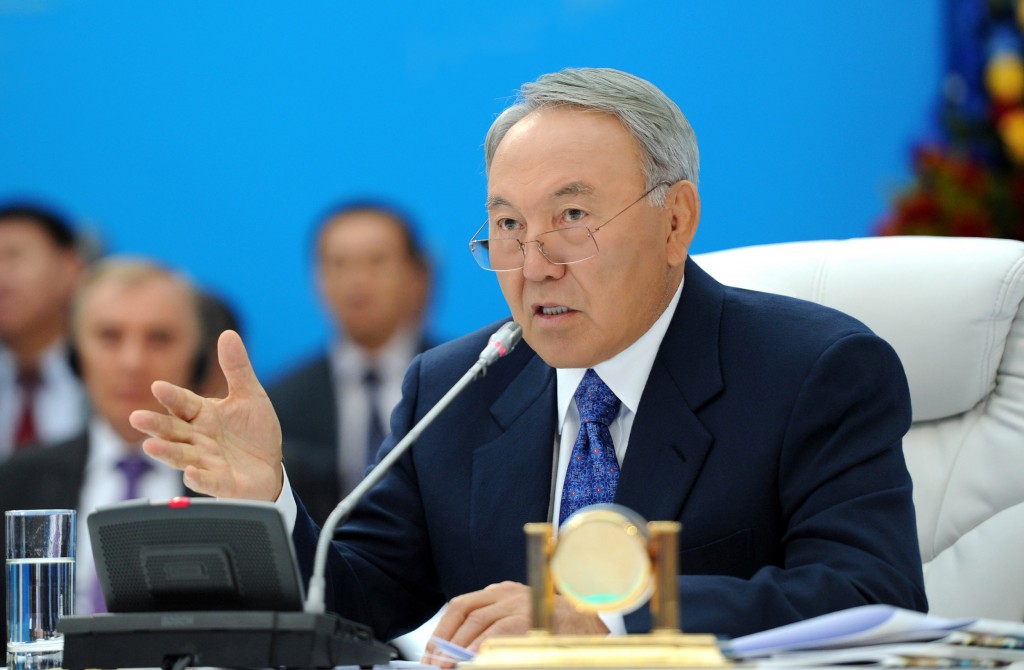 Kazakhstan's President Nursultan Nazarbayev emphasized regional security as a crucial strategic area of cooperation between Kazakhstan and the United Kingdom, during a visit to London on November 21. "Cooperation between Kazakhstan and Great Britain in the field of security in the region is very important. You know that Iran, Iraq, and Afghanistan are very close to our territory. All of this shows that none of the countries will resolve this problem on their own," he explained. In particular, as speculation grows in the British media over the timetable for withdrawing British troops from Iraq, Nazarbayev stressed that operations in Iraq and Afghanistan should be seen through to the end. In this regard, he told British Prime Minister Tony Blair that Kazakhstan wants to do everything possible to support these measures. Since the deployment of elements of its peacekeeping battalion (KAZBAT) to Iraq, it has cleared around 4 million mines (Kazinform, November 21). He also stressed his fear of civil war in Iraq, and the prospect of the country splitting into three parts and becoming "another Afghanistan."
Nazarbayev's quest for diverse foreign trading and security partners has also meant pursuing closer ties with other Turkic speaking states. On November 17, attending the eighth annual summit of the heads of Turkic speaking states in Turkey, he emphasized that the current levels of bilateral and multilateral cooperation are promoting confidence that existing problems can be resolved.
"The increasing economic potential of our countries makes it possible to develop new projects in the areas of education and culture. We therefore believe that it is expedient to hold on a large scale the days of culture of Turkic-speaking peoples by popularizing their history, literature, and arts, that is by making maximum use of the potential of modern information technologies," Nazarbayev said. In practical terms, security cooperation is developing steadily with Turkey and more recently with Azerbaijan. Nazarbayev held meetings on the sidelines of the summit with Azerbaijan's President Ilham Aliyev and Kyrgyzstan's President Kurmanbek Bakiyev. Despite the opportunity to extend further the terms of security cooperation with these countries, he preferred instead to concentrate on trade and culture (Interfax-Kazakhstan, November 17).
Nazarbayev wants to expand ties with the EU, positioning Kazakhstan to benefit from what he believes are serious attempts in Brussels to deepen the levels of assistance and cooperation between the EU and Central Asia. His calculations are based on two points. First, according to the EU, it has provided approximately €1.33 billion in assistance to the region during the past 15 years. Yet, Tajikistan has received more than any other country in Central Asia. In fact, Kazakhstan's share of EU assistance, around €159.5 million, placed it fourth of five Central Asian countries. A new financial package for Central Asia will be worked out in the near future. Second, like Tashkent, the authorities in Kazakhstan place great hopes on the German EU presidency in 2007 (Interfax-Kazakhstan, November 20). Almaty believes the German-led EU strategy for expanding ties with Central Asia will be ready by June 2007.
Elsewhere, there are signs that Kazakhstan will attempt to gain from Uzbekistan's problems with the West. An apparently routine event held by the Collective Security and Defense Organization (CSTO) in Belarus on November 23 offered some insight into the driving factor on Astana's current priorities. Specifically, the Uzbek and the Kazakh defense ministers did not participate in the CSTO Defense Ministers Council. No explanation was offered to explain the absence of Kazakhstan's Defense Minister Army General Mukhtar Altynbayev. Kazakh reporting focused on the Uzbek Defense Minister's decision not to attend, choosing instead to send the deputy defense minister for international cooperation, Colonel Rustam Niyozov (Interfax-Kazakhstan, November 21). Kazakhstan, despite improved relations with Uzbekistan, continues to emphasize its rivalry with its neighbor and now assumes that it will receive preferential treatment from the EU and other Western multilateral bodies, thanks to Uzbekistan's ongoing estrangement from the West.
Problems relating to accountability and reducing the potential misuse of Western aid through corruption remain obstacles to fully benefiting from the increasing aid flow into Central Asia and risk complicating security cooperation. A criminal case has been instituted into the alleged embezzlement of funds by the financial head of a military unit in Saran, Karaganda region. A scheduled audit of the unit's financial transactions revealed that 26 million tenge (around $203,140) went missing between February and July 2006 (Interfax-Kazakhstan, November 17). Such scandals either point to the willingness of the authorities to tackle corruption or simply highlight its continued existence within the country. In either case, it presents a double-edged policy dilemma for Western organizations offering assistance to Kazakhstan.
Nazarbayev is clearly ambitious to promote Kazakhstan's place in the world. The tone and rhetoric during his visit to London differed from his recent message in the United States by concentrating on linking Central Asian security to the wider picture of Iraq, Afghanistan, and the question of Iran. He may calculate that Britain is in the best position to influence Washington as it reassesses its Iraq policy and wider strategic emphasis in the war on terror. It seems clear that in 2007 he will make a concerted effort aimed at securing Kazakhstan's regional ascendancy as the basis for his dealings with the West.