KHODORKOVSKY AND ADAMOV: A TALE OF TWO TRIALS
Publication: Eurasia Daily Monitor Volume: 2 Issue: 108
By: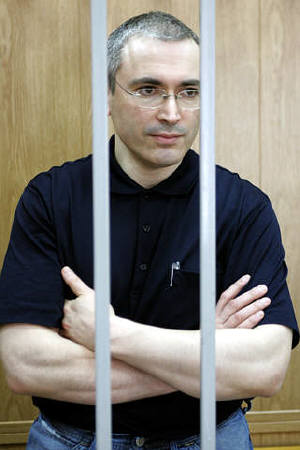 The trial of Mikhail Khodorkovsky finally came to its predictable conclusion on May 31, with the unfortunate magnate sentenced to nine years, less the 18 months he has already spent behind bars.
The reaction to the outcome of the most important criminal case in post-Soviet history was surprisingly muted, both inside Russia and abroad. The Russian government was probably as glad as anyone to see the end of the case. Contrary to some reports, the jailing of Khodorkovsky was not widely popular. According to a Public Opinion Foundation poll, while only 8% of respondents had a favorable view of Khodorkovsky, the number who held a negative opinion was a modest 25%. The overwhelming reaction (44%) was indifference. Among young people, the positives led the negatives, 12% to 10% (RIA-Novosti, May 27).
Moreover, it is safe to assume that the Russians who dislike Khodorkovsky come from the Communist/Nationalist wing of the electorate, and they take an equal dislike to the Putin administration and its cluster of loyal oligarchs. So the persecution of Khodorkovsky will not produce a surge of support for the Kremlin. This illustrates a paradox identified by Bulgarian scholar Ivan Krastev: the more a government tries to tackle corruption, the more it raises the issue's public visibility, and the skeptical public see it as further proof that all their elites are deeply corrupt.
The Yukos affair was conspicuously absent from the agenda of U.S. President George W. Bush's visit to Moscow for the Victory Day parade, and from the May 24 visit by U.S. Energy Secretary Sam Bodman. International markets long since adjusted for the impact of the Yukos affair, and foreign investors likewise quickly understood the new "rules of the game": Don't mess with the Kremlin. Nothing would have been changed by a different outcome of the trial. The last possible turning point was the seizure of the main Yukos subsidiary last December. Had the Kremlin lost its nerve at that juncture, in the face of court challenges in the United States over the bankruptcy of Yuganskneft, the outcome could have been different.
Khodorkovsky will now become the Russian Count of Monte Cristo: a role for which he seems psychologically prepared. Khodorkovsky published an essay on "Freedom the Russian Way" in which he mused on the inner freedom of slaves, stripped of their possessions (Mosnews.com, May 25). Many influential figures in Russia's past have spent time in jail, from Dostoevsky to Stalin. People do eventually get out of jail (think of Nelson Mandela, waiting for 27 years), and a future political comeback by Khodorkovsky cannot be ruled out. But that is unlikely to happen before the crucial year of 2008, when the Putin succession will be resolved.
Just as the Khodorkovsky process was reaching its finale, a new spectacle was gearing up in Bern, Switzerland. On May 2 ex-nuclear power minister Yevgeny Adamov was detained by the Swiss authorities in light of a U.S. arrest warrant. A federal grand jury in Pittsburgh charged him and business partner Mark Kaushansky with 20 counts of money laundering and tax evasion. The 66-year old Adamov is accused of purloining some $15 million from funds the U.S. Department of Energy gave to the ministry's research institute, which Adamov headed from 1986 until his appointment as minister in 1998. Adamov was in Bern to help his 30-year old daughter, Irina, whose $250,000 bank account had been frozen as part of the same investigation (Rossiiskie vesti, May 12, Nezavisimaya gazeta, May 30, Nucleonics Week, May 12).
In March 2001 the State Duma's Anti-Corruption Commission released a report accusing Adamov of corruption, including reference to his buying a house in Pittsburgh. He was fired as minister, but no criminal charges were lodged against him.
Adamov declined speedy expedition to the United States. But his U.S. lawyer, Lanny Breuer, told Kommersant on May 13, "Adamov wants to come to the United States and answer all questions there as a free man, in order to dispel all the rumors tainting his name. But Dr. Adamov and I would like to know the position of the Russian government, because Dr. Adamov is privy to a lot of secrets."
Dmitry Cherkashin, Russia's ambassador to Switzerland, said, "He served as Russia's nuclear-energy minister; and his extradition would threaten Russian national-security interests" (RIA-Novosti, May 23). The fear is that as part of a plea bargain Adamov might spill the beans on Russia's nuclear cooperation with Iran. There was an angry debate on the floor of the State Duma on May 12. Deputy Sergei Abeltsev said that Adamov should be assassinated in his jail cell. His Liberal Democratic Party of Russia colleague Alexei Mitrofanov merely recommended abduction.
The Russian government protested that they had not been informed of Adamov's impending arrest and claimed sovereign immunity for him as an ex-minister. When that did not work, they came up with a better idea – let's prosecute him ourselves! Moscow's Basmanny Court issued a warrant for his arrest on May 14, and the government promptly filed an extradition request on May 17, claiming priority under an 1873 Swiss-Russian treaty. (The U.S. has not yet filed a formal extradition request.) But on May 20 Adamov declined an invitation to accept expedited extradition to Russia, which suggests that he may be holding out for a "get out of jail free" card on his return (Kommersant, May 27)
Taken together, the Khodorkovsky and Adamov cases starkly reveal the utter cynicism of the Russian authorities in their use of the legal system. At least the Adamov arrest suggests that the Swiss are finally getting serious about tackling money laundering.