Killing of Natalya Estemirova Continues to Reverberate Worldwide
Publication: Eurasia Daily Monitor Volume: 6 Issue: 141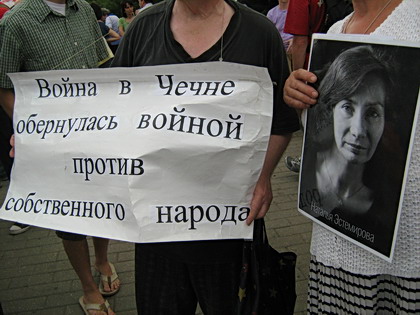 The murder of human rights activist Natalya Estemirova continued to have international resonance on July 22, when Britain's Guardian newspaper published a letter signed by more than 100 prominent international figures calling on the Russian authorities to find her killers and to "end the killings of journalists and human rights defenders in the Russian Federation."
Estemirova was abducted in the Chechen capital Grozny on July 15 and found dead in neighboring Ingushetia later that same day, and Memorial, the human rights group she worked for, has accused Chechen President Ramzan Kadyrov or his subordinates of involvement in the killing (EDM, July 16-17, 21).
Noting that Estemirova received the first annual Anna Politkovskaya award, recognizing women who are defending human rights in zones of war and conflict, back in October 2007 on the eve of the anniversary of Politkovskaya's murder, the letter published in the Guardian stated: "Natasha (as she was known among friends and colleagues) was a gentle, loving woman and a brave truth-teller who was not afraid to speak out about torture, rape and disappearances in Chechnya. She paid for it with her life. Like Anna did. Because there is nothing more dangerous than telling the truth in today's Russia."
The letter was signed by Nobel Peace laureates Shirin Ebadi, Mairead Maguire, Jody Williams, Rigoberta Menchu Tum and Desmond Tutu, along with a number of other prominent figures from across the globe and the political spectrum, including Elena Bonner, widow of the late Soviet dissident Andrei Sakharov, former Czech president Vaclav Havel, Afghan parliamentarian Malalai Joya, British playwright Tom Stoppard, French philosopher Bernard-Henri Lévy, Zbigniew Brzezinski and Noam Chomsky (www.guardian.co.uk, July 22).
Meanwhile, the Russian foreign ministry indicated yesterday that it had received a letter from a group of United Nations human rights experts offering help in carrying out an independent investigation of Estemirova's murder.
The seven U.N. experts said in a statement released on July 21 that they were ready to assist Russian authorities in carrying out an independent investigation into the recent string of murders of human rights lawyers, journalists and defenders, including Natalya Estemirova. They acknowledged that Russia's leaders have expressed outrage and have pledged that all necessary steps will be taken to apprehend and punish those behind Estemirova's murder, but added: "However, these assurances will be worth little unless the authorities take steps that go beyond what has been done in the past, which has all too often led to a cycle of impunity. We offer our assistance to the Russian authorities in light of the failure to effectively and impartially investigate the killings and attacks on a number of human rights defenders in recent years…and to bring the perpetrators to justice" (www.un.org, July 21).
Last week, Secretary-General Ban Ki-moon and U.N. High Commissioner for Human Rights Navi Pillay called for a thorough and independent investigation into Estemirova's killing, with the U.N. secretary-general saying he was appalled by her "heinous" murder.
Russia's foreign ministry said in a July 22 statement that the letter it received had not mentioned a separate investigation by the U.N. officials, which would be impossible under Russian law and UNHCR procedures, but added that they were welcome to provide Russian investigators with any evidence they had relating to the case (www.newsru.com, RIA Novosti, July 22).
Russian human rights activists, for their part, said in an open letter published by the on-line newspaper Ezhednevny Zhurnal on July 17 that Estemirova's murder was the latest in a series targeting activists who were "exposing the crimes of siloviki in Chechnya and other republics of the North Caucasus," including Estemirova's close friends Anna Politikovskaya and the human rights lawyer Stanislav Markelov, who was murdered along with a writer for the newspaper Novaya Gazeta, Anastasia Baburova, in January of this year (EDM, January 22). The letter called Estemirova's killing an act of "true political terror" that was the direct result of state policy, including a policy toward Chechnya and the North Caucasus generally characterized by "crude systematic and widespread violations of human rights, including murders, fabricated criminal charges, torture and abductions" carried out by both "siloviki and certain groups close to them that are acting as 'death squads.'"
The letter published in Ezhednevny Zhurnal was signed by Moscow Helsinki Group chairperson Lyudmila Alekseyeva, For Human Rights movement head Lev Ponomarev, and human rights lawyers Karinna Moskalenko and Yury Schmidt, among others (www.ej.ru, July 17).