Kremlin Faces Problems Having Russian Regions Integrate Ukraine and Belarus
Publication: Eurasia Daily Monitor Volume: 19 Issue: 104
By: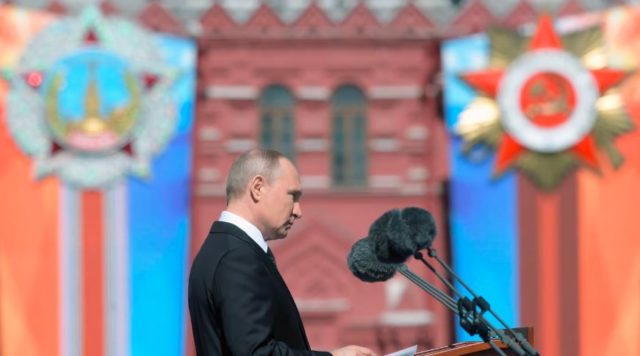 Given how centralized the Soviet Union was and President Vladimir Putin's Russia is today, the role regions within the Russian Federation have played in promoting Kremlin policies in neighboring countries is often overlooked. But in Soviet times, Moscow regularly employed regions and republics along the USSR's Western border as agents to integrate Soviet bloc countries; similarly, it used better-off regions within the country to promote growth in less well-off areas. Now, Putin has assigned Russian regions in general and those bordering Ukraine and Belarus in particular an equally important role in providing assistance to parts of both countries: rebuilding Ukraine after the widespread destruction of the war and promoting region-to-region contact in support of Putin's drive toward a possible union state with the two countries.
Two major differences stand in stark contrast between Putin's efforts and that of his Soviet predecessors, however. On the one hand, unlike Soviet leaders, the current Kremlin leader is using this strategy to shift the burden of his foreign policy away from Moscow and to wholly hide the true costs of his expansionist plans from the Russian people. And on the other, Russian regions in many cases are resisting pressure from the center and doing little or nothing to carry out Moscow's plans. Thus, what worked more or less smoothly in Soviet times may not work as Putin intends now.
On May 19, Sergey Kiriyenko, head of the domestic policy section of the Russian Presidential Administration, announced that Putin had decided to revive the Soviet-era system of patronage (sheftsvo) so that Russian regions could help regions in Ukraine now occupied by Russian forces rebuild and develop. Sources in the Presidential Administration have told Meduza that the idea of such patronage systems was something Putin recalled from Soviet times and from Russian efforts following the Anschluss of Ukraine's Crimea in 2014, when Moscow ordered 16 regions to help develop the peninsula. Now, the Kremlin faces even bigger challenges and is seeking more help but faces serious problems in securing it (Rbc.ru, May 19; Meduza, July 8).
In the wake of Kiriyenko's announcement, 42 of Russia's regional governments, just over half, quickly declared that they would help. But since then, problems have persisted, and the actual number committed to doing so is much smaller—forcing Moscow to pressure the regions rather than being able to count on their volunteering.
Some governors have been unwilling to take part because of problems in their own regions. Others are stonewalling because of uncertainty about where Moscow will acquire the money and personnel for such patronage efforts. And still, others have argued that the entire project lacks an adequate legal definition. Because of this resistance, which may also reflect more general unhappiness about Putin's war, as of ten days ago, only 18 regions are now saying they will participate, paling in comparison to the enthusiastic support expected by the Kremlin (Rbc.ru, June 29). As a result, Russian government sources tell Meduza that the program is about to become compulsory, with the center directing the regions as to what aid they are to provide and how they are to finance it—thereby creating a new source of tension between Moscow and its federal subjects (Meduza, July 8).
While Moscow officials have talked about trillions of rubles in aid to Ukraine's occupied regions and the dispatch of hundreds, if not thousands, of Russian officials to take charge of governance there, no one in Russia is prepared yet to say exactly how much money is really involved and how many officials will actually be willing to go (Rbc.ru, June 29). Some governors have declared they will not use their own budgetary funds lest they are left without enough money for local needs, and they have been told to pressure businesses to help out. Additionally, Moscow has launched a media campaign to point out to regional officials that, if they volunteer for work in Ukraine, they will become part of Putin's "Donbas reserve" and can expect preferment in the future. Officials in some places are upset that other regional officials are being let off the hook because of stronger ties with the Kremlin, upcoming elections or pleas of poverty. Thus, how well the Kremlin's plans will work remains an immensely open question. (For a discussion of the resistance and its prospects, see Meduza, June 9.)
If Moscow cannot convince the regions to do its bidding to the extent the center wants, the Kremlin likely will be compelled to increase repression at home and finance more of the reconstruction of Ukraine from the center's budget and reserves, thereby simultaneously angering people in the regions and highlighting just how expensive Putin's war continues to be for Russians. Both of these possibilities will have an impact on the domestic political situation in the Russian Federation and on longer-term prospects of integrating, and possibly annexing, portions of Ukraine now occupied by Russian forces.
That Moscow wants to use the regions to integrate or annex portions of Ukraine was highlighted by Putin in his video message to the Forum of Russian and Belarusian Regions, which took place in Grodno on June 30 and July 1. The meeting attracted representatives from 47 Russian regions, including 11 governors. Putin told them that the meeting of regional leaders from Russia and Belarus would increase "inter-regional cooperation so as to deepen the integration processes of the Union State" between the two countries (Fondsk.ru, July 3). The meeting saw the conclusion of more than 60 new accords between businesses and governments in Russian regions and their counterparts in Belarus. The outcome in Grodno suggests that, in Belarus, where there has not been any use of Russian force, the strategy of using regions to advance Moscow's agenda may be working—in contrast to Ukraine, where the enormous costs of repairing the war's damage may have an entirely different outcome both in Ukraine and in Russia itself.