Kremlin Provides Financial Support to Stranded and Abandoned Central Asian Migrants
Publication: Eurasia Daily Monitor Volume: 17 Issue: 56
By: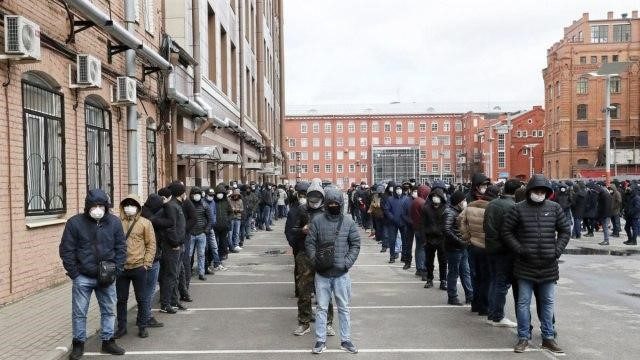 In response to mounting cases of COVID-19 in Russia, President Vladimir Putin signed a decree, on April 17, providing a financial reprieve for the majority of the seven million–eight million foreign migrant workers currently believed to still reside in in the country, with little or no savings to survive. In particular, this measure affected the two million or so migrants from Uzbekistan and 700,000 from Tajikistan, the two Central Asian countries who send the largest numbers of migrant workers to the Russian Federation. The Kremlin decree allows for a three-month long "financial holiday"—back-dated from March 15 to June 15—during which migrant workers are freed from buying work permits, commonly known as "patents," to legally stay and work in Russia (Kremlin.ru, April 18). Around 600,000 migrants from Kyrgyzstan were already exempted from buying these patents because of their country's membership in the Eurasian Economic Union, a Russian-led regional economic bloc.
The move was necessitated by the need to prevent the spread of COVID-19 in the country and, according to some experts, perhaps also helped prevent a real "humanitarian disaster" among the migrant population. Even though the measure is temporary and does not apply to illegal migrants, who usually outnumber legal ones, it was nonetheless hailed by the millions of migrant workers and their families. Without a doubt, the action further improved President Putin's traditionally popular standing in the former Soviet countries that usually supply most of Russia's guest laborers (YouTube [1], [2], April 18).
Heretofore, the Russian authorities were not perceived to be particularly accommodating to the millions of Central Asian migrants arriving mainly from Uzbekistan, Tajikistan and Kyrgyzstan. Moscow often exploited migrant workers to put pressure on the governments back in their home countries (see EDM, May 22, 2017 and July 25, 2019). Central Asian governments have not done much to ease the various hardships faced by their citizens in Russia either—there are no long-term plans or any desire to bring migrants back home by offering them jobs with self-sustaining salaries (Kun.uz, April 5).
Too often, migrant workers have nobody to turn to except civil rights activist, legal consultants, or local non-governmental organizations (NGO) specializing in assisting immigrants facing legal difficulties related to, for instance, widespread and state-condoned police abuse or non-payment of their salaries by unscrupulous employers. Making matters worse, civil right activists usually complain about the unhelpful and negative attitude from the representatives of the diplomatic missions of Central Asian countries in Russia (Center1.com, May 12, 2017).
When the coronavirus pandemic struck Russia, it was domestic civil right activists and NGOs rather than the diplomats or external migration authorities who first highlighted the worsening difficulties of the Central Asian guest workers amidst the quarantine restrictions introduced by Russian authorities. Most of the migrant workers from Central Asian countries were left stranded in Russia, out of work and with little or no savings. In the case of Uzbekistani and Tajikistani nationals, most had no money to buy the monthly patents, which cost somewhere between $50 and $70, depending on the region (Kommersant, March 17)
On April 2, the day that Russian President Vladimir Putin prolonged quarantine measures (introduced on March 18) until May 1, Vadim Kojenov, the president of the Federation of Migrants of Russia, launched the campaign "No Money for Patent" (YouTube, April 2). The next day he posted a video-address to Russian Prime Minister Mikhail Mishustin, convincingly explaining why the Russian government needed to cancel patent payments for up to three months during the quarantine. In his video-address, Kojenov also noted that migrants make a significant contribution to the socio-economic development of Russia. The annual revenue of the state budget from foreign workers comes to about 60 billion rubles (about $1 billion) (YouTube, April 3).
A few days later, Uzbekistan's Ministry of Foreign Affairs also took up the migrants cause and sent a diplomatic note requesting that the Russian authorities defer patent payments for their migrant workers during the quarantine (Podrobno.uz April 8). In addition, on April 10, the chairperson of Uzbekistan's Senate (upper chamber of parliament), Tanzila Norbaeva, wrote a letter to her Russian counterpart, Valentina Matviyenko, who chairs the Russian Federation Council, requesting assistance on the issue (Kun.uz, April 11). Moreover, the ambassador of Tajikistan to Russia, Imomuddin Sattorov, appealed to Russian employers not to fire migrant workers during the quarantine and to provide them with some basic assistance (Mir.24.tv, April 14). Thus, the issue was successfully pushed up to the Kremlin's agenda both by civil society and grass roots efforts as well as via diplomatic channels of Russia's close regional partners and allies.
Yet, some civil society activists, prominent Russia politicians and scholars worry that the "patent holiday" granted to millions of migrant workers may not be enough to completely settle the current difficult situation faced by the guest laborers in Russian cities. These critics suggest that, to deal with the current crisis, the authorities should set up special centers offering free food and free medical services for those in need. Moreover, they argue, various industries, such as the construction sector, that mostly rely on migrant labor, should be allowed to resume (Nezavisimaya Gazeta, April 19).
The COVID-19 pandemic has exposed the extent of some of the long-existing problems related to guest labor inside the Russian Federation. Perhaps, after the situation stabilizes, the authorities may act with increased urgency to carry out the long-delayed reforms and install more order and compliance with the laws as well as greater protection for migrant workers' rights. But some fear that the government may instead simply resort to deploying more of the coercive methods of punishment and mass deportations to ease the burden on dealing with migrant issues as well as to free up more workplaces for Russian citizens who have also lost their jobs due to the pandemic and associated economic crisis. Regardless, it important to note that, despite the rise in nationalistic and xenophobic attitudes in Russian society, the country's shrinking population strongly necessitates large imports of foreign labor (Nezavisimaya Gazeta, April 16; Ritmeurasia.org, April 18)
For Central Asian governments, the ongoing crisis affecting their citizens working in Russia perhaps once again demonstrated that the potency of their efforts to defend their nationals abroad will be improved if they work together with local civil society groups. Whether they will learn this lesson remains to be seen (YouTube, April 18).