Kurdish Referendum: Implications for the Karabakh Conflict
Publication: Eurasia Daily Monitor Volume: 14 Issue: 121
By: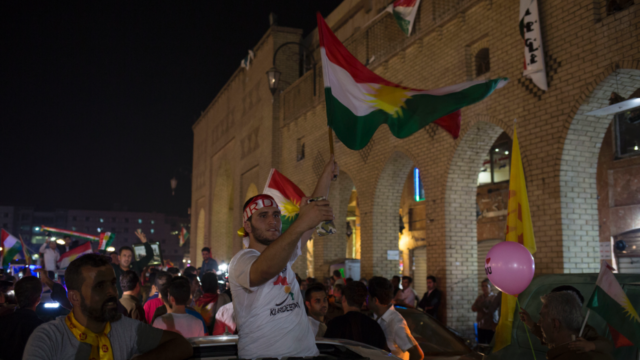 The September 25 independence referendum in Iraqi Kurdistan highlighted two important implications for the Karabakh conflict between Armenia and Azerbaijan. First, official reactions from Baku and Yerevan have been noticeably cautious. Second, recent debates in Armenia and Azerbaijan have focused on whether the notional independence of Kurdistan could represent a precedent for the Karabakh region.
The unrecognized authorities of the so-called "Artsakh Republic" (formerly known as the "Nagorno-Karabakh Republic"—NKR) hailed the referendum (Nkr.am, Tert.am, September 27). But interestingly, Yerevan's reaction to the referendum sounded quite cautious. "Armenia expects the Iraqi authorities and regional authorities of Iraqi Kurdistan to avoid tension and find opportunities to resolve the existing issues," Armenian Foreign Minister Eduard Nalbandian told journalists (ARKA, Armradio.am, September 27).
Baku's official reaction was also careful. "Azerbaijan supports the peaceful resolution of matters between the Central Government of Iraq and Iraqi Kurdistan Regional Government within the territorial integrity and sovereignty of Iraq through mutual understanding and dialogue," said Hikmet Hajiyev, the spokesperson for the Azerbaijani Foreign Ministry (Mfa.gov.az, September 27).
Armenia and Azerbaijan have traditionally openly supported the principles of self-determination and territorial integrity, respectively, due to their divergent considerations regarding the Karabakh conflict. This has been similarly true for the cases of Crimea, Kosovo, Abkhazia and South Ossetia (Reuters, February 18, 2008; Asbarez.com, February 19, 2008; Azatutyun.am, Trend, August 25, 2008; APA, December 3, 2009; News.am, September 24, 2010; EurasiaNet, March 28, 2014; see EDM April 17, 2014). So, what are the factors that caused such cautious reactions from Armenia and Azerbaijan this time around, regarding the Iraqi Kurdistan issue?
First, the Iranian factor has to be taken into account. Iran has a multi-million-strong Kurdish populations bordering Iraqi Kurdistan, and members of this minority took to the streets to celebrate the referendum in solidarity with Iraqi Kurds (Rudaw.net, September 29). The independence of Iraqi Kurdistan could fuel the Iranian Kurds' aspirations for independence. For that and other reasons, Tehran resolutely stands against any Kurdish independence. The Iranian parliament condemned the referendum in harsh terms and called it "Zionist adventurism" in Iraq (TASNIM, September 27).
Iran is also a vital partner that provides a life line for landlocked Armenia, whose borders with Turkey and Azerbaijan remain shut due to the Karabakh conflict. Yerevan's official and clear support for the Kurdistani referendum could have irritated Tehran, which helps explain why Armenia's government refrained from doing so.
As for Baku, it kept its negative view of the referendum relatively muted, knowing that the lack of a clear condemnation would discomfort Tehran. Iran is closely cooperating with Armenia despite the latter's role in Karabakh conflict. Thus, in not speaking out loudly against the September 25 vote, Azerbaijan's government appears to have calculated that the Kurdish referendum would serve as a good reminder to Iran—where ethnic Azerbaijanis and Kurds are the largest ethnicities after Persians—of the Islamic Republic's own vulnerability to separatism.
Second, there is the Israeli factor. Israel supported the Kurdish referendum. And Israeli Prime Minister Benjamin Netanyahu is the sole leader in the world to endorse an independent Kurdistan (Haaretz, September 17). The chief of staff of Iran's Armed Forces, Major General Mohammad Hossein Baqeri, also pointed to Israel by calling the Kurdish referendum "a plot by the Zionist regime" (FARS, September 26). Azerbaijan is absolutely keen to cultivate its existing partnership with Israel. And Armenia remains quite disturbed by that bilateral security relationship (see EDM, January 30, September 25).
Third, the Russian factor must also be considered. Moscow has neither condemned nor supported the referendum. Although Russia called on both the Iraqi federal government and the Kurdish autonomy to engage in "constructive and respectful dialogue with a view to devising a mutually acceptable formula of coexistence within a single Iraqi state," it simultaneously expressed "respect for the national aspirations of the Kurds" (Mid.ru, September 27). Usually, Baku and Yerevan try not to contradict Moscow in order to avoid any possible fallout from Moscow—particularly, considering Russia's crucial role in the Karabakh conflict (see EDM March 24, May 22). Moreover, Azerbaijan seeks to avoid becoming embroiled in any of the various conflicts encompassing the Middle East.
Finally, Yerevan's and Baku's reactions may have been colored by their own perceptions of whether the independence of Iraqi Kurdistan could represent a precedent for Karabakh. It must be pointed out, however, that Kurdistan and Karabakh are categorically different cases for several reasons. Around 25–30 million Kurds, including over 8 million living in Iraqi Kurdistan, are known as the largest stateless people of the world. But to date, Iraqi Kurdistan had not actively pursued self-determination in the form of independence. Whereas Armenians have long exercised their right to self-determination with their own state—the Republic of Armenia—which has a population of around three million. Yet, the Armenian minority of 150,000 people in Karabakh seeks secession from the ten-million-strong Azerbaijan. President Ilham Aliyev has publicly stated that his country will not allow for the creation of a second Armenian state on Azerbaijani land (Azvision.az, May 28, 2016; President.az, March 31, 2017).
From the Azerbaijani perspective, and indeed from the point of view of international law, the de-facto Armenian control of the disputed Karabakh region and the surrounding undisputed seven Azerbaijani provinces is an attempted annexation—not the exercise of the right to self-determination. Therefore, four United Nations Security Council resolutions demand that Armenia relinquish the occupied territories of Azerbaijan (Un.org, March 14, 2008). The resolutions remain unfulfilled.
Moreover, self-determination does not necessarily always mean independence. Various levels of autonomy could also be applied. Incidentally, former Azerbaijani president Heydar Aliyev had long ago offered Armenians of Karabakh the highest level of autonomy available in international practice, which was rejected by Yerevan. This offer was never officially revoked (Aliyev-heritage.com, April 22, 1999, Azertag, April 24, 2009; President.az, June 22, 1905.az, November 24, 2011).
To sum up all these arguments, Yerevan's and Baku's reactions to the Kurdish referendum have shown that Armenia is struggling to cope with the foreign policy ramifications of its stance on the Karabakh conflict, while Azerbaijan seems to have learned how to use neutral diplomatic language—rather than passionate, indiscriminate and fierce statements—in order to defend the concept of territorial integrity over self-determination.