Last-Minute Scandals Hit Georgia's Upcoming Presidential Elections
Publication: Eurasia Daily Monitor Volume: 15 Issue: 146
By: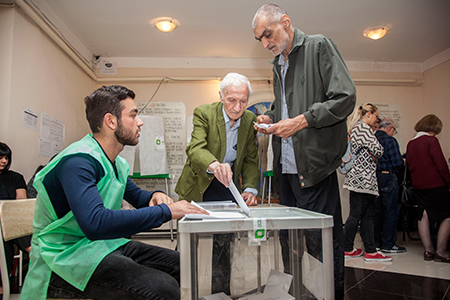 On October 28, the citizens of Georgia will elect a president for the last time via a direct ballot. According to the new constitution, which will come into force immediately after the inauguration of the fifth president of the republic, the sixth and all subsequent heads of the Georgian state will, starting in 2024, be elected to five-year terms by a 300-member Electoral College composed of parliamentarians and local and regional political representatives (Civil.ge, October 12).
Consequently, both the ruling party and the opposition attach great importance to the October elections. Although, as in many other parliamentary republics, the president has extremely limited constitutional powers, the head of state is still the supreme commander of the armed forces, retains the right to veto parliamentary decisions, and retains the prerogative to pardon individuals convicted in court. Notably, if an opposition representative becomes president, he could pardon Mikhail Saakashvili, the leader of the United National Movement (UNM), the country's largest opposition party. Saakashvili served as president of Georgia in 2004–2013. A Georgian court sentenced him (in absentia) to a total of nine years in prison on two charges of abuse of office (Georgianjournal.ge, January 5). Today, Saakashvili lives in the Netherlands but actively participates in the election campaign, supporting UNM presidential candidate Grigory Vashadze. Vashadze is also backed by a large coalition of opposition parties, Power Is in Unity (see EDM, July 25).
Vashadze's main competitor in the elections is Salome Zurabishvili, the former French ambassador to Tbilisi and a former Georgian foreign minister (2004–2005). She is actively supported by the ruling party Georgian Dream (GD) of billionaire Bidzina Ivanishvili, although formally, Zurabishvili is considered an "independent and non-party candidate."
On the first day of her election campaign, Zurabishvili opened herself up to harsh criticism for a controversial statement she made blaming Georgia for the five-day war of 2008. "Russia launched the war a century ago. We yielded to Russia's provocation [in 2008] and got involved in the hostilities. It was Georgia who launched this part of [the] hostilities. It is widely known and it represents an official version that was also confirmed by the European Union. The tragedy of war is our tragedy and—let me say one thing—as the president, I will never yield to provocations, because when you are a small country, you should be cleverer than your enemy," Zurabishvili asserted (Rustavi 2, August 8; Civil.ge, September 13). Former president Saakashvili expressed concern that Russia would use Zurabishvili's statement at the International Criminal Court (in The Hague) against the Georgian military and Georgian authorities of that period (1tv.ge, September 18).
Former opposition leader (2007–2012) George Khaindrava told this author that the guilt of the Saakashvili administration for the events of August 2008, as well as provocations from Russia, was recorded in the EU report (the so-called Tagliavini report); and Salome Zurabishvili simply told the truth about this (Author's interview, October 14). However, the founder of the Republican Party of Georgia, Levan Berdzenishvili, who was also in opposition to then-president Saakashvili for a long time, agreed that Zurabishvili's statements could cause great harm to Georgia—and not only to Saakashvili (Author's interview, October 14).
The ruling party's de facto candidate has been further weakened by the loud "Omega Tape scandal." Specifically, British and Georgian citizen Zaza Okuashvili—one of the founders of the Georgian business conglomerate Omega Group and the owner of the Tbilisi-based Iberia TV—has accused the GD leadership, including former prime minister Bidzina Ivanishvili, of extortion, racketeering and money laundering (Civil.ge, October 1). In connection with the scandal, Rustavi 2 TV released several audio recordings in recent weeks that appear to feature high-ranking officials engaging in corruption and massive extortion from local businessmen (Civil.ge, October 10). Okuashvili hinted in an interview with Rustavi 2 that there is a recording of his conversation with Ivanishvili himself, and he promised that this audio will be published several days before the election (Ghn.ge, October 10).
Despite the fact that Salome Zurabishvili does not formally represent the ruling party, GD's leadership does not hide that it is helping her by using party resources, including financing and volunteers. Therefore, the majority of Georgians do not consider Zurabishvili a truly independent candidate. And all the scandals surrounding GD and its chairman, Ivanishvili, have affected her ratings (Ghn.ge, October 10).
According to the latest survey carried out by Edison Research, Zurabishvili is running behind not only Vashadze, but also another opposition candidate, the leader of the European Georgia party, David Bakradze. When asked which candidate they would you vote for "if the election was held tomorrow," 22 percent of eligible voters expressed support for Vashadze, 18 percent for Bakradze, and only 15 percent for Zurabishvili (Edisonresearch.com, October 3).
Georgian non-governmental groups have expressed concern that the authorities will try to rectify the situation and improve Zurabishvili's positions using "administrative resources." Three leading Georgian civil society organizations said that municipal authorities in several regions of Georgia have been illegally mobilizing government officials to support Zurabishvili. According to the group Watchdogs, state employees were asked to fill out and submit pre-made forms with the personal details of ten likely voters: "The employees said the supporters' lists were being compiled to secure Zurabishvili's victory in the first round" (Civil.ge, October 12).
Salome Zurabishvili's funding sources have also raised suspicion. According to the State Audit Office, on October 1, Salome Zurabishvili received a loan worth 1 million lari ($400,000) from Cartu Bank, owned by GD chair Ivanishvili (Civil.ge, October 11). Watchdogs also flagged as suspicious several larger donations from the medical staff and administration of the Tbilisi-based Chachava and Gudushauri maternity clinics, equaling tens of thousands of lari each (Civil.ge, October 11).
Leaders of the ruling party have rejected all allegations of violations of the electoral code. They accuse the opposition of running a "dirty campaign" against Zurabishvili. Parliamentary speaker Irakli Kobakhidze rebuked as "fascist" statements made by general manager Nika Gvaramia that all those individuals who funded Zurabishvili's election campaign, are "traitors" (Rustavi 2, October 8).
Saakashvili said, that the opposition will definitely win the elections if the authorities do not falsify the results of the vote. He called on Georgian citizens to "defend their choice" after the elections and promised to return home soon (Rustavi 2, September 27).
The election campaign is being carefully monitored by international organizations and Georgian partners, including the United States (Civil.ge, October 12). Its results could have broad implications both domestically and for Tbilisi's diplomatic relations.