Leader-Oriented Relations Between Russia and Turkey in Times of Pandemic
Publication: Eurasia Daily Monitor Volume: 18 Issue: 83
By: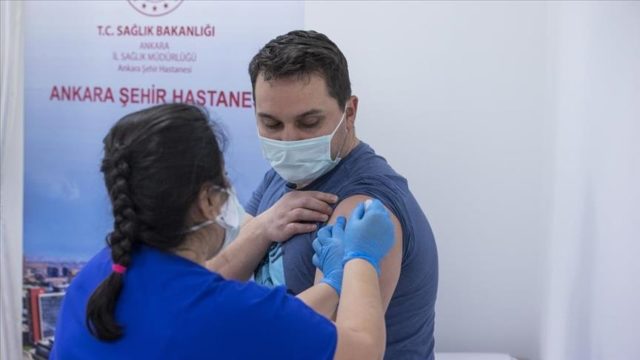 At the end of April, Minister Fahrettin Koca announced that the Ministry of Health had granted emergency use authorization in Turkey to Russia's COVID-19 vaccine (Anadolu Agency, April 30).  Sputnik V became the third vaccine to receive such approval, after China's Sinovac and the Pfizer-BioNTech shot, developed in the United States. Moreover, the Turkish firm Viscoran Medicine will be producing the Sputnik V vaccine in Turkey, based on an agreement with the Russian Direct Investment Fund.
The emergency authorization was granted amidst ongoing criticisms against the Turkish government for the slow pace of immunization in Turkey. Earlier, Koca announced that the health ministry planned to vaccinate 60 percent of Turks by the end of May (Anadolu Agency, February 10). However, as of May 9, only 25 million people were vaccinated out of a total population of 83 million (Dunya, May 9). Koca hinted that the supply of Sinovac shots had slowed down following the Turkish opposition's statements about China's human rights violations against Turkic Uyghurs in Xinjiang. Officials from the Chinese embassy in Ankara asserted that the reason behind the supply slowdown was not political (Haberturk, May 9). But in any case, Turkey missed the chance to ramp up inoculations during its costly 17-day lockdown and travel ban.
The supply of Sputnik V was one of the main topics discussed in recent phone calls between President Recep Tayyip Erdoğan and his Russian counterpart, Vladimir Putin (Kremlin.ru, May 12). Along with giving a production license to a Turkish firm, Russia will also ship 50 million doses to Turkey in six months. The government in Ankara hopes that the fruits of this Russo-Turkish cooperation in the medical sphere will play well politically with its electorate. It also stands to benefit Russia, which obtains access to one of the biggest markets in the region with a well-developed healthcare system. Although a handful of Western countries, including Hungary and Slovakia, had also decided to buy Sputnik V, most European Union member states have been awaiting approval by the European Medicines Agency before considering purchasing the Russian vaccine. Turkey's willingness to use Sputnik V, thus, represents an important propaganda coup for Moscow.
In the case of Turkey, Sputnik V's value as a soft power instrument for Russia extends into the realm of technological cooperation and know-how transfer—an area the two countries have already strongly pursued when it comes to, notably, weapons development and nuclear power. Russia was chosen to build Turkey's first nuclear power plant, and it has provided it with the advanced S-400 mid-to-long-range air-defense system. Similarly, during the Cold War period, Moscow assisted Turkey with developing the latter's heavy industrial base.
Of course, it bears pointing out that the Akkuyu nuclear power plant and Turkey's acquisition of S-400s has raised enormous controversy at both the domestic (Turkey) and international levels. Particularly, the acquisition of the S-400 missile-defense system created a serious crack between Turkey and the rest of the North Atlantic Treaty Organization (NATO) as well as triggered US sanctions. It remains to be seen whether the recent agreement on Sputnik V will also add to tensions between Turkey and the Euro-Atlantic community.
That said, deepening cooperation with Russia in the last decade represents an axial shift in Turkish foreign policy away from the West. This progressive reorientation gained particular impetus after the failed coup d'état attempt against Erdoğan in July 2016. Just like Putin, the Turkish president also prefers direct dialogue with his counterparts in foreign policy matters. So it is not a coincidence that following the downing of a Russian military jet by a Turkish F-16 in November 2015, the two leaders have repeatedly tended to engage in one-on-one talks to deal with bilateral problems instead of first sending messages to each other through the media. In his annual, end-of-year press conference in 2020, Putin said, "We have different, occasionally opposing views on certain matters with President Erdoğan. But he keeps his word like a real man. He does not wag his tail. If he thinks something is good for his country, he goes for it. This is about predictability. It is important to know whom you are dealing with" (Kremlin.ru, December 17, 2020).
Still, both countries have conflicting positions in Syria, Libya, Ukraine and the Caucasus. Though, they manage to find ways to keep the dialogue channels open. Such an approach helps Russia and Turkey avoid a possible direct confrontation while projecting power abroad. Additionally, both countries use such dialogue to balance US activities in their neighborhoods. According to Russian analyst Maxim Suchkov, "on most issues sensitive to Ankara, Moscow seeks to convey the type of empathy Erdogan doesn't encounter either with the United States or Europe." But importantly, the Kremlin also looks beyond for new opportunities to tighten the relationship (Al-Monitor, April 9, 2019). In this regard, a vivid example is the so-called Astana process on resolving the Syrian conflict. Both Turkey and Russia have conflicting interests in Syria, but they managed to agree on an approach that serves the interests of both parties while limiting the US's space for maneuver.
Harmonizing their policies in the Middle East is relatively easier for Turkey and Russia. But considering Russia's domineering near abroad strategy, developing a common language with Moscow is more complicated for Ankara in Eurasia. During the Second Karabakh War (September 27–November 9, 2020), the two parties apparently managed to accommodate each other in the South Caucasus. Here, Turkey's efforts to act carefully during the war, to not confront Russia directly, is worth noting (Valdaiclub.com, December 10, 2020). Russian analyst Pavel Baev argues that Ankara had initiated the dialogue with Moscow right after the first Armenian-Azerbaijani skirmishes exploded in Karabakh (Ifri.org, May 2021). Nonetheless, the limits of Russian-Turkish relations have not been tested in the Black Sea yet.
Recently, military-technical cooperation has been growing between Turkey and Ukraine. Based on recent agreements, Turkey is selling its advanced Bayraktar TB2 medium-altitude, long-endurance (MALE) combat drones to the Armed Forces of Ukraine (AFU); and both countries have agreed to jointly build corvettes (Anadolu Agency, April 4). Such cooperation contributes to the modernization of the AFU, with potential implications for the balance of power in the Black Sea. Considering that these Turkish drones played critical roles in the conflicts in Syria, Libya and Karabakh, Russia is closely following Turkish-Ukrainian relations in this field. Russian Deputy Prime Minister Yuri Borisov recently stated that Moscow will review its military and technical cooperation with Ankara if Turkey delivers drones to Ukraine (TASS, April 21). The personal relationship between Erdoğan and Putin will, therefore, be crucial to monitor since Russian-Turkish relations have yet to be thoroughly tested by a delicate case like Ukraine.