Libya Cautions China: Economics Is No Substitute to Politics
Publication: China Brief Volume: 9 Issue: 24
By: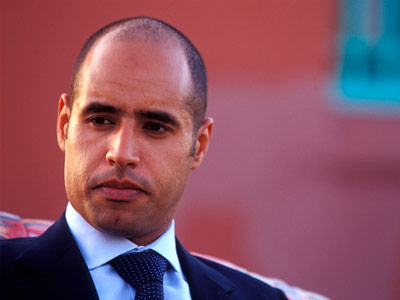 As anticipated, the fourth ministerial Forum on China-Africa Cooperation (FOCAC), which was held in Sharm al-Shaykh (Egypt), November 8-9, reflected wall-to-wall praise for Sino-African "cooperation" in general and particularly for the positive Chinese role in Africa. China announced its readiness to pour more money into Africa, planning more projects and increased presence with "no strings attached." Yet it is precisely this emphatic divorce between economics and politics in Chinese external activities, or between economic aid and political aid, which has triggered unprecedented criticism not heard of before from some African leaders.

In recent years China's Africa policy has attracted fire from many quarters outside the African continent—governments, NGOs, the media and academics. African governments, on the other hand, appeared to have welcomed the Chinese presence and underlined its benefits, often compared to their negative experience with the Western and even the Soviet presence, occasionally termed "colonialism" and "imperialism." Africans, with the possible exception of some opposition groups, have failed to criticize the so-called Chinese "model." Fully aware of the "Western" sources of this criticism, Beijing has indeed defied its Africa-policy critics as competitors who envy China's achievements in the continents that trespass "their" territory and undermine "their" interests. When asked by a journalist about this criticism, Wen Jiabao, China's prime-minister, replied: "There have been allegations for a long time that China has come to Africa to plunder Africa's natural resources and practice neo-colonialism. The allegation in my view is totally untenable. Who is really asking these questions? Is it the African states or is it the West looking on nervously?" (Africa News, November 16). Indeed, for a long time Africa failed to ask questions about the implications of the Chinese offensive in the continent. "Africa offers China…friends who do not judge it" (Reuters, November 1). Not anymore.
African Criticism of China
This forbearance was interrupted—apparently for the first time—before, during and after the recent FOCAC meeting, and not just by opposition groups and parties but by high-ranking officials. They expressed concern about a number of issues related to the Chinese offensive. Thus, Nigeria's Minister of State for Foreign Affairs Bagudu Hirse blamed China for financing corrupt and repressive regimes: "We accept what China is doing. And we welcome their investment. But," he underlined, "they must understand that we are very sensitive to good governance and democracy. We can't start thinking of imposing sanctions on Guinea or Niger for bad governance and then they [China] go behind us and strike some other deals. We suspect they do that anyway. They will never confirm it, but we read the newspapers—we know what is going on" (Africa News, November 16).
He was referring to Beijing's decision (reportedly of June 2009) to invest $7 billion in a mining deal in Guinea, announced by Guinea's military junta immediately after the September massacre of the opposition when over 150 protestors were killed. Though Beijing has denied the deal had been signed, it draws international condemnation and protests by human rights groups (CBS News, October 25). Precisely a year earlier, a $5 billion oil deal that was made between China and Niger "in the greatest of secrecy and with contempt for regulation," has been denounced by unions and civil rights groups that called for an investigation of how the funds resulting from the agreement are spent and a general parliamentary inquiry into the deal, out of concern that the people of Niger would not benefit from it (BBC News, July 30, 2008). Yet China's activities in Africa are not only breeding corruption.
"Hugely fearful of China's way of doing business", the Egyptian independent Member of Parliament Mustafa al-Gindi, used the unmentionable word: "Whatever they say, it is a fact that the Chinese come to Africa not just with engineers and scientists—they are coming with farmers. It is neo-colonialism. […] There are no ethics, no values." (Africa News, November 16, emphasis added). Still, these are kind words compared to the interview with the Libyan Foreign Minister Musa Kusa, published on November 10, 2009 by the influential (Arabic and English) daily Al-Sharq al-Awsat (The Middle East) in which he lashed out at China's Africa policy as harshly as ever before. As a former head of Libya's foreign intelligence service (for 15 years), he is probably one of the Africans most familiar with Chinese operations on the continent.
Libya's Foreign Minister Interview
In the interview—given on the occasion of the fourth meeting of FOCAC held in Egypt—the Libyan foreign minister tried to tone down his criticism by praising China's support for the African "liberation movement," its unity and contribution to balancing the international system, "but", he said, "not at the expense of the [African] people." He then added: "When we look at the reality on the ground we find that there is something akin to a Chinese invasion of the African continent. This is something that brings to mind the effects that colonialism had on the African continent [in the past]. […] Therefore we advise our Chinese friends not to follow in this direction i.e. [sic] bringing thousands of Chinese workers to Africa under the pretext of employment, for at the same time Africa is suffering from unemployment." He went on saying that China's programs of training and employing thousands of Africans is welcomed "but this welcome does not mean [accepting] the Chinese coming to settle in Africa."
A number of themes were singled out in his criticism. For one, accusing China of a "divide and rule" policy, he rejected Beijing's refusal to allow delegates of the African Union (AU) to participate in the Forum or to consider the AU as a representative of Africans. It "is an insult to the African Union. […] Is it reasonable for China—as a single country—to preside over an entire continent? This is an injustice. […] China's unwillingness to accept the presence of African Union commissioners means that they do not want the African Union, or African Unity, but rather China wants to cooperate with Africa as separate nations, rather than as a union."
For another, he accused China of betraying the African countries that had facilitated China's admission to the United Nations and the Security Council. Yet, when the Chinese reached an international position they "did not support their friends." "We did not see the Chinese playing an effective role, and [they] did not help the African [bloc] gain a [permanent] seat on the Security Council, but on the contrary, opposed it. This caused us to ask the question 'What is the difference between them and imperialists?'" Finally, he raised an interesting point, accusing China of evading politics and Beijing of abandoning the movements and countries that need its support. "Here I am reminded of the strange Chinese position on the Goldstone report…China should have a more visible position on this, rather than being satisfied with a tentative vote." In an unequivocal statement he said: "Genuine cooperation must include politics […] and should not be limited to building roads and schools. It is true that this is required, but international cooperation is not based on constructing buildings and giving aid, but rather through political positions." These remarks highlight one of Beijing's principal weaknesses in the international system: its systematic attempts to avoid taking clear-cut positions on global issues in an effort to please all sides. Sooner or later, Beijing's political passivity will begin to undermine its economic interests. Implicitly, Libya's Foreign Minister warns the Chinese that the countries and people of Africa (and the Middle East) expect more vigorous political support and, while they may appreciate China's economic contribution, they have no intention of becoming subjugated to the Chinese and prefer to keep their options open.
The Origins of Libya's Criticism
This criticism is just one additional crack in a series of Sino-Libyan disagreements in the last few years. The most recent concerns Libya's decision to block the sale of the Canadian firm Verenex, that controls oil assets in Libya, to China National Petroleum Corporation (CNPC) and to buy it instead (CNPC offer was 57.5 percent higher). At about the same time and in a similar way, Angola's state-owned Sonangol announced it wanted to block the sale of Marathon Oil's 20 percent oilfield stake to Chinese oil companies (CNOOC and SINOPEC). The Chinese insistence on keeping local hiring to a minimum has brewed resentment. "Some in Africa are starting to find the Chinese embrace too tight" (The Australian, September 30). This could signal increased intervention of African governments in the oil sector to ensure more diversification of oil customers and thus to maximize income and to diminish dependencies, to the detriment of China (Petroleum Economist, November). Yet, Sino-Libyan friction concerned not only economics but also politics.
Earlier, in 2006, the two countries squabbled over Libya's relations with Taiwan. The deterioration began in January when Sayf al-Islam Qadhafi—chairman of the Libyan Qadhafi Foundation—met President Chen Shui-bian in Taiwan, acting as an envoy of his father, Mu'ammar Qadhafi. Libya, which had maintained diplomatic relations with Taiwan from 1959 to 1978, recognized the People's Republic of China (PRC) in 1971 but delayed the establishment of diplomatic relations until 1978. Qadhafi invited Chen Shui-bian for an official "state visit" to Libya and said that his father was resolved to develop relations between the two countries, with Libya serving as Taiwan's gateway to Africa. "He hoped that the two nations sign a memorandum on establishing mutual representative offices before his departure" [1]. Adding insult to injury, this invitation came on January 19, precisely when PRC Foreign Minister Li Zhaoxing was meeting Qadhafi (the father) in Libya. An online Libyan newspaper reported recently that Sayf al-Islam Qadhafi was officially and practically appointed as successor to his father (Libya al-Yaum [Libya Today], October 15).
To be sure, a few months later, in May 2006, Libya allowed Chen Shui-bian to make a stopover in Tripoli, and used the opportunity to negotiate the issue of representative offices in the two countries, despite Beijing's protests and "strong opposition." A PRC Foreign Ministry spokesman said: "We demand that Libya live up to its commitment and immediately cease all official exchanges with Taiwan in whatever forms so as to maintain the overall China-Libya relations…This is a serious violation of Libya's long-term commitment to the one-China policy and will exert a negative impact on China-Libya relations" (Xinhua News Agency, May 11, 2006). Indeed and inevitably—it has. Probably in response to Beijing's implicit threats, Libya sent a low-ranking representative to the third FOCAC and ministerial meeting held in Beijing in November 4-5, 2006.
Conclusion
These incidents should by no means create the wrong impression. It is far too soon to eulogize China's Africa policy, one of the most remarkable success stories in global politics over the last two decades. China is not only heavily invested in Africa for many years to come, but most African governments and public opinion still appreciate the Chinese economic contribution, while overlooking its negative implications such as bad governance, corruption, human rights abuses and lack of transparency. Yet, there are initial signs that Africa's leaders are becoming aware of these shortcomings based not only on their historical experience but also on current international norms, greater visibility and demands for accountability. Qadhafi by no means reflects these norms. Addressing Oxford University students via satellite on May 17, 2008, he said that both the PRC and the United States compete for influence in Africa: "American interference has been much more harmful and hypocritical … China's influence was conducted in a purely business fashion that did not resort to military adventures and double standards" (Middle East Online, May 17, 2008). Qadhafi does not want to drive the Chinese away as they have played a significant role in Libya's housing, energy, communication, transportation, and other sectors. He wants the Chinese to behave themselves and to realize who is in charge and it is not Hu.
Notes
1. Office of the President, Republic of Taiwan, News Release, January 18, 2006.