Macron Meets With Putin as Russian Warships Move Into Position
Publication: Eurasia Daily Monitor Volume: 19 Issue: 17
By: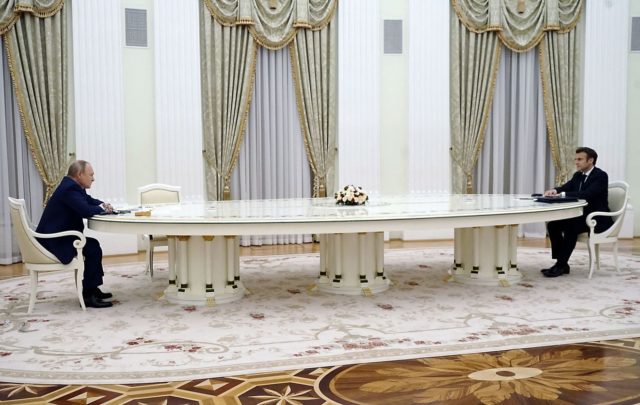 On February 7, French President Emmanuel Macron visited Moscow and spent over five hours talking with his Russian counterpart, Vladimir Putin, in an attempt to negotiate a de-escalation of the present acute security crisis over Ukraine (Kremlin.ru, February 8). France holds the rotating presidency of the European Union, and Macron, who is running for reelection in a couple of months, has tried to position himself as key peacemaker and EU leader in negotiations with Russia. This is despite the fact that France lacks the political, military and economic power to unilaterally pressure Russia, Ukraine, the United States or key European countries into concessions or compromises.
After Moscow, the French head of state flew to Kyiv on February 8, and met with Ukrainian President Volodymyr Zelenskyy. Macron sounded optimistic, announcing that Putin promised "not to initiate any further escalation." According to Macron, the Kremlin leader also promised to withdraw Russian troops deployed in Belarus as part of a massive military exercise. Ahead of his summit with Putin, Macron told journalists about the need to honor legitimate Russian security concerns and to respect the "great Russian nation and its historical grievances." In Kyiv, Macron called on the implementation of the 2014/2015 Minsk ceasefire accords—something Putin, using crude innuendos, also demanded from the Ukrainian government during his joint presser in Moscow with the visiting French leader (Kremlin.ru, February 8). The Russian leadership apparently hopes that France, together with other Western governments, will successfully pressure Kyiv to begin direct talks with the Kremlin-appointed figurehead authorities of the pro-Russian Donbas "separatist" entities, thus putting them on an equal basis with elected Ukrainian officials (Kommersant, February 9). But the Ukrainian authorities, though ready to uphold a ceasefire in Donbas, continue to refuse to implement a Russian interpretation of the Minsk accords, despite the latest pressure from Macron (RT, February 9).
The Minsk ceasefire accords were signed in September 2014 but failed to prevent renewed large-scale fighting that winter; a follow-on protocol (Minsk Two) was then signed in February 2015, with Germany and France again acting as brokers. Kyiv was compelled to agree to the Minsk Two accords to stop the Russian-led offensive in Donbas, which culminated in a retreat of the routed Ukrainian military from the Debaltseve bulge. Moscow believes these accords must transform Ukraine into a confederation in which the Russian-controlled Donbas will have a separate economic and political system closely linked to Russia, together with an independent military. Such an arrangement could prohibit any attempt by Kyiv to join the North Atlantic Treaty Organization (NATO) or the EU, ensuring a permanently neutral and pro-Russian Ukraine. Reportedly, Macron may have discussed with Putin a guaranteed permanent neutral status of Ukraine as a way to defuse and deescalate the present situation (Topwar.ru, February 10). On February 10, Russian Foreign Minister Sergei Lavrov held a joint presser in Moscow with his visiting British counterpart, Elizabeth Truss, where he rebuked Zelenskyy and the Ukrainian government for rejecting direct negotiations with the Donbas separatists, refusing to implement the Minsk accords, and ignoring Macron; moreover, he compared the Ukrainian authorities to German Nazis (Vesti, February 10). Lavrov described his talks with Truss as "a dialogue of the mute with the deaf," implying that Russian arguments are ignored by the West (TASS, February 10).
The joint Russo-Belarusian exercises Allied Resolve 2022 (Souznaya Reshymost 2022) have begun on Belarusian territory. Officially, the two militaries are training to "prepare to repel possible external aggression and suppress terrorist activities." Moscow has not given specific numbers of the troops involved, but NATO estimates as many as 30,000 may have been deployed for the drills. The troops moved into Belarus have come from the Russian Far East—the Eastern military district (Vostochny Voyenni Okrug—VVO)—and not from nearby Russian European provinces (see EDM, January 20, 26, February 2). This massive movement of troops west from the Pacific region and from the border of Manchuria is significant: It demonstrates the real strategic partnership and trust between Moscow and Beijing and would have been unthinkable during the Cold War (see EDM, December 16, 2021). Regardless, the Russian General Staff surely cannot permanently leave the Far East and the Chinese border without a garrison. The VVO forces cannot stay in Belarus indefinitely; they will have to return to their VVO garrison towns and bases soon—perhaps by March 2022. The Kremlin denied there was any deal with Macron on withdrawing troops from Belarus, since they were already scheduled to move out (Interfax, February 8). Of course, Belarus's Alyaksandr Lukashenka regime is weak politically, economically and militarily after the mass protests that followed the apparently rigged presidential election in August 2020. A decision could still come sometime soon to deploy significant Russian combat forces permanently to Belarus; but those units would most likely come from other parts of the Russian Federation than the Far East, or be formed directly in Belarus, with some soldiers possibly recruited locally.
Putin has repeatedly said or intimated that Russia has no intention of invading Ukraine. But intentions may change overnight. Of most importance are capabilities, and the deployment of Russian forces are increasingly threatening. Six large amphibious assault ships (three from the Baltic and three from the Northern Fleet) have sailed through the Turkish Straits into the Black Sea "for exercises" (Militarynews.ru, February 9). Each ship can land a reinforced battalion with tanks and other heavy weapons on a beach. In January 2022, these six assault ships gathered in the Baltic Sea, compelling the Swedish military to send armored reinforcements to Gotland Island (Militarynews.ru, January 14). But then, this small Russian flotilla left the Baltic, sailed around Europe into the Mediterranean, and have now arrived in the Black Sea. As a result, the Russian military currently has the capability (together with the assault ships of the Black Sea Fleet) to, in an opening wave, land up to two divisions from sea and air deep behind enemy frontlines in the Black Sea theater.
Ships take weeks or even months to deploy, and the movement of naval vessels is often the earliest indicator of true intentions. The German press has reported that a superyacht, Graceful, allegedly owned personally by Putin, left a Hamburg shipyard without completing its planned repairs and renovations and sailed to the Russian Baltic port/military base in Kaliningrad—ostensibly to avoid seizure if a war, indeed, breaks out (Bild, February 7). Russian officials quote intelligence reports about Ukrainian forces concentrating on the border together with NATO instructors, special forces and foreign mercenaries, in preparation for covert attacks and "provocations." Of course, it is implied, the Russian people do not want a bloody war with Ukrainians, but provocations could force Russia's hand (Interfax, February 10). The countdown to war continues, while Macron's diplomatic overtures find few takers.