Militants, Police, Servicemen and Officials Die in North Caucasus Violence
Publication: Eurasia Daily Monitor Volume: 6 Issue: 135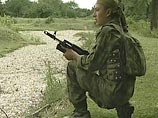 Top Russian officials are claiming that the security situation in the North Caucasus is improving. News reports from the region, however, paint a different picture. President Dmitry Medvedev told Ingushetia's acting president, Rashid Gaisanov, during a meeting in Sochi yesterday that "the fight with bandits" in the North Caucasus has achieved "not bad results" recently. Medvedev, who said he had just spoken with Federal Security Service (FSB) Director Aleksandr Bortnikov and "other colleagues," claimed that around 20 rebels had been killed over the last several days, adding that it was necessary to step up those efforts even further.
Gaisanov, for his part, said that the situation in Ingushetia remains tense but is under control. He said that the republic's security forces together with the FSB and interior ministry are continuing to carry out the counter-insurgency operations launched in May by Ingushetia's president, Yunus-Bek Yevkurov, who was seriously wounded in a suicide bombing in Nazran last month, and that operations in both the republic's mountains and population centers are yielding "good results" (www.top.rbc.ru, July 14).
Russian Interior Minister Rashid Nurgaliev has also expressed optimism about the situation in the North Caucasus, but somewhat more cautiously. He said yesterday that the number of rebel attacks in Chechnya has dropped, so that there is no need to maintain a counter-terrorist operation regime for the entire republic. Nurgaliev added, however, that clashes between militants and security forces are continuing in some districts of Chechnya, meaning that the security forces are still required for those areas and therefore that the Unified Group of Forces in the North Caucasus will not be downsized (www.polit.ru, July 14).
In April, the federal authorities officially ended the counter-terrorist operation in Chechnya after ten years, but were soon forced to launch smaller counter-insurgency operations in a number of districts in the republic because of ongoing insurgent activity.
Federal and local officials in the North Caucasus have indeed reported some successes in recent battles with Islamic militants in the region. Ingushetia's Interior Minister Ruslan Meiriev claimed on July 14 that more than 40 militants had been killed or detained in operations along the Chechen-Ingush administrative border. Meiriev said a number of militants were still hiding in the mountainous border region. "They are scattered and divided like never before," he said, adding that the rebels are too weak to carry out "large-scale subversive or terrorist acts" (RIA Novosti, July 14).
Chechen interior ministry forces reportedly killed four militants in a shootout in the republic's Achkhoi-Martan district on July 11 and another three during a gun battle in the Chechen capital Grozny. The battle in Achkhoi-Martan took place in a woods five kilometers from the village of Bamut and none of the Chechen interior ministry servicemen involved in the fighting were killed or wounded. The incident in Grozny took place when police stopped an automobile and its occupants opened fire on them. Three of the gunmen were killed while there were no losses among the police, who afterwards discovered two Kalashnikovs and a grenade in the vehicle (www.newsru.com, July 12). On July 12, two militants were reportedly killed when they resisted arrest in Chechnya's Urus-Martan district. That same day, three suspected militants were killed in a shootout with police in Chechnya's Shali district (www.newsru.com, July 15).
These reports, if true, mean that a total of 12 militants were killed in Chechnya in the two day period of July 11-12.
Meanwhile, the FSB branch in Dagestan reported that five suspected rebels were killed in the city of Khasavyurt on July 12. The incident took place after FSB personnel stopped a car with five suspected militants and asked them to surrender: the car's occupants instead opened fire and were killed in the ensuing shootout. An anonymous FSB official reported that four automatic rifles and a large quantity of ammunition and explosives were found in the vehicle. The source told Interfax that three of the slain suspected militants had been identified as Rustam Shaipov, Abubakar Ammaev and Arsen Dzhumaliev, and that all three were wanted for terrorist activities, including attacks on law-enforcement personnel (www.kavkaz-uzel.ru, July 12).
Still, these reported military successes have apparently had little effect in thwarting fresh rebel attacks in the region. Two people were killed in Ingushetia's Nazran district today when unidentified gunmen fired on a car being driven by a bailiff, Akhmed Yevloev, on the Kavkaz federal highway near the village of Barsuki. Yevloev's brother Dekkhan, who is also a bailiff, was in the car, along with a young female relative and a child. Dekkhan Yevloev and the woman were killed in the attack, while Akhmed Yevloev and the child were wounded and hospitalized (www.newsru.com, July 15).
In Chechnya, two policeman and two interior ministry servicemen were killed in fighting near the village of Kirov-Yurt in the Vedeno district on July 14. The battle involved local policemen and servicemen from the interior ministry's Yug battalion, on the one hand, and a group of militants numbering up to 15, on the other. In addition to the two local policemen and two interior ministry servicemen killed, two other policemen, three additional interior ministry servicemen and an OMON special tasks police officer from Irkutsk Oblast were wounded in the shootout (www.newsru.com, July 15).