Militants Striking Both Sides of the Afghanistan-Pakistan Border to Disrupt Security Cooperation
Publication: Terrorism Monitor Volume: 7 Issue: 29
By: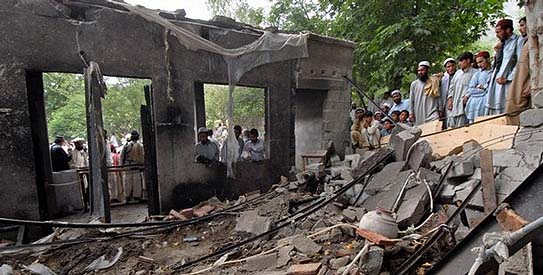 Eleven cross-border incursions over the last four months in the Pakistan-Afghanistan border region have taken place despite several army operations in Pakistan and the NATO presence across the border in Afghanistan, demonstrating the continued strength of militants in the border region. The incursions, allegedly carried out by Pakistani militants with help from Afghan allies, have killed 56 people, including security personnel and members of anti-Taliban militias (The News [Islamabad], July 9). Most of the attacks were carried out in Dir region where militants of the Tehrik-e-Taliban Pakistan (TTP) who had dispersed and fled to Afghanistan and adjacent tribal areas during military operations are regrouping and trying to regain a foothold in the region (see Terrorism Monitor, March 3). Other incursions have occurred in Chitral, Bajaur Agency, Momand Agency and South Waziristan Agency.
An account of the largest of these cross border attacks depicts militant groups operating with greater frequency while facing only minimal interference in the frontier region:
• On April 22, a border security post in the Lowere Dir village of Kharkhai came under attack by militants, resulting in the death of more than 16 security personnel (Daily Azadi, April 29).
• On June 1, the deadliest of the cross border raids was carried out in Upper Dir's Shaltalo village, where hundreds of heavily armed militants targeted a poorly defended security post. They killed 34 people, 26 of them security officials, and captured 16 policemen (Express Tribune [Karachi], June 3). On July 18 the Afghan Taliban released a video showing the bound policemen being executed somewhere inside Afghanistan, allegedly as retribution for the death of six Pakistani children killed during security operations in Swat district (Daily Azadi [Swat], July 19; BBC Urdu, July 19; https://www.youtube.com/watch?v=ro4sGGRuWms).
• On June 6, over 200 militants crossed the border and raided the homes of local anti-Taliban militia members in the Mamond area of Bajaur, killing roughly 15 people (Daily Azadi [Swat], June 7).
• The latest of the cross-border attacks was launched in the Nusrat Darra area of Upper Dir on July 6. A member of the local anti-Taliban militia was killed, several others injured and three schools destroyed during the attack (The News, July 9). [1]
Residents of Pakistan's border areas are now requesting the government not install additional security posts in their areas for fear of inciting new attacks while migrations have started abruptly from the border villages. [2]
Although the Pakistani government blamed the Afghan Taliban for carrying out the cross-border attacks, local security analysts and tribal elders say that the attacks were carried out in Dir region and other tribal areas by Pakistani militants, especially accomplices of Maulana Fazlullah and Maulana Faqir Muhammad, the heads of the TTP in Swat and Bajaur region respectively, with the help of Afghan militants. [3] Media reports claimed that Fazlullah and several high-profile TTP commanders had fled to the Nuristan or Kunar provinces of Afghanistan due to military operations in Swat in 2009. However, it is possible Fazlullah's group members have started returning and are now targeting their enemies, especially the security forces. This was seemingly confirmed by TTP leaders when they claimed responsibility for the attacks in Dir region. Omar Hassan Ahrabi, a spokesperson for the TTP Malakand Division, said that his organization had carried out the attack "with Afghan allies" (Pak Tribune, July 7). However, Zabihullah Mujahid, a spokesman for the Afghan Taliban, denied involvement in the attack on Pakistani territory, describing it as an internal matter for Pakistan. He further stressed that the Afghan Taliban insurgents limit their operations to Afghanistan and never launch attacks in Pakistan or any other country (The News [Islamabad] July 12).
Current attacks in Dir and adjacent tribal areas might also indicate that Pakistani militants are not only regrouping in these areas, but also adopting a new strategy of large-scale attacks on government targets and security forces. TTP Bajaur leader Faqir Muhammad says their forces have joined with al-Qaeda and the Afghan Taliban in changing their strategy to focus on large-scale attacks on state targets and security agencies, such as Dir attacks (The News, June 3).
The recent cross-border attacks may be precursors of a battle between the security forces and the Taliban for the social and administrative control of Malakand division and the Bajaur and Mohmand Agencies after high-profile militants were targeted by CIA Predator drones in FATA. One Peshawar-based security analyst suggested that the alliance between the leadership of al-Qaeda, the Afghan Taliban, the Pakistani Taliban and other national and transnational militant organizations might be looking for a new but familiar safe haven in the shape of Malakand division prior to starting a military offensive in North Waziristan. [4] Local elders believe the Taliban's combination of targeted attacks on security forces and indiscriminate assaults on civilians seem designed to create fear amongst the local population so that they do not create armed militias to defend their territory. [5]
Reports from Afghanistan suggest that the cross-border attacks run both ways, especially in the remote regions of eastern Afghanistan. Afghan authorities, including the governors of Kunar and Nuristan, complain regularly about the incursion of militants from Pakistan, especially from the areas of Dir, Chitral and Bajaur. The largest attack took place in Kamdish district in Nuristan, where hundreds of militants, most of them alleged to be Pakistanis, crossed the border from Dir in Pakistan and targeted the district, killing scores of people, including 23 policemen (Pajhwok Afghan News, July 5). Afghan officials also claim that 760 rockets have been fired by Pakistani security forces into eastern Afghan border provinces of Kunar, Nangahar and Khost in the past six weeks, killing at least 60 people and wounding hundreds more (Wakht News Agency [Kabul], June 24). In the past three months, up to 12,000 civilians in eastern Afghanistan have been displaced by increasingly regular shelling from the Pakistan side of the border.
The attacks on both sides of the border appear to be intended to disrupt the relationship between the two countries and create mistrust at the highest levels. [6] If this is the case, the strategy seems to be a success; instead of tackling the issue of cross-border incursions directly or cooperatively, both countries are busy lodging official protests against each other, both accusing their neighbor of being responsible for harboring militant groups operating along the border. Pakistani army officials have also said that NATO forces were failing to crack down on militants seeking shelter on the Afghan side of border.
The recent cross-border incursions on both sides of the border clearly show that Pakistan, Afghanistan and NATO have all failed badly in clearing the strategically important border areas of militants, permitting previously dispersed extremist organizations to regroup and prepare new, large-scale attacks on the soil of both countries. Though the security forces of both countries have begun operations to repel further attacks, the Islamabad and Kabul governments are unlikely to be successful until they deal collectively with the issue of cross-border militancy.
Notes:
1. Author's telephone interviews with Upper Dir locals, July 12, 2011.
2. Author's telephone interviews with tribal elders of Upper Dir and Bajour, July 12, 2011.
3. Author's telephone interview with Aqeel Yousafzai, a Peshawar-based journalist and security analyst, July 11, 2011.
4. Author's interview with Khadim Hussain, a Peshawar-based security analyst, July 13, 2011.
5. Author's telephone interviews with elders of Upper Dir and Bajaur, July 12, 2011.
6. Author's interview with Khadim Hussain, a Peshawar-based security analyst, July 13, 2011.