Minsk Is Trying to Unfreeze Relations With West, Ukraine
Publication: Eurasia Daily Monitor Volume: 18 Issue: 66
By: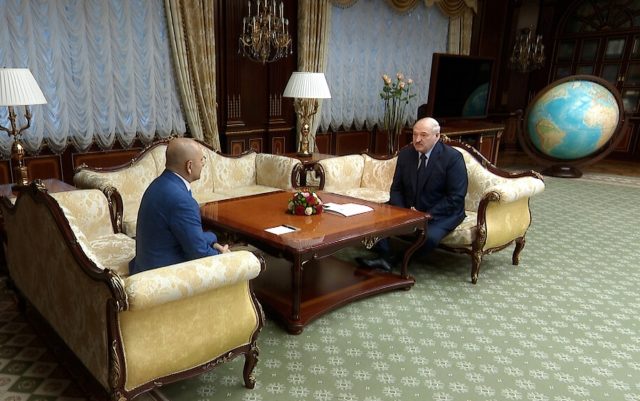 Aside from the April 22 Russia-Belarus summit, which did not turn out to be groundbreaking, three other stories have dominated news headlines pertaining to Belarus over the past week or so: the allegedly uncovered coup plot against President Alyaksandr Lukashenka; a peculiar twist in relations with the United States; and the country's diplomatic ties with Ukraine.
In his annual address to the Federal Assembly (Rossiyskaya Gazeta, April 21), delivered on April 21, Vladimir Putin referred to the coup as an established fact: "they [that is, the West] crossed all the lines." Few observers, however, took the official Russian and Belarusian version of the events at face value. Thus, Yaroslav Shimov of Radio Liberty, incidentally a son of Lukashenka's first economy minister Vladimir Shimov, interpreted Putin's pronouncement as an exercise in whataboutism (Svaboda.org, April 23)—the technique of responding to accusations by making a counter-accusation or raising a different issue.
Even some staunch Lukashenka-loyalists have had a hard time believing in the official account of the supposed plot. For instance, Mikhail Malash, an active member of the Rodina movement and of vehicle rallies under the red-and-green (as opposed to white-red-white) official flags, recently authored an article titled "How Two Bespectacled Oppositionists Played Useful Idiots in an FSB [Russian Federal Security Service] Performance" (ZapadRus, April 19). Those bespectacled individuals referred to in the title are Alexander Feduta and Yury Zenkovich (see EDM, April 19). To Malash, the ease with which the two opposition figures took the bait from Russian intelligence is the most titillating aspect of the alleged plot. And according to him, that ease resulted from a pair of factors. First was a lengthy immersion in a "destructive milieu" devoid of "Russian values of truth, fairness and common sense." And second was a delusional belief in one's own constantly repeated lies—in this case, in the power of the protest movement in general and in deep-seated anti-Lukashenka feelings among top Belarusian law enforcement officers in particular.
One cannot rule out that a somewhat unrealistic assessment of the balance of power in Minsk might also inform the decision for Julie Fisher, the appointed United States ambassador to Belarus, to stay in Vilnius, Lithuania, where Svetlana Tikhanovskaya resides. The Belarusian opposition is convinced Tikhanovskaya won the August 9, 2020, presidential elections. "It's hard to imagine that this could continue in the near future," Fischer told Reuters during a meeting with Belarusian activists in Vilnius. "The dynamics of the protests changed the credibility of the regime in Belarus. I do not believe that any government that […] so blatantly ignores the will of the people, is sustainable." She added, "We see that Belarus is increasingly moving away from sovereignty and independence, and this worries the United States" (Tut.by, April 23). Of course, there is a danger that ostracizing the leadership in Minsk risks facilitating precisely the outcome Ambassador Fisher warned about.
Earlier, Belarusian Foreign Minister Vladimir Makei averred that Minsk is ready to accept the US ambassador any time but wants to have "a clear and understandable perspective for further interaction in all areas with American partners… If she [Ambassador Fisher] is going to come and make statements about the illegitimacy of the regime, then what is the point in doing so? I think that in this case she will sit in the embassy and do nothing and will not be able to work effectively, including establishing direct contacts between the structures of Belarus and the United States" (Tut.by, April 23).
Meanwhile, the foreign ministry's response to the unfreezing of US sanctions against Belarus emphasizes that "the new US administration is going out of its way to demonstrate its toughness and false adherence to principles" but does that "against the backdrop of the most serious internal problems that are all too well-known" (Mfa.gov.by, April 20). In light of that, Minsk seems to be looking for potential openings elsewhere.
One sign of that is the physical location from where Makei made his aforementioned statement about the US ambassador. Specifically, the Belarusian foreign minister was speaking during a visit to neutral Switzerland, which Makei once hoped Belarus might be able to emulate (Sputnik.by, November 13, 2019). Makei was meeting with Ignazio Cassis, the head of the Swiss Federal Department of Foreign Affairs and soon to be Switzerland's president. Since his 2017 meeting with the late deputy foreign minister of Belarus Oleg Kravchenko, Cassis facilitated closer ties with Minsk, including with his February 2020 visit to open the first Swiss embassy to Belarus. Apparently, the fate of Natalia Hershe, a dual citizen of Belarus and Switzerland, jailed in Minsk for resisting police during a rally in December 2020, was discussed by Makei in Bern. Gridlocked relations with the West at large were likely on the agenda as well (NewBelarus, April 23).
Also, on April 20, Lukashenka received Yevgeny Shevchenko, a member of Ukraine's Supreme Rada (parliament) from the Servant of the People party (i.e., President Volodymyr Zelenskyy's faction). It is hard to say which side initiated this meeting, but its open-to-the-media part was replete with mutual niceties. Thus, Shevchenko assured his host that the recently voiced Ukrainian appeal to move the trilateral contact group negotiations away from Minsk (Izvestia, April 6) had been revoked. While earlier surveys repeatedly showed that in Ukraine, Lukashenka is the most trusted foreign leader, Shevchenko referred to a reliable survey, according to which 36 percent of Ukrainians would like to see Lukashenka as president of Ukraine. For his part, Lukashenka underscored that under no circumstances would he do any harm to Ukraine and gave examples of satisfying the requests of the Ukrainian leadership for help, including urgent energy sales or assistance at harvest time in neighboring regions. He also mentioned that the solution of the Donbas problem depends solely on Ukraine and that he earlier conveyed Putin's suggestions in that area to Zelenskyy's predecessor, Petro Poroshenko, but soon realized that the Ukrainian leadership cannot act independently (YouTube, April 20). Nonetheless, two days later, during his meeting with Putin, Lukashenka remarked that it was high time for Zelenskyy to "behave more diplomatically" and start direct dialogue with the leaders of the Moscow-backed "separatist" entities in Donbas (Naviny, April 22).
Though embattled at home and abroad, Lukashenka is still trying to stick to his multi-vector foreign policy. It is a big question, however, if, given the scale of human rights abuse, the West will reciprocate this time around.