Minsk Two Armistice Rewards Russia's Aggression, Mortgages Ukraine's Future (Part Three)
Publication: Eurasia Daily Monitor Volume: 12 Issue: 32
By: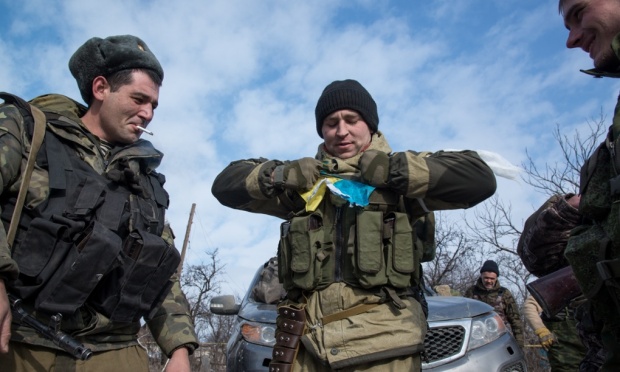 Unlike the Minsk One ceasefire agreements of September 2014, the Minsk Two agreement of February 12, 2015, goes far beyond a military armistice. It is overloaded with political provisions which, if implemented, would mortgage Ukraine's future as a viable and secure state (Articles 1 through 8—seeParts One and Two in EDM, February 13, 19).
In the same vein (Kremlin.ru, Osce.org, February 12), Article 9 imposes heavy political conditions for allowing Ukraine to restore control on the Ukrainian side of the Ukraine-Russia border in the conflict zone. Russia and the Donetsk-Luhansk authorities control a 400-kilometer stretch of that border on both sides, facilitating the cross-border flow of Russian arms and military personnel. Under Article 9, Ukraine could be allowed to restore border control by the end of 2015, or later, subject to the agreement of Donetsk-Luhansk, and "conditional on the fulfillment" ("pri uslovii vypolnenia") of Article 11 in the same document. That article mandates a constitutional reform to establish a "special status" for Donetsk-Luhansk and "decentralize" Ukraine's entire administrative-territorial system (see below).
This turns Ukraine into a country with limited and conditional prerogatives of sovereignty. The military winner, Russia, requires Ukraine to change its constitution and political system, in line with Russia's own objectives. Ukraine, furthermore, loses sovereign control over a long stretch of its border. Article 9 obligates Kyiv to negotiate any border arrangements with the Donetsk and Luhansk authorities, giving them blocking powers de facto. And even this limited sovereignty is further conditioned on Ukraine enacting a constitution satisfactory to Moscow and Donetsk-Luhansk, a pre-condition unlikely to be fulfilled any time soon, if at all.
Article 10 stipulates the "withdrawal of all foreign armed formations, military hardware and mercenaries [sic] from Ukrainian territory," and the "disarmament of all illegal groups." This wording is almost identical with the unimplemented Article 10 of the September 5, 2014, Minsk ceasefire agreement.
It looks even more unimplementable now. First, it stops short of identifying Russia as the source of those anonymous "foreign" armed formations and their military hardware. Second, its vague wording has already enabled Moscow to eschew the issue, claiming that Western armed formations and "mercenaries" are involved on the Ukrainian side. Russia totally denies its military presence in this part of Ukraine, while Western leaders are unwilling to release the intelligence material that would convincingly expose Russia's military presence there. Finally, Moscow is now building up the Donetsk and Luhansk "people's republics" complete with "legitimate," rather than "illegal," military forces. Every further step to legitimize the "DPR-LPR" politically (a process already underway) will lead to acceptance de facto of their existing military forces.
Article 11 requires Ukraine to enact a new constitution and bring it into effect by the end of 2015. Its two "key elements" shall be a "decentralization" of Ukraine overall, and a "special status" for the Donetsk-Luhansk territory. That special status, and the geographic extent of that territory, are to be negotiated between Kyiv and Donestsk-Luhansk leaders (the latter have, in the meantime, seized additional territory, and claim more). Interpreting the meaning of "decentralization," Russian President Vladimir Putin declared on February 17 that this term could potentially involve Ukraine's "federalization" as well as the "samostoyatelnost" of certain parts of Ukraine such as Donetsk and Luhansk (Interfax, February 18. "Samostoyatelnost" implies substantially more than federal status or autonomy, though slightly short of full independence.
Under an Addendum Note (Primechanie), the "special status" shall empower Donetsk-Luhansk authorities to create their own "people's police." No mention is made of Ukrainian police or other law enforcement bodies, nor of any role by the central government of Ukraine. In this regard, the agreement allows an outright secession of Donetsk-Luhansk from the rest of Ukraine. The "special status" shall also authorize Donetsk-Luhansk in their own right to conduct "cross-border cooperation with regions of the Russian Federation." The Ukrainian government shall even "assist" ("sodeystvovat"—aid and abet) that activity. Such assistance can hardly be expected; this point is symbolic, merely aiming to elicit the victim's consent.
Article 12 requires Kyiv to negotiate with the Donetsk-Luhansk authorities about creating conditions for holding municipal-level and district-level elections there, in conjunction with the same document's Article 4 (see EDM, February 13). Those "elections shall be held in compliance with OSCE [Organization for Security and Cooperation in Europe] standards and monitored by the OSCE [the organization is a co-signatory to this document]." This can open the door to recognizing those elections as legitimate. The OSCE had refused to monitor and legitimize the November 2, 2014, "republic"-level elections in Donetsk-Luhansk, but is now apparently considering doing so for the next set of elections there.
Under Article 13, the Contact Group (Ukraine, Russia, OSCE, Donetsk, Luhansk) shall "establish working groups to fulfil the various aspects of the Minsk agreements." The operational intent of this article is to shift the discussion of specific issues from international formats (e.g., "Normandy," made up of the leaders of Ukraine, Russia, Germany and France) into the Contact Group, where the notional West is not represented. This, in turn, reflects the stated intentions of Germany and France to begin downgrading their participation in the "Normandy" format, from the state level to the level of ministerial representatives.
That intention is stated in the political declaration accompanying the Minsk Two agreement. Signed by German Chancellor Angela Merkel and Presidents Francois Hollande of France, Vladimir Putin of Russia, and Petro Poroshenko of Ukraine (Interfax, Bundeskanzlerin.de, February 13), that declaration indicates a policy reappraisal in Berlin (there is no reappraisal in Paris, and the French signature matters far less). This declaration proposes to invite Russia into negotiations about implementing the European Union's free trade agreement with Ukraine (hitherto a bilateral EU-Ukraine matter). It also refloats the idea of creating a common economic space of Europe with Russia ("from the Atlantic to the [Russian] Pacific"), an idea that Germany had temporarily shelved in response to Russia's aggression in Ukraine. Apparently, Berlin has tired of the Ukraine "problem." In this respect, the quadripartite declaration accompanying Minsk Two (and, to some extent, the Minsk Two accord itself) can be seen as products of the beginning of a German rapprochement with Russia. This requires freezing the Russia-Ukraine conflict on terms in Russia's favor.