Mixing Marxism and Capitalism: CCP Celebrates its 90th Birthday
Publication: China Brief Volume: 11 Issue: 12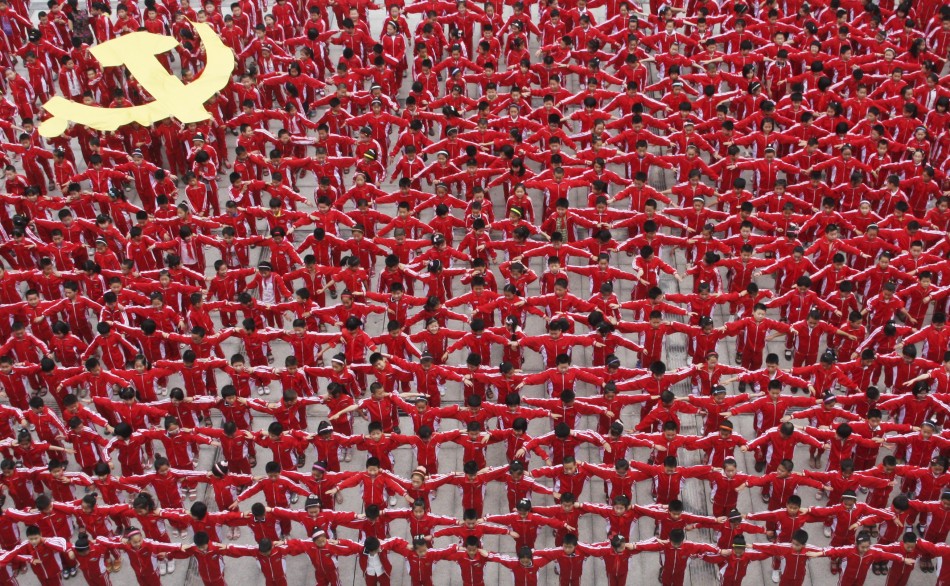 As the Chinese Communist Party (CCP) marks its 90th birthday on July 1, on the surface the Party has reasons aplenty for indulging in some self-glorification. Having been in power continuously for 62 years, the CCP holds the world record for the longest term of uninterrupted political rule among existing ruling parties. With 80 million members, the Party is also the world's largest, richest and most powerful political organization. As the state propaganda machinery has gone into overdrive with accolades trumpeting the party's larger-than-life achievements, however, even senior cadres have admitted to defects in the party's track record. For example, Executive Vice-Premier Li Keqiang conceded last week that "problems relating to unbalanced, uncoordinated and unsustainable [socio-economic] development are still outstanding." "In particular, contradictions due to weak links in social development sorely need to be defused," added Li, who is set to succeed Wen Jiabao as prime minister at the 18th CCP Congress in late 2012 (China News Service, June 25; People's Daily, June 26). Even more problematic is the scourge of corruption, which is worsening even as the CCP tries to stay relevant through learning from different models and co-opting elements with disparate socio-economic backgrounds. Yet, given that these efforts have fallen short of real political reform, which involves sharing power and resources with the people, it is unlikely they will result in a makeover that will boost either the CCP's popularity or its longevity.
The majority of mainstream-media coverage of the July 1-related festivities, has revolved around this hackneyed leitmotif: "Without the CCP, there won't be a new China." For example: Leng Rong, director of the Archives Research Office of the CCP Central Committee, rhapsodized over the fact that the CCP has sailed from triumph to triumph over nine decades because "it has unceasingly pushed forward the Sinicization of Marxism, and it has incessantly worked on its self-construction and strengthened its foundations" (Xinhua News Agency, June 9; Sina.com, June 9).
Amongst less euphoric analyses of the CCP's longevity, the assessment of CCP Central Party School expert Xie Chuntao merits closer examination. Xie, a professor of Party History, has attributed the party's staying power to four strong points. They are: an ability to draw lessons from past mistakes; a knack for learning from different models, including market mechanisms as well as social-welfare and civil-service systems from the West; a capacity for absorbing "advanced members" of society into the party and maintaining cohesiveness among various socio-economic sectors; and strong organizational skills so as to ensure the CCP's "absolute leadership" authority. Liu Zhongmin, a Middle East expert at the Shanghai Foreign Languages University, cited similar reasons to explain why China would not succumb to the series of color revolutions that have swept the Middle East and North Africa since early 2011. "The CCP has unflaggingly kept up with the times by bolstering its ruling-party legitimacy," he wrote early this month. "It has consolidated and expanded the foundations of its rule" (China News Service, June 23; Global Times, June 23).
Two factors, then, seem critical to the CCP's "long reign and perennial stability": its capacity to learn and adapt to new realities; and its ability to expand its power base by absorbing well-qualified new blood. It is significant that for the past few years, the leadership has played up the CCP as a xuexixing zhengdang or "a learning-oriented political party." While confirming the CCP's status as a xuexixing zhengdang at its plenary session in September 2009, the ruling Central Committee urged cadres and members to "learn from our history; learn from the masses and the new experience that they have created; and learn from the beneficial fruits of human civilization that has been created by various countries in the world" (CCP News Net, June 16; Sina.com, May 3).
The on-going campaign to re-evaluate the era of Chairman Mao Zedong—as well as Maoist ideals and institutions—is a good gauge of the CCP's ability to learn from its past. Liberal intellectuals such as economist Mao Yushi have argued that Mao "should be put on trial" for atrocious blunders that directly led to the deaths of tens of millions of Chinese (NPR.org, June 23; Ming Pao [Hong Kong], June 16). The official media has since last year also run articles confirming that Mao made serious miscalculations when he launched political campaigns such as the Great Leap Forward in the mid-1950s (People's Daily, November 4, 2010; Global Times, November 4, 2010). By and large, however, the changhong—"sing the praises of redness"—crusade, first initiated by Politburo member and Chongqing Party Secretary Bo Xilai in 2008, has consisted of a no-holds-barred glorification of the Great Helmsman's God-like exploits. Also resuscitated nationwide have been Maoist values such as unquestioned loyalty to the party–and nationalism. The leadership under President Hu Jintao has revived Maoism, as well, so as to stir up patriotic sentiments, which are seen as critical to boosting national cohesiveness (Apple Daily [Hong Kong], June 23; Financial Times, May 24).
As for learning from the West, the CCP has paradoxically cleft to the formula first coined by half-hearted modernizers in the last decades of the Qing Dynasty (1644-1911): "Chinese learning for the essence, Western learning for the applications." This axiom means that Beijing is only interested in "practical things" in the Western tradition that range from weapons manufacturing to financial engineering. Yet, for Mao and his disciples, just as much as for Qing Dynasty ministers, Western ideas about culture, freedom and democracy have remained taboo (Apple Daily, May 24, China-Review.com, June 9). Among the top leadership, Premier Wen Jiabao has remained a minority of one in advocating that China should be receptive to "universal values" such as "democracy, a [fair] legal system, freedom, human rights [and] egalitarianism" (See "Premier Wen's 'Southern Tour': Ideological Rifts in the CCP?" China Brief, September 10, 2010).
While visiting Hungary last week, Wen again underscored the imperative of China remaining "open and tolerant" in the course of interacting with other countries (China News Service, June 25; Ming Pao, June 26). The great majority of Politburo members and senior cadres, however, seem to second the conservative views of President Hu and National People's Congress Chairman Wu Bangguo. Hu and Wu have reiterated that the party should "never go down the deviant path" of adopting Western ideas and institutions such as the "tripartite division of powers" or universal-suffrage elections (BBC News, March 10; Asia Times, September 30, 2010).
Perhaps more critical to the CCP's obsession with staying "evergreen" forever is the leadership's willingness to revise and modernize Marxist ideology so as to widen the party's talent base. In a speech marking the CCP's 80th birthday in 2001, then President and party General Secretary Jiang Zemin announced that the party was rolling out the red carpet for well-trained talents including private entrepreneurs and "returnees," a reference to Chinese who had earned advanced degrees from Western universities. Jiang's rationale was that these well-educated and business-savvy personnel would enable the party to better represent "the most advanced productivity" and the "most advanced culture." Convinced that recruiting capitalists into the party ran against the edicts of Karl Marx, however, tens of thousands of conservative CCP members opposed Jiang's major systemic innovation (Xinhua News Agency, July 1, 2001; The Telegraph [London], July 2, 2001; China News Service, June 23).
Latest statistics released by the CCP Organization Department indicate that 18.41 million—or 22.94 percent—of the party's 80.27 million members are "enterprise managers and professionals," including the bosses and executives of private as well as state-controlled firms. A dozen-odd representatives of this business elite have also been inducted into the CCP Central Committee as full or alternate members (Ming Pao, June 25; Global Times, June 25). These "red entrepreneurs" are unanimous in belief that their business expertise has helped the party meet the new challenges of the international marketplace. For example, Zhao Min, the CEO of the Beijing-based Adfaith Management Consulting, noted that the profusion of party members with business backgrounds had "enabled the CCP to resolve many theoretical and practical problems of operating in the climate of the market economy." Li Shufu, Chairman of the private Geely Motors, which garnered global attention last year by taking over Sweden's Volvo, added that the political loyalty of the "red bosses" should never be in doubt. "Enterprises always listen to the words of the party," Li said earlier this year. "Whatever the party tells us, we shall try our utmost to do" (Global Times, June 23; 21st Century Economic Herald [Guangzhou], March 8). It is significant that 75 non-state enterprises in Shanghai recently set up a private party school to couch businessmen-party members how they can best make contributions to the party while expanding their business empires (People's Daily, June 21; China National Radio, June 20).
It is significant that Vice-President Xi Jinping, who is due to take over the party's helm at the 18th CCP Congress, has been an ardent advocate of private businessmen playing a bigger role in the party. While serving as governor and then party secretary of Zhejiang Province–which is well-known as a bastion of private enterprise in the country–from 2002 to 2007, Xi offered much-needed support to thousands of promising small- to medium-scale non-state enterprises. Xi has reportedly invited senior entrepreneurs such as Geely's Li to join party- and government think tanks (Ming Pao, June 24; New York Times, January 23, Financial Times, March 26, 2010).
While giving business-oriented party members a bigger voice may help the CCP stay relevant in the new century, what critics call the "unholy alliance" between the party elite and big business groups could alienate the CCP from the great majority of Chinese (See "China's New Aristocracy: Red Cadres and Red-Hat Businessmen," China Brief, June 24, 2010). While the CCP has always been known as the "vanguard of the working class," the number of workers who are CCP members has declined to a mere 7 million (Ifeng.com [Beijing], June 24; News.21cn.com [Beijing], June 24).
Much more disturbing is the fact that mixing Marxism with capitalism has spawned massive corruption among party cadres. The Central Commission on Disciplinary Inspection, the CCP's top anti-corruption watchdog, announced earlier this month that some 146,500 party members had been disciplined last year mainly for graft-related offenses. Professor Qiao Xinsheng, an expert on clean governance at the Zhongnan University of Economics and Law, has fingered the dangerous new trend of the "systemization and collectivization" of corruption. The government adviser noted that certain groups and individuals had been able to convert "state benefits or public benefits into [their] personal benefits." After all, leaders from ex-president Jiang and President Hu have warned that the single biggest threat to the CCP's integrity—and longevity—is endemic corruption among cadres (Beijing Morning Post, June 23; Global Times, June 25). It is a testimony to the party leadership's refusal to consider new ways of doing things, however, that Beijing has closed down several private anti-graft websites that have proven popular with whistle blowers (BBC, June 22; CNN News, June 27).
In a mid-June commentary on why "China can always crush through obstacles [while negotiating] turning points," the mass-circulation Global Times claimed that the party-and-state apparatus "has accumulated substantial ability to defuse [socio-political] crises." The CCP mouthpiece noted that the party-state apparatus' "resources devoted to countering crises are ceaselessly increasing." "Provided that China does not make strategic errors, this country's ability to withstand crises is so formidable that it is beyond the estimation of the world," it added. "And the [successful] process of rendering Chinese decision-making democratic and scientific has greatly limited the possibility of China making strategic errors" (Global Times, June 16; Xinhuanet.com, June 16). The trouble is, however, that cronyism and corruption, which has mushroomed in tandem with the collusion of politics and business, has become a prime cause of discontent among the masses. Disgruntled citizens who take part in the estimated 180,000 cases of protests, riots and disturbances that hit China every year, do not seem to share the birthday mood that has been concocted by state propaganda. After all, the underclasses have hardly been taken into consideration as cadres do their level best to burnish the party's credentials and prolong its proverbial mandate of heaven. Moreover, the CCP leadership's decision to turn its back on "Western-style" political reform may have crippled its capacity for picking up new skills for tackling political crises that are on the horizon.