Moldovan Government Finally Burns Bridges to Russia (Part One)
Publication: Eurasia Daily Monitor Volume: 20 Issue: 49
By: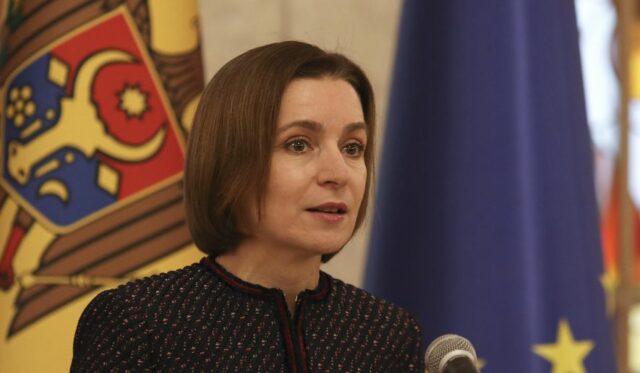 Moldovan President Maia Sandu and her Party of Action and Solidarity (PAS), in power since 2020 and 2021, respectively, are executing a full reversal of their erstwhile policy toward Russia. That policy had sought a modus vivendiwith Moscow and, by extension, to broaden the party's voter base.
Sandu and PAS have demonstrated unlimited resolve in integrating Moldova with the European Union. But they were not prepared nor could afford to give up economic ties with Russia until the Kremlin re-invaded Ukraine last year; they therefore avoided political altercations with Moscow prior to the second invasion.
Such caution reflected Moldova's unique set of external and internal vulnerabilities vis-a-vis Russia, including: almost total dependence on Russian energy suppliers, arbitrary conditions for Moldovan agricultural exports to Russia, the weakness of Moldova's state security institutions and large voter groups ranging from the outright Russophile to those simply fearing the loss of traditional economic ties with Russia and expecting Chisinau to preserve those ties.
Taking all this into consideration, Sandu and PAS carefully avoided criticizing Russia in the successful 2020 and 2021 electoral campaigns, focusing strictly on Moldova's social and economic predicaments. They also wanted to demonstrate that their uncompromising European course could be compatible with workable Moldovan-Russian relations. Hence, they never cast Moldova's European option as a "geopolitical" choice to break with Russia. That electoral strategy was key to the landslide victories of Sandu and PAS (see EDM, October 28, November 18, 2020; July 15, 19, August 12, 2021). The new leaders opened a backchannel to the Kremlin and sought a new basis for intergovernmental relations until Russia re-invaded Ukraine. Even after that, Chisinau showed relative restraint in criticizing Russia (see EDM, March 10, 14, 2022). Amid multiple economic crises, Chisinau had to avoid provoking Russia into retaliating economically or fomenting anti-government protests in Moldova.
Chisinau's cautious tactics were well-justified at the time but did not pay off in the end. Pro-Russia parties surged with anti-government demonstrations. The Kremlin cut natural gas supplies to Moldova drastically in the autumn of 2022, exacerbating the country's economic crisis and setting the stage for protracted anti-government disturbances. (see EDM, August 4, 8, 9, October 20 Part One and Part Two, 2022).
Organized by the leftist "Shor Party" of the fugitive tycoon Ilan Shor (reputed billionaire, currently operating from Israel, who controls six seats in the Moldovan parliament), the anti-government demonstrations went on from September through December 2022, paused in mid-winter and have resumed since February 2023 on a regular basis.
Shor has long-standing connections in Russia; his Moldovan party started as a predominantly Russian-speaking organization (though it made significant inroads among native Moldovans) and Russia's cutoff of the gas supply dovetailed suspiciously with the launch of the Shor Party's protests. The movement's declared goal is to oust the Moldovan government by provoking snap presidential and parliamentary elections. While Russian direct meddling is hard to detect in this case from publicly available evidence, the Moldovan government views these ongoing protests in the context of Russian operations to destabilize this Western-oriented country.
Meanwhile, all recent public opinion polls show the Socialist, Communist and Shor parties winning parliamentary elections if they were held today. Their combined voter shares would exceed that of PAS, and they could form a coalition of leftist-Russophile parties (Jurnal.md, December 1, 2022; Ziarul National, February 3, 6; Politics.md, February 24; Infotag, February 27; Noi.md, February 24, 28; Ziarul National, March 9, 13; Newsmaker, March 13).
The veteran Socialist and Communist leaders dislike the upstart Shor and do not support his party's actions. Moscow could, however, press the three parties to join forces, should Moscow decide that the situation is ripe for a regime-change operation in Chisinau.
Even if the tripartite leftist-Russophile coalition does not materialize, snap elections would reduce PAS to a parliamentary minority according to all recent opinion polls (see above). The ratings of PAS and Sandu have declined dramatically under the impact of multiple crises: the COVID-19 pandemic, energy shortages and record-high inflation. Although the government has coped effectively on the whole, and Sandu's international prestige has helped mobilize massive assistance for Moldova, the polls do not seem to reflect or reward these efforts. Even so, the shares of uncommitted voters and undecided answers are unusually high in recent surveys. This factor allows space for the president, PAS and the government to recoup their ratings at least in part throughout the course of the year.
With local elections scheduled to be held countrywide in September 2023, PAS and the government are bracing for a serious test. Sandu will then seek re-election in 2024—and PAS the following year. Local elections are hard-fought in Moldova because the elected mayors significantly influence voters in the ensuing parliamentary and even presidential elections in their respective localities.
PAS and the government under newly appointed Prime Minister Dorin Recean look determined to regain the initiative and launch a fresh agenda well ahead of the September elections. While redoubling the commitment to European integration, their Russian policy is taking shape as the opposite of the 2020–2021 overtures to Moscow. Those proved successful as an electoral strategy for a limited period but not as a fresh start in inter-state relations since the Kremlin responded with indifference, then hostility (see above).
Meanwhile Russia's war against Ukraine, pariah status in the West and subversion of Moldova provide Chisinau with an unprecedented chance to turn the tables on pro-Russian opposition parties. Their challenge can be defeated on the political level by zeroing in on their links with Russia and discrediting them through that association.