Moldova's New Electoral Law Could Be Fatal to Pro-Western Parties (Part One)
Publication: Eurasia Daily Monitor Volume: 14 Issue: 98
By: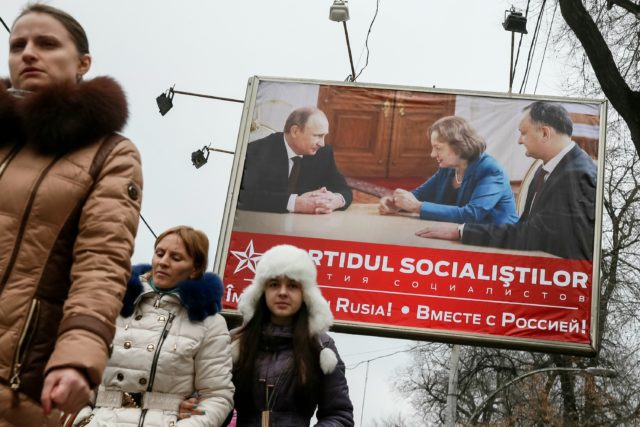 On July 20, Moldova's parliament changed the country's Electoral Code, with an eye to the 2018 parliamentary elections. The new legislation—the "Law for Amending and Completing Certain Legislative Acts [i.e. the Electoral Code]"—also applies to future presidential elections and future referendums (Moldpres, July 20, 21; Parliament.md, July 20; Monitorul Oficial al Republicii Moldova, July 21).
The debate thus far concentrates on the impact of the new law on electoral procedures and the chances of various political parties. Most observers seem to overlook another set of implications of the new law: it establishes ethnic voting and ethno-political electoral territories for the first time in Moldova.
The changes are illustrative of the informal political cartel operated by the billionaire Vladimir Plahotniuc and pro-Russia head of state Igor Dodon, leaders of the Democratic Party and the Socialist Party, respectively. Plahotniuc's and Dodon's teams negotiated the terms of the new electoral system during the last two months, and propagandized the change in parallel. Their parties ensured the passage of this legislation in the final reading, as an organic law, by 74 votes in the 101-seat parliament. Dodon promulgated the legislation on the same day.
Technically, the new legislation transforms Moldova's system of parliamentary elections from a proportional system with party lists into a mixed system: proportional (country-wide voting by party lists) and uninominal system (single-mandate territorial constituencies, where individual candidates compete for one parliamentary seat) (see Part Two).
Politically, however, these changes are designed to crush and marginalize Plahotniuc's and Dodon's common rival: the pro-Western, extra-parliamentary alliance led by Maia Sandu and Andrei Nastase, which in 2016 unexpectedly came close to winning the presidential election against the Dodon-Plahotniuc cartel. Sandu and Nastase had to conduct personality-based campaigns, with merely symbolic party organizations backing them (see EDM, November 14, 2016; December 14, 16, 2016). Their fledgling organizations—the Solidarity Action Party and the Dignity and Truth Platform—will face insurmountable disadvantages under the changed electoral law.
The introduction of the uninominal system, as well as the allocation of parliamentary seats to Transnistria and to the Moldovan diaspora in Russia, dramatically reduce the number of parliamentary seats that Moldova's pro-Western parties can realistically aim for. Simply put, these parties appear left with only a few fair shots at parliamentary seats. The system is so organized as to marginalize Maia Sandu's and Andrei Nastase's parties. This is a major result of the informal partnership between Vladimir Plahotniuc and Igor Dodon.
Uninominal constituencies inherently favor the largest parties in parliamentary elections in all systems. In the post-Soviet context, moreover, single-mandate constituencies are a propitious environment for abuse of "administrative resources," non-transparent campaign financing, bribing of impoverished voters, or fake candidacies to splinter the opposition parties' vote.
It is widely anticipated that the billionaire and "Coordinator of the Parliamentary Majority" (de facto ruler) Plahotniuc will select and support local figures to run as "independents" in those constituencies. They will avoid using the unpopular "Plahotniuc" and "Democratic Party" brands. Once elected, however, they will likely coalesce as another faction beholden to Plahotniuc in the new parliament. Conversely, it is anticipated that Socialist Party candidates will capitalize on their own brand's and President Dodon's popularity.
Remarkably (see Part Two), there will be no runoffs, but only one round of elections in the uninominal constituencies (right-bank, left-bank, diaspora). It was generally assumed in the early stage of the public debate that one-round elections in split fields of candidates would enable Plahotniuc's "independent" protégés to take first place, even with less than 50 percent of the vote cast. They will not have to face combinations of other parties' supporters in a second round. With Plahotniuc's Democratic Party controlling about one half of Moldova's district ("raion") councils and fully one half of all mayoralties, his designated "independent" candidates should handily win the one-round elections in most uninominal constituencies.
However, as Moldovan pundit Andrei Popov suggests (Ziarul National, July 19), multi-candidate election rounds can equally favor the Socialists. In the 2016 presidential election, Dodon won the multi-candidate round (first round) with pluralities of at least 40 percent of the vote in approximately 20 administrative-territorial units (out of 36 such units in right-bank Moldova). Dodon went on to narrowly win the presidential runoff with Plahotniuc's support. Thus, judging from first-round Socialist support in that election, Socialist candidates are also strongly placed to win one-round, split-field elections with less than 50 percent of the vote in single-mandate constituencies. At present, the Socialists top the public opinion polls with at least 40 percent of voter preferences.
The new law's stipulations on Transnistria can further tip the political balance toward pro-Russia forces in right-bank Moldova. This can occur on two levels: Transnistrian voters participating in the election by party lists, and Transnistrian area-native deputies being elected to Moldova's parliament from the left bank. The allocation of (apparently) five single-mandate constituencies for the left bank amounts, in practice, to a reserved quota of Transnistrian seats in Moldova's parliament.
The voting by Transnistrian residents for Transnistrian candidates would take place on the right bank, under the oversight of Moldova's electoral authorities (see Part Two). This legal formality, however, makes little difference. Politically, any significant Transnistrian involvement in Moldova's elections would undoubtedly result in net gains for pro-Russia forces.
The new law guarantees two or, more likely, three Gagauz seats in the Moldovan parliament, according to this law's numerical and geographical criteria. The number of registered eligible voters in the Gagauz autonomous territory would correspond more closely to three parliamentary seats. Token Gagauz candidates would additionally be elected to parliament on Plahotniuc's and Dodon's party lists (Gagauzinfo.md, July 19–21; RTR Moldova, July 21). Deputies elected directly from this staunchly pro-Russia enclave would contribute to tipping the balance against pro-Western groups in Moldova's parliament. The Bulgarian-populated district of Taraclia and the "Russian-speaking" city of Balti are also entitled to one parliamentary seat each, by the criteria of this law.
Organizing the Moldovan diaspora's vote can become a double-edged sword. Maia Sandu and Andrei Nastase reached out successfully and effectively to the diaspora in Europe during the 2016 presidential election. Moldova's authorities, therefore, prevaricated on authorizing more polling stations and more ballot papers at Moldovan missions in Europe. The electoral legislation enacted on July 20 performs a flight forward, authorizing single-mandate constituencies for the 2018 parliamentary elections in the Moldovan diaspora in Europe and Russia, proportionate to those communities' numbers (see Part Two).
The Moldovan government will undoubtedly attempt to use its resources to upstage the pro-Western parties in the diaspora in Europe. For his part, President Dodon has promised a mass-mobilization of the Moldovan diaspora in Russia to vote Socialist in Moldova's next parliamentary elections. If the Kremlin cooperates in that endeavor, it can sway the elections in the Socialist Party's favor.