Moldova's Parliamentary Elections May Produce a Sea Change (Part Two)
Publication: Eurasia Daily Monitor Volume: 18 Issue: 109
By: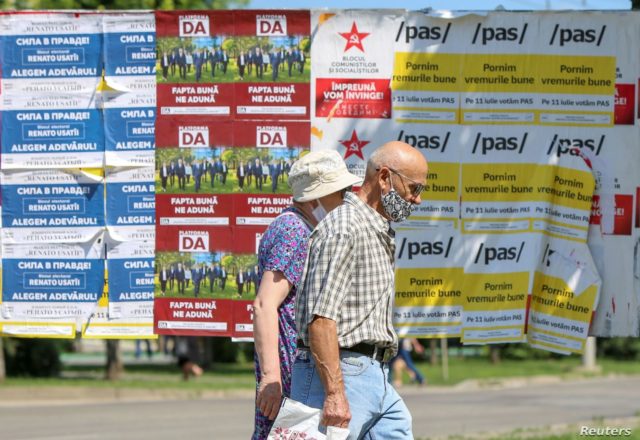 The Electoral Bloc of Communists and Socialists (BECS) would probably nominate Igor Dodon (Moldova's president in 2016–2020) as the next prime minister, if BECS wins the snap parliamentary elections, scheduled to take place on Sunday, July 11. Dodon's Socialist Party has taken on board former president (2001–2009) Vladimir Voronin with his moribund Communist Party, which could not hope to pass the threshold on its own. Dodon had left the Communist Party in 2011, carried most of its electorate with him into the Socialist Party, and has been denounced as "traitor" and worse by Voronin in the last ten years. Nevertheless, Dodon invited Voronin's Communists into this bloc, yielding to Voronin's conditions (e.g., the first spot on the ticket), in return for the few residual Communist votes. This move reflects the Socialists' fear of losing the parliamentary elections following Dodon's loss of the presidency to Maia Sandu (see Part One in EDM, July 8).
BECS's electoral campaign emphasizes national identity issues and "geopolitical" choices (Noi.md, July 4, 6; Politics.md, July 6; Socialistii.md, accessed July 7). Its campaign stresses the Moldovan national identity (as distinct from Romanian); state sovereignism (understood as opposing Western "interference in Moldova's internal affairs"); permanent neutrality (implying strictest limitations on cooperation with the North Atlantic Treaty Organization, NATO); revising certain (unspecified) points in Moldova's Association Agreement with the European Union; further developing Moldova's strategic partnership with Russia; strengthening relations with the Moscow-led Eurasian Economic Union; seeking a "strategic partnership with China"; and "mutually advantageous relations with partner countries […] including the United States and the European Union, proceeding from our national interests." This latter notion is a bare verbal remnant from Dodon's failed attempts at a "balanced foreign policy" while president. Now, by contrast, he vows that "Moldova will stay away from the Western-dictated, anti-Russian regional agenda that Ukraine and Romania are following" (RIA Novosti, July 2).
Domestically, the BECS would revise the Constitution to enshrine the Moldovan national identity; promote the notion of a "Moldovan civic nation, on the principle 'ethnic pluralism in one nation' […] with the Russian language continuing to function as a language of inter-ethnic communication"; ban agricultural land sales to foreigners; reserve 50 percent of the internal Moldovan market in agricultural products for local farmers; develop the infrastructure and reindustrialize Moldova (without specifying investment sources, but apparently hoping for Chinese investments); legally forbid the closure of schools, kindergartens and hospitals; double the state financing of health care; promote the traditional family with higher budgetary allocations for young families (no funding sources indicated); as well as restrict Western financing of Moldovan non-governmental organizations (Noi.md, July 4, 6; Politics.md, July 6; Socialistii.md, accessed July 7).
Three parties might narrowly clear the threshold of parliamentary representation (5 percent for parties, 7 percent for blocs), according to the latest opinion polls (Ziarul National, July 1, 2, 5). The entry of any of these parties in the new parliament would significantly complicate the formation of a parliamentary majority and a new government, whether by the BECS or the Western-oriented Party of Action and Solidarity (PAS—see Part One). Either of them would have to negotiate toward a coalition in that case.
The Dignity and Truth Platform, led by Andrei Năstase, was allied with Maia Sandu's PAS in the long effort to topple Moldova's de facto ruler Vladimir Plahotniuc; but it fell out with PAS after a series of personality clashes in 2020. With 11 seats in the outgoing parliament, the Platform has lost much of its former popularity owing to personality and organizational issues. Its policy goals remain unreservedly pro-Western, adding most recently a heavy emphasis on relations with Romania as a late campaign improvisation. Nastase expects the Platform to clear the parliament's threshold and insists that only a coalition government of PAS and the Platform can guarantee Moldova's European course (Deschide.md, June 10, July 2; Ziarul National, June 28, July 8).
The "Shor Party" of the tycoon Ilan Shor (nine seats in the outgoing parliament, including that of the fugitive Shor) is informally aligned with Igor Dodon's Socialist Party. Their alignment is a continuation of their former, shared situation as Plahotniuc's undeclared allies under his control until 2019. Their current alignment is not openly advertised. Shor and his party's upper echelon are overtly Russophile, but most of the party's voters are ordinary Moldovans who benefit from Shor's lavish social spending from his own resources. The provenance of Shor's fortune remains unknown and suspect. Shor has carved out a political stronghold in the central district of Orhei. His party's electoral program envisions social paternalism at the state level. Should it clear the parliamentary threshold, Shor's Party would be a natural ally to Dodon's Socialists (Ziarul National, June 28, July 9).
The leftist-Russophile "Bloc of Renato Usatii" hopes to pass the parliamentary threshold (7 percent for blocs) and bargain its way into a coalition government. Usatii is the mayor of the largely Russified city of Balti, Moldova's second-largest city in the government-controlled territory. Himself a Russified Moldovan, Usatii tries to project cross-ethnic appeal by opposing Chisinau's political establishment as such. Mercurial and unpredictable, Usatii has switched alliances time and again. He served Plahotniuc's for several years, resides in Russia part of the time, and is currently targeting Dodon as his main personal enemy (Ziarul National, June 28; IPN, June 30).
Usatii's current ambition is to enter into a coalition government: either a two-party coalition with PAS, or a three-party coalition with PAS and the Socialists, but excluding Dodon and several Dodon associates. Any association of Usatii with PAS would cast a shadow on the latter and is probably the undeclared goal behind Usatii's coalition offer.