Mongolia and Turkey Expand Energy and Free Trade Zone Cooperation
Publication: Eurasia Daily Monitor Volume: 12 Issue: 63
By: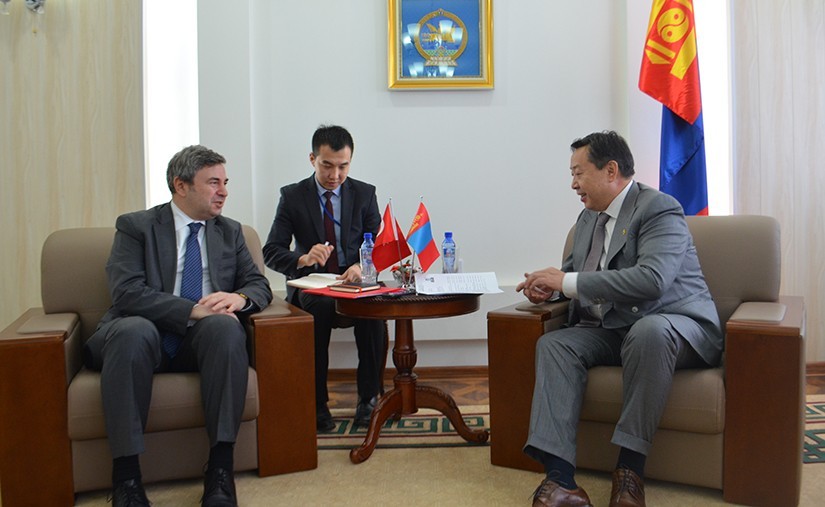 Cooperation between Mongolia and Turkey, particularly in the energy sector, intensified in the first quarter of 2015. On March 3, Mongolian Minister of Energy Dashdorj Zorigt, in a meeting with Turkish Ambassador to Mongolia Murat Karagoz, discussed training programs in Turkey for Mongolian engineers and technicians in renewable energy, especially hydropower, and Mongolian government acceleration of licensing on existing Turkish projects (Mongolia.gogo.mn, March 3). A few days, later the ambassador went to the Altanbulag Free Trade Zone on Mongolia's border with Russia to open a "Made in Turkey" Center and explore opportunities for agriculture, transport, education and food cooperation with Selenge provincial officials.
Two Turkish companies are already operating in Mongolia's energy sector. ZTM LLC has completed a feasibility study for a hydroelectric power plant on Tavaltain Khavtsal (Tavaltai Canyon) in Nogoonnuur soum (Bayan-Ulgii province, western Mongolia). The company will provide the capital to build an 88.7-megawatt (MW) power plant. ZTM is also interested in taking on a second project for a Khovd River hydroelectric power plant on a concession agreement basis. The Mongolian cabinet recently instructed Energy Minister Zorigt to organize financing for re-working the feasibility study for the Khovd hydropower plant in 2015 and then select a project contractor in the second half of 2016 (The Mongol Messenger, March 13). When these power plants come on line, Mongolia expects to fully supply its western region with electricity as well as export electricity. ZTM has created a "Hydropower Master Plan," based on studies conducted at 29 river basins in Mongolia, which has been submitted to the Ministry of Energy. The other Turkish company, Aidiner Global LLC, in 2009 began a wind power plant project with two measuring stations to conduct wind capacity studies in Sumber soum (Gobisumber province, central Mongolia). It signed an energy supply and purchase agreement in March 2012, which was renewed on January 14, 2014. Aidiner presently is negotiating with investment banks and international funds, wind turbine manufacturers, as well as transport and insurance companies.
Turkish Ambassador Karagoz's visit to Mongolia's northern free trade zone in Selenge province has a Eurasian regional integration context. Turkey has 19 free trade zones and is offering Mongolia its expertise re-creating a favorable environment for foreign investment and logistics. Following plans that Russia and China announced in Dushanbe, Tajikistan, in September 2014, to develop rail, road and pipeline infrastructure with Mongolia (see China Brief, September 25, 2014), Turkey also seeks to extend its economic footprint in Northeast Asia. In a press interview, Ambassador Kartagoz noted the special importance of Selenge province's location next to Russia, its demographic setting, and the fact that it hosts key roads, a cross-border rail network, water resources, and a free trade zone: "The Republic of Turkey is willing to cooperate with this strategic locality and to promote Turkish businesses here" (The Mongol Messenger, March 13). He suggested the next step will be to establish sister-city relations.
Turkey is currently working with Mongolian construction companies in the south Gobi city of Dalanzagad, the gateway to both Mongolia's huge Oyu Tolgoi (OT) coal and copper project with Rio Tinto as well as its massive Tavan Tolgoi coal mine, to be developed with China's Shenhua, Japan's Sumitomo and Mongolia's Energy Resources. Dalanzagad authorities want to utilize Turkish construction technology to quickly build apartments with a small workforce. Ten Turkish specialists are advising about financial measures in the construction of a seven-story building for 140 households over just two months. These techniques are to be expanded throughout a new settlement area to be completed in 2025 for 10,000 residents (The Mongol Messenger, March 13).
Trade volume between Turkey and Mongolia has reached $40 million, and direct flights between Istanbul and Ulaanbaatar, which began in the middle of 2012, are expected to further intensify such bilateral collaboration. The two governments want to expand cooperation in agriculture, construction, environment, small- and medium-sized enterprises (SME), tourism, mining, and logistics. The larger goal is to advance the relationship to a partnership level.
A significant aspect of the bilateral relationship is deep cooperation on strategic issues. The year 2014 was the 45th anniversary of the 1969 establishment of diplomatic relations, and a number of bilateral defense-related meetings were held. In May 2014, Turkey's Center for Strategic Research (SAM) met in Ulaanbaatar with the Institute for Strategic Studies (ISS), which is under the auspices of the National Security Council of Mongolia. The two sides discussed third-neighbor policy cooperation, Ankara's integrations into the European Union and the Shanghai Cooperation Organization (SCO), Turkey's energy security strategy, Ulaanbaatar's and Ankara's participation in regional integration organizations such as the SCO and the Organization for Security and Cooperation in Europe (OSCE), as well as Mongolia's and Turkey's cooperation with the North Atlantic Treaty Organization (NATO) (Sam.gov.tr, May 15, 2014). Turkish Defense Minister Ismet Yilmaz paid an official visit to Mongolia on September 25–26 (News.mn, September 23, 2014). Yilmaz signed an agreement on military financial cooperation with then–Mongolian defense minister Dashdemberel Bat-Erdene and met with then–prime minister Norov Altankhuyag. Turkey has been cooperating with Mongolia on military matters since 1999 and annually provides $1 million for defense projects. Moreover, 79 Mongolian officers have graduated from the Turkish Military Academy since 2000 (Infomongolia.com, September 26, 2014).
Turkey only opened an embassy in Ulaanbaatar in 1996, while Mongolia opened its Ankara embassy in 1997. Turkey's special interest in Mongolia stems from their common historical roots, as well as because "Turkey considers Mongolia as a strategically important country with its huge landmass and vast resources," according to the Turkish foreign ministry (Mfa.gov.tr, accessed April 1) Mongolia's foreign policy strategists, meanwhile, see Turkey as a key "Third Neighbor." The two countries established an inter-governmental economic and trade commission in 1994, the same year the Turkish International Cooperation and Development Agency (TIKA) initiated the "Turkish Monuments Project in Mongolia" to preserve the Orkhon stone stele monuments outside the old Mongolian capital of Karakorum, 400 kilometers from Ulaanbaatar. Since 2004, TIKA has invested in educational, health, cultural and technical cooperation projects worth around $20 million. More than 1,000 Mongolian students today are enrolled in Turkish universities and many Mongolian universities have developed "Turkology Studies." Last June, Turkey's National Assembly Speaker Cemil Cicek agreed to parliamentary cooperation with Mongolia's State Khural (parliament) (News.mn, June 24, 2014). Mongolia and Turkey adopted a visa-free regime in 2013. This, regular flights, and educational exchanges add to the burgeoning ties between the two countries at opposite ends of Eurasia.