Mongolia's Prime Minister Ousted for Failure to Resolve Economic Woes, Corrupt Practices
Publication: Eurasia Daily Monitor Volume: 11 Issue: 199
By: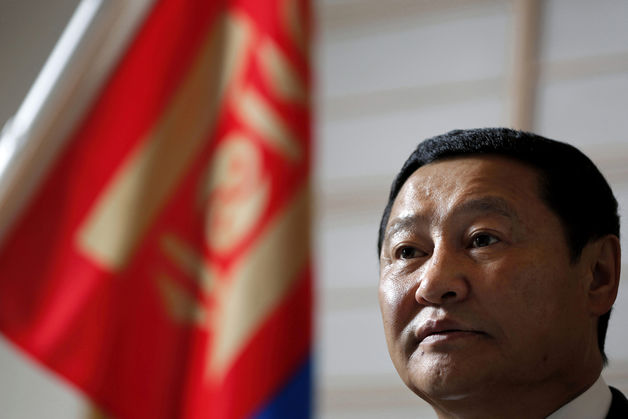 Mongolian politics were shaken on November 5, when the parliament voted to dismiss Prime Minister Norov Altankhuyag for not addressing the country's drastically slowing economic growth, plunging foreign investment, and alleged corruption and cronyism. Altankhuyag's administration, self-labeled the "New Government for Changes," collapsed after serving over two years. According to law, a new cabinet must be formed within 14 days. But for now, Deputy Prime Minister Dendev Terbishdagva is temporarily in charge (UP Post, November 6).
News of the collapse immediately unnerved the already skittish foreign investor community. Investors were already impatient with continual delays over resolving the Mongolian government's dispute with major investor Rio Tinto regarding the huge Oyu Tolgoi copper/gold deposit's second phase of development. And further postponements to the adoption of the 2015 budget, major rail transportation projects, and anti-corruption legislation also added to widespread frustration.
Although tension between Altankhuyag and members of his Democratic Party (DP) has been growing for several months, the catalyst for the dismissal appears to have been Altankhuyag's decision to sign a cooperation agreement on October 18 with former president Nambar Enkhbayar, leader of the Mongolian People Revolutionary Party (MPRP). Enkhbayar was jailed for over one year on several counts of corruption before receiving a presidential pardon. This agreement, which promised political cooperation in the upcoming 2016 parliamentary election, was deemed an illegal violation of party rules by Altankhyug's rival DP leaders, Erdene Bat-Uul, the mayor of Ulaanbaatar, and Khaltmaa Battulga, a wealthy nationalistic parliamentarian (Mongolia Newswire, October 24). Altankhuyag's dismissal may have been engineered with the support or perhaps even coordination of Mongolian President Tsakhia Elbegdorj (DP), whose government personnel decisions were increasingly challenged by the prime minister during the past year. Just before his dismissal, Altankhuyag had reshuffled his cabinet by sacking six ministers. In this very speculative climate, most local outlets media have been seeking signs of political conspiracy (UB Post, November 6).
Many foreign observers have concentrated on Prime Minister Altankhuyag's failed economic policies to explain the present political instability—notably, the World Bank predicted in October that Mongolia's growth would likely slip from 12.8 percent in 2013 to around 6.3 percent this year (Bloomberg, November 6; Reuters, November 5). Whereas, Mongolian government media, independent press, and blogs all have emphasized that corruption issues surrounding Altankhuyag's family and close associates as well as economic policy mistakes were equally significant reasons for his loss of parliamentary support (zasag.mn, The Mongol Messenger, November 5; UB Post, November 6).
Amgalanbaatar Dagdandorj, a political analyst and General Director of Mongolian Marketing Consulting Group, was quoted in the press as saying, "Those close around Prime Minister Altankhuyag have been arrested and investigated by the Anti-Corruption Agency for various shady deals and public confidence in him as an honest prime minister has decreased" (Associated Press, November 5). This was a reference to one of Altankhuyag's senior aides, former environment and tourism minister Luumed Gansukh, who is being investigated for embezzling money from a coal subsidy program earmarked for impoverished residents of the Mongolian capital (The Mongol Messenger, November 7). At the same time, a parliamentarian has accused the prime minister of embezzling money through his own meat company from an 87 billion tugrik ($46.6 million) government meat price support program. There also have been accusations of nepotism and allowing relatives to enrich themselves through government contracts. In one of the most notorious such cases that came to light, the prime minister's 26-year old brother-in-law, G. Denzen, who headed Altankuyag's Cabinet Secretariat, was awarded a tender to the large state-owned coal/uranium enterprise Erdenes Tavan Tolgoi (ETT), where Denzen was chairman of the Board. Denzen and Altankhuyag's sister subsequently resigned from their posts and now are being investigated (Mongolia Business Focus Newsletter, July 15, 2013; shudarga.mn, July 10, 2013; medee.mn, November 5, 2014).
The fracturing of the DP was predictable. The present version of this party is just one of a long line of coalitions of democratically-oriented political factions centered around strong personalities, which has been a feature of the country's past 25 years of democracy. Altankhuyag was the longest serving DP prime minister. Since 1992, only two PMs have served full terms: Puntsag Jasrai (1992–1996) and Enkhbayar, (2000–2004), and both were former Communist Party officials who transitioned into Mongolia's democratic era. Now the country is obsessed with political succession. Potential candidates for the new head of government, in addition to acting Prime Minister Terbishdagva, include parliamentarians Bat-Uul and Battulga, parliamentary speaker Zandakhuu Enkhbold, and Cabinet Secretary Chimed Saikhanbileg (UB Post, November 6). In Mongolia's small world of politics, it is possible that Altankhuyag may re-emerge at a later date, perhaps in alliance with former president Elbegdorj.
From the United States' perspective, the fall of the Altankhuyag government could impact beyond just effecting the investment climate for US companies. First, the present government crisis in Mongolia and lack of budget for 2015 will consume the majority of this fall's parliamentary session. Legislation that the US government favors, particularly the ratification of a Transparency Agreement, will now have to be pushed back to the spring 2015 session. This will be the fate of many other important agreements signed over this past summer during the Sino-Mongolian and Russo-Mongolian summits in Ulaanbaatar. It would not be surprising if these major transportation, construction, trade and energy projects, which could pump millions of dollars into Mongolia's moribund economy and be job creators for the DP as it prepares for the 2016 elections, are taken up for debate before the Transparency Agreement. However, since Mongolia's government wants a high-level US visit next year to balance the 2014 Chinese and Russian state visits, Washington may have some leverage in this matter.
Second, it is highly likely that new corruption cases will be launched against Altankhuyag and his protégé Denzen. Such investigations would look into monies flowing in from abroad. As both men sat on the Board of Directors of the US mega-economic development fund Millennium Challenge Compact (MCC) for Mongolia, which spent $285 million taxpayer dollars during 2008–2013 with questionable final results (mca.mn, accessed November 6), it is not inconceivable that their MCC actions will be scrutinized.
Over the past two decades, the United States has been pressing Mongolia hard on adopting transparent, non-corrupt best practices. But now, Washington may find that the fall of Altankhuyag and exposure of other corrupt officials in the on-going turmoil of Mongolian domestic politics will ultimately reveal questionable financial activities with US government funds.