Moscow Again Putting Separatist Regions in Play Against Georgia
Publication: Eurasia Daily Monitor Volume: 12 Issue: 37
By: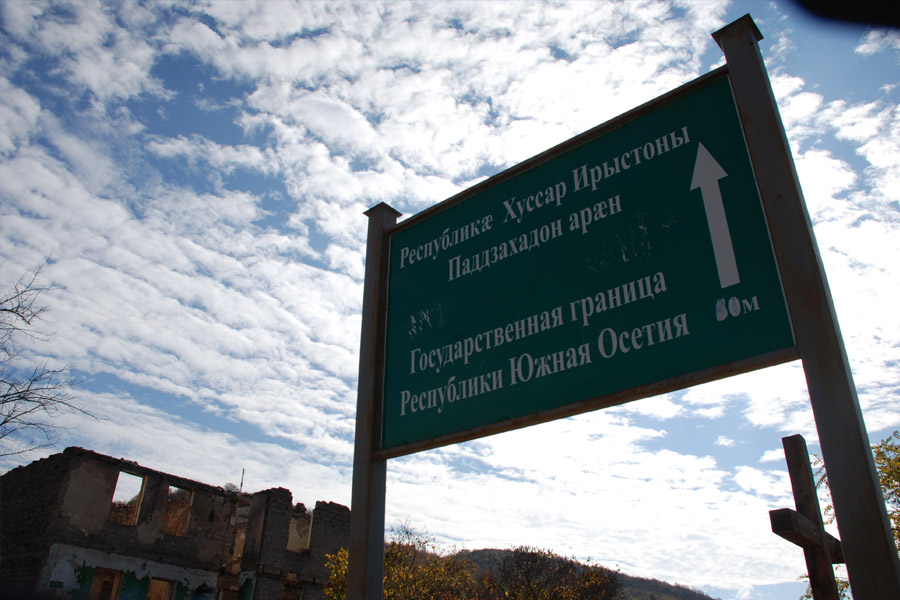 On February 18, Russian Foreign Minister Sergei Lavrov and the head of the "Ministry of Foreign Affairs of South Ossetia," David Sanakoev, signed an agreement "On the State Border," whereby Russia recognized the "state borders" of South Ossetia (Bigmir.net, February 20). A similar prepared treaty with the other separatist Georgian region—Abkhazia—has yet to be signed because of an ongoing disagreement between Moscow and Sukhumi over territory around the village of Aibga, located along the border zone between Russia and Abkhazia (Kavkazsky Uzel, December 2, 2014).
At the same time, unlike South Ossetia, Abkhazia previously signed an agreement with Russia "On Alliance and Strategic Partnership" (see EDM, December 2, 2014). The signing of a similar such agreement with South Ossetia has been postponed because a significant part of the political establishment of South Ossetia, led by parliamentary speaker Anatoly Bibilov, had campaigned for South Ossetia's outright accession to the Russian Federation—and thus opposed Tskhinvali exercising sovereign authority by signing an international agreement (Ruskline.ru, February 21). Nevertheless, one can fully expect that the security treaty between Russia and South Ossetia will be signed soon, and it will envisage an even deeper level of integration than in Abkhazia's case. The agreement On the State Border between Russia and South Ossetia is considered to be a prelude to the much more comprehensive "strategic partnership" treaty.
The Georgian Ministry of Foreign Affairs scathingly criticized the signing of the border agreement, calling it "yet another action directed against the sovereignty and territorial integrity of Georgia" and "an attempt of artificial redrawing of internationally recognized borders" (Civil Georgia, February 19).
However, the state minister for reconciliation and civic equality of Georgia, Paata Zakareishvili, said in an interview for Jamestown that neither the newly signed agreement on the border, nor the upcoming signing of the strategic partnership treaty between Russia and South Ossetia will dramatically change the situation on the ground. "Moscow is unlikely to do anything worse than it did back in 2008. Regarding the border, according to international law, this is the state border between Georgia and Russia, not between Russia and South Ossetia. Sooner or later, Russia will have to hold talks with Georgia about its delimitation," Zakareishvili stated (Author's interview, February 21).
According to Minister Zakareishvili, likely only a serious improvement in the Russian domestic situation would prompt Moscow to change its attitude toward the former Georgian autonomies and recognize them as parts of Georgia again. And thus, Zakareishvili admits that "the presence of Russian military bases on Georgian territory and their withdrawal from our country will be the main topic of Russian-Georgian talks [for the time being]. In comparison to that, the question about the state border will be less significant" (Author's interview, February 21).
As Zakareishvili notes, "In reality, no one is interested in either Abkhazia or South Ossetia, apart from Georgia and Russia, but Moscow is trying to use them as bargaining chips in negotiations with Tbilisi and to lure Georgia into [Russia's] sphere of influence." However, the Georgian state minister is convinced that despite Russia's efforts, "Georgia will still become a member of NATO [the North Atlantic Treaty Organization] and the EU [European Union], while Russia will have to accept that, just as it accepted the accession of the Baltic States into Euro-Atlantic organizations" (Author's interview, February 21).
But in the meantime, Moscow continues to use South Ossetia to put pressure on Georgia. Last week, regional media outlets broadcast statements by several Russian sources alluding to the possible capture of more Georgian territories and assigning them to South Ossetia. In particular, the Truso mountain gorge and the Kazbegi district were mentioned as likely candidates for such annexation (Ekhokavkaza.com, February 15). Indeed, the former "president" of South Ossetia, Eduard Kokoity, also previously spoke about the need for the "reunification of Truso gorge and Kazbegi district with South Ossetia" (For.ge, October 15, 2013).
These renewed territorial claims by the separatist authorities need to be understood in the context of Moscow's simultaneous intensifying opposition to Georgia's moves toward the North Atlantic Alliance—such as the plans for establishing a NATO multinational training center in the South Caucasus country (see EDM, February 4). Notably, right after Foreign Minister Lavrov's mid-February meeting with his "counterpart" from South Ossetia, Russia's top diplomat also spoke vehemently against the "unacceptability of dragging Georgia into the [NATO] Alliance." "We were unanimous in the view that it will not contribute to promoting stability in Transcaucasia [the South Caucasus] and we naturally will—if those steps start turning into reality, and it appears they have already started—take steps to prevent the negative impact on the situation by those processes," the Russian foreign minister said (RIA Novosti, February 19).
In 2008, prior to the North Atlantic Alliance's summit in Bucharest, Lavrov openly declared: "Russia will do everything to prevent Ukraine and Georgia from joining NATO" (Interfax, April 8, 2008). Indeed, Georgia did not receive a Membership Action Plan (MAP) at this summit; and only a few months later, on August 2, 2008, the "president" of South Ossetia, Eduard Kokoity, ordered the shelling of Georgian villages in South Ossetia. On August 7, two Georgian peacekeepers died in the village of Avnevi (Svoboda.org, August 8, 2008) and then–Georgian President Mikheil Saakashvili was compelled to order a special operation to suppress the separatist groups in Tskhinvali and Java district. Moscow declared this a pretext for an incursion into Georgia and, in the ensuing war, de-facto annexed parts of Georgia's territory by recognizing the "independence" of Abkhazia and South Ossetia.
Thus, the latest Russian statements about taking measures against Georgia's drift toward NATO clearly indicate that Moscow is prepared to use the "separatist card" once again to destabilize Georgia. A special EU Monitoring Mission (EUMM) has, for years, been tasked with observing the situation at the administrative border between Georgia and South Ossetia. And in the present situation, Moscow finds it harder to claim that its actions in the South Caucasus are designed purely to ensure "the protection of Russian citizens." However, if Georgia does not reject its political course toward Euro-Atlantic integration, Moscow has other tools at its disposal with which to "punish" Tbilisi. And one such tool is clearly the threat of an outright annexation of South Ossetia—as it did with Ukraine's Crimean peninsula last year.