Moscow and Beijing Seek to Counter Growing Turkish Influence in Central Asia
Publication: Eurasia Daily Monitor Volume: 18 Issue: 53
By: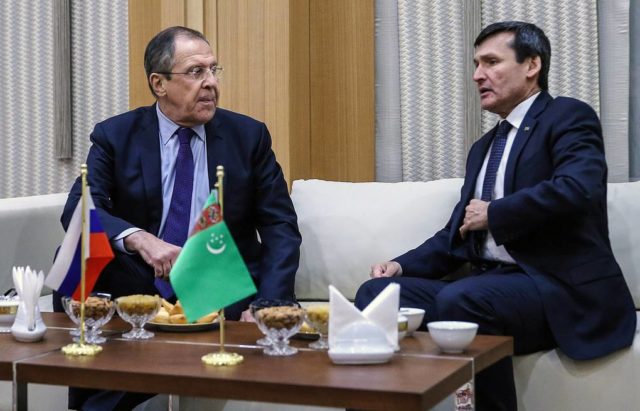 Geopolitical competition over Central Asia is intensifying, with the two most prominent longstanding rivals, Russia and China, now confronted by the rising power of a third, Turkey. Thus, Moscow and Beijing have worked to limit Ankara's influence in this landlocked region; but each has sought to do so without undermining its respective position across the region or derailing hopes for using Turkey for its own purposes, such as cultivating an anti-Western alliance. That combination means, first of all, that this competition is far from a zero-sum game for any of the participants, and so the common temptation to declare one or another the "winner" should be resisted. Instead, in this latest version of the "great game," each of the players wants to gain as much as possible via soft power and economic advance without having to absorb the losses a more forward regional position would almost certainly entail. Therefore, each of the countries in Central Asia is now in a position to play one of these outside powers against the other and, thereby, solidify its own independence.
The complexities of this game have been attracting ever-greater attention in recent years (see EDM, January 30, 2018, March 21, 2019, April 4, 2019, June 18, 2020, March 25, 2021; see China Brief, February 4, 2021). However, the expansion of Turkish influence in the region—especially in the aftermath of its ally Azerbaijan's victory in Karabakh (see EDM, February 18)—has raised both the seriousness and intricacy of this regional competition for all participants. Those regional dynamics were thrown into sharp relief in recent days by two high-level diplomatic meetings, one in Moscow and a second, earlier one, in Ankara.
On Thursday, April 1, Russian Foreign Minister Sergei Lavrov met with his counterpart from Turkmenistan, Rashid Meredov. "The main goal of Meredov's visit," Sergei Aytakov, a Moscow-based specialist on Turkmenistan, contended ahead of the event, is to deal with the consequences of Azerbaijan's victory in the Karabakh war and Turkey's exploitation of that victory to expand its influence in Turkmenistan and other Turkic states in Central Asia (Nezavisimaya Gazeta, March 28). Ankara has already achieved a breakthrough of sorts by brokering a deal between Ashgabat and Baku over long-disputed oil fields in the Caspian (Nezavisimaya Gazeta, March 14). But Turkmenistan is worried that this will reduce its ties with Moscow; whereas Russia is perhaps even more worried that Turkey, a North Atlantic Treaty Organization (NATO) member, will serve as a stalking horse for the Alliance.
Aytakov asserted that Ankara has already made it clear that it wants Turkmenistan to become part of the Cooperation Council of Turkic-Speaking Countries (Turkic Council), something Ashgabat has long dragged its feet on but may now be forced to agree to. According to the analyst, Turkey is not only offering "carrots" to Turkmenistan in the form of increased trans-Caspian trade but also "sticks"—the threat of forcing Turkmenistani migrant workers, now in Cyprus and Turkey itself, to return to Turkmenistan. Ashgabat fears that such a punitive policy by Ankara would destabilize Turkmenistan's already troubled economic and political situation at home. Consequently, Ashgabat wants to keep its options open and ensure that Russia will remain a major customer of Turkmenistani gas. Nevertheless, Aytakov continued, it would be wrong to think that Turkmenistan is going to execute a sharp turn toward Russia now. It has too many reasons to preserve its cooperation with Turkey and with China.
This situation confronts Moscow with challenges too because the Russian leadership wants to maintain good relations with Turkey but does not want to see Turkey expand its presence in Central Asia or even into Afghanistan, as Ankara has threatened, lest it supplant Russia influence there. Moscow is also worried that Ankara may decide to work even more closely with Beijing on east-west transit arrangements and thus undercut Russia's promotion of north-south ties, Aytakov argues (Nezavisimaya Gazeta, March 24).
That Moscow has good reason to be concerned about such a possibility was underlined by an earlier high-level bilateral meeting, held on March 25, between Chinese Foreign Minister Wang Yi and senior Turkish officials, including President Recep Tayyip Erdoğan. These sessions were intended, in the first instance, to solidify Chinese-Turkish cooperation in the wake of the Karabakh conflict, which has made Turkey a larger player in the region. Namely, Ankara's growing regional prominence supports the development of east-west transit routes in Central Asia that bypass Russia. Moscow not only fears this will cost it influence there but also lead to a fundamental realignment of the region, with Turkey and China against Russia. The Wang- Erdoğan meeting surely intensified these longtime fears in the Kremlin (Nezavisimaya Gazeta, September 30, 2018; IA REX, March 30, 2021).
Such face-to-face talks between top government officials, of course, are far from the only thing going on in this complex triangle. Turkey is promoting itself culturally, politically and economically across the region by suggesting that the Central Asian countries have more in common with it than with either China or Russia. And this campaign is becoming a source of tension with both. Russia, meanwhile, is engaged in a variety of security programs designed to ensure that it will continue to be the dominant power in Central Asia as far as hard force is concerned. However, China is slowly expanding its military/security role too, especially in the region's one non-Turkic country, Tajikistan. All three—Russia, China and Turkey—face problems with each other, both in the region and more generally; as such, they are eying the others as a potential threat as well as a needed partner. Consequently, this game will continue, with the stakes increasing in direct proportion to the increase in Turkish influence there and fears of what that will mean for the countries of the region as well as Russia and China (InoZpress, March 25).