Moscow Backtracks From Strategy to Bypass Ukraine's Gas Transit System
Publication: Eurasia Daily Monitor Volume: 6 Issue: 216
By: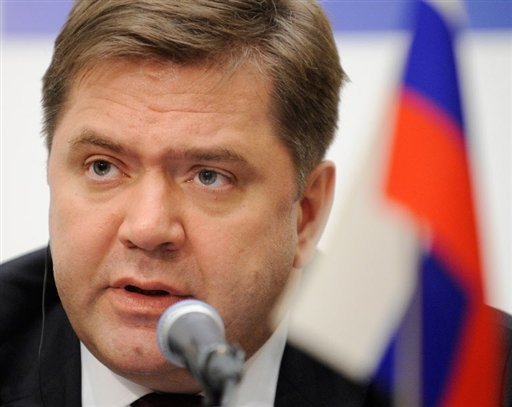 Russian Energy Minister Sergei Shmatko declared on November 16 that the Nord Stream pipeline on the Baltic seabed would not be used for diverting gas volumes away from Ukraine's transit pipelines to Europe. In effect, this statement acknowledges that the Nord Stream pipeline, from Russia directly to Germany, is not a Ukraine-bypass project (Interfax, November 16).
As if on cue, the Gazprom-led Nord Stream consortium confirmed for Western audiences that this project is not about avoiding East European transit routes, but is simply targeting North European gas markets other than those being supplied through the Ukrainian transit pipelines (Wall Street Journal, November 18).
In a similar vein, Russian Prime Minister Vladimir Putin declared on November 14 that the South Stream project –from Russia via the Black Sea to southern and central European countries– is intended to "discipline Ukraine." This statement, too, implies that the undersea South Stream is meant to pressure Ukraine, not actually to bypass it, particularly as Russian authorities have never been able to identify gas sources to supply South Stream (Interfax, November 14).
These statements mark a political retreat from Moscow's long-standing threats to circumvent Ukraine through Nord Stream and South Stream. Those threats had aimed to intimidate successive Ukrainian governments into ceding control over the Ukrainian transit system to Gazprom, lest the flow dry up.
Gazprom's threats were hardly credible, however. All along, the Russian company lacked the means to modernize the Ukrainian transit system (unless it would enlist allied companies in West Europe to finance the upgrades in Ukraine for Gazprom). Moreover, the European Union and Ukraine signed an agreement in March 2009 on upgrading Ukraine's gas transit system, irrespective of Gazprom. This agreement solidified the European interest and strategic stake in preserving the integrity of Ukraine's gas transit system and its full-throttle operation for Russian gas deliveries to Europe.
By the same token, Moscow's disclaimers of intent to bypass Ukraine might discomfit certain European parties to the Nord Stream and South Stream projects. From Germany (main customer for Nord Stream gas) to Slovenia (latest entrant to Nord Stream since November 14), those parties had taken Moscow's threats to bypass Ukraine seriously. Some conventional wisdom had it that Nord Stream and South Stream were Ukraine-bypass projects and that their viability rested on gas volumes being shifted from the Ukrainian system into the two Stream projects.
At the moment, Russia wants Ukraine to consider an agreement on bilateral cooperation in the gas sector. The Russian draft's centerpiece is a proposal on Gazprom's participation in upgrading Ukraine's gas transportation system until 2030, apparently through a consortium arrangement. As energy minister Shmatko admits, however, Ukrainian approval is far from assured and would have to be sought from several power centers in Ukraine (Interfax-Ukraine, UNIAN, November 17).
The Russian proposal is clearly timed to coincide with Ukraine's ongoing presidential election campaign. It seems designed to test the position of Ukraine's political forces and draw support from Moscow-friendly parties and candidates ahead of the January election, when those forces need Moscow's goodwill more than they would later. It looks like an opening proposal in what Moscow probably anticipates to be a post-election negotiating process. And it adds to the circumstantial evidence that Moscow is not holding fast to the previously intimated strategy of circumventing Ukrainian pipelines through Nord Stream and South Stream.
Ukrainian Prime Minister Yulia Tymoshenko has promptly clarified her position: "No matter where I am, in power or opposition, I will never allow our gas transport system to be privatized, any consortiums to be created, or any other states to encroach on our gas transport system. This is our national treasure, which must permanently remain in Ukrainian state ownership" (Interfax-Ukraine, November 16).
With Russia's own gas production stagnant and its declared readiness to assume new supply commitments growing, a wide gap has opened between Russia's actual export potential and its declared promises of gas to external consumers. Some of those potential consumers (notably in German business circles) reckoned with Gazprom's monopsony to continue with regard to Turkmen gas, so as to free up gas volumes from Russia's own production for export to Western Europe. That expectation, however, now seems increasingly unlikely to be fulfilled. The financial-economic crisis has compelled Gazprom to suspend its imports of Turkmen gas since April and to downscale its declared offer to import Turkmen gas next year and afterward. Turkmenistan's Dauletabad field, which accounted for the lion's share of Turkmen gas exports to Russia, is now being partly reoriented for export toward Iran.
In mid-November, Turkmenistan completed the construction of a new export pipeline from Dauletabad, southward to Iran, with a first-stage capacity of 6 billion cubic meters (bcm) per year and a planned second-stage capacity of another 6 bcm annually. The new pipeline, which runs in eastern Turkmenistan, adds to the existing pipeline in the western part of the country, Korpeje-Kurt Kuy, delivering up to 8 bcm of Turkmen gas to Iran (www.iran.ru, November 20).
Turkmenistan and China are set to inaugurate in December the new gas pipeline from the Bagtyarlik contract area, for an ultimate volume of 30 bcm of Turkmen gas to China via Kazakhstan. Thus, early production from newly opened Turkmen fields is headed in directions other than Russia, in line with Ashgabat's export diversification policy.
With Russia's monopsony rapidly losing ground in Turkmenistan, the ambitious Nord Stream and South Stream project look even more questionable. South Stream can hardly expect to be filled with Turkmen gas; and Nord Stream can hardly count on Turkmen gas volumes in Russia to free up equivalent Siberian gas volumes for export to Germany and other possible Nord Stream destinations.
Thus, Moscow now seems to backtrack from its earlier threats to bypass Ukraine through Nord Stream and South Stream. Russia's own stagnant production, the loss of monopsony in Turkmenistan, and –at least as importantly– the E.U.-Ukraine agreement on upgrading Ukraine's transit system are at this stage defeating Moscow's strategy to bypass Ukraine. Accordingly, Moscow is reverting to its earlier strategy to seek control of the Ukrainian system under the guise of a consortium formula that would include Western companies allied with Gazprom.