Moscow Downplays the Mixed Warnings From Munich
Publication: Eurasia Daily Monitor Volume: 17 Issue: 21
By: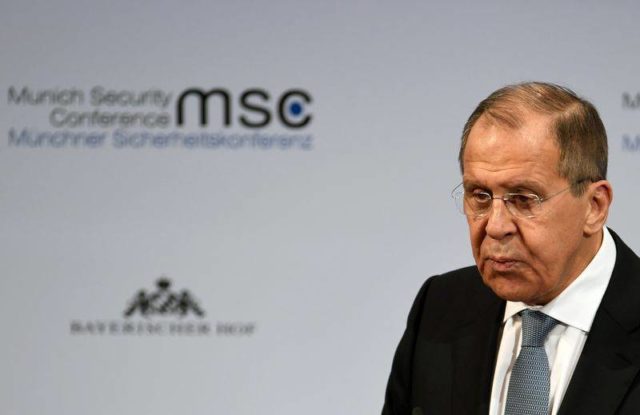 The proceedings of the annual Munich Security Conference always attract keen attention in Moscow, and last weekend (February 14–16) was no exception. The discussions at this high-level forum are indeed highly consequential most years, but Russian interest continues to be stimulated by reflections on Vladimir Putin's speech at the 2007 conference, which he likely to this day sees as his stellar moment on the world stage. In retrospect, the Kremlin leader's old complaints about insufficient attention in the West to Russia's interests look rather banal; but at least before the August 2008 Russian-Georgian War, there had been a foundation of trust, which Moscow has since demolished. Russian Foreign Minister Sergei Lavrov used the Munich conference to once more try to sell Putin's initiative on staging a summit of the five permanent members of the United Nations Security Council, but US Secretary of State Michael Pompeo showed scant interest (Kommersant, February 15).
Russian commentators reveled over the warnings presented in the report prepared by the Munich team of experts regarding the deepening discord among the Western states and societies, which they described as "Westlessness" (Rossiiskaya Gazeta, February 15). Every disagreement between European Union member states and every apparent inclination to resume "business as usual" with Russia, particularly from French President Emmanuel Macron, are eagerly amplified by official propaganda in Moscow (RIA Novosti, February 15). Of course, Russia's incessant discourse about the ever-worsening crisis in Euro-Atlantic relations inherently clashes with the narrative about the alleged growing military threats toward the Russian Federation coming from the North Atlantic Treaty Organization (NATO). Nonetheless, Russian pundits easily switch from one to the other (Izvestia, February 13). The meeting of NATO defense ministers last week (February 12–13) did show a remarkable degree of unity concerning building up capabilities to contain the multiple threats coming from Russia. This was reassuring for many participants in the Munich debates. However, the Russian media pounced on the evidence of declining popular support for NATO in Europe and the United States (RBC, February 10).
For the last six years, Russia's aggression against Ukraine constituted the main focus of the deliberations on European security in Munich; and this year, Ukrainian President Volodymyr Zelenskyy brought new energy and hope to these talks (Nezavisimaya Gazeta, February 11). However, his position was nearly undermined by a report drafted by Russia-friendly experts from the Euro-Atlantic Security Leadership Group, which carefully avoided using such descriptive terms as "aggression" or "annexation" (Russiancouncil.ru, February 14). After a sharp Ukrainian demarche (backed by the Atlantic Council and other Washington-based think tanks and research institutes), the report was withdrawn from the set of documents distributed at the conference and removed from its website (Kommersant, February 15). Zelenskyy was able to make a strong case for revising the deadlocked Minsk agreements, which facilitate unchecked Russian support for separatists in Donbas. And the Ukrainian president forcefully called for the restoration of his country's territorial integrity as integral to the collective work on upholding European security.
The problem the German hosts of the conference had hoped to bring closer to a resolution was Libya. The January 20 Berlin summit, which Putin also attended, produced some grounds for such hopes. But Russia refused to support the February 12 UN Security Council resolution 2510 formalizing the results of the previous month's meeting—which Moscow described as "unfeasible" (Kommersant, February 13). It does not take much to sabotage the delicate peace process. France is pulling in one direction and Italy in another, while Germany is in no position to lead without any commitment from the US (Nezavisimaya Gazeta, February 4; Moscow Echo, February 15). Russia, however, seeks to play multiple games at once: disrupting Western bargaining while providing direct support to the apparently winning party in the chaotic war.
This clandestine engagement brings Russia into conflict with Turkey, which has openly opted to back a different side to the conflict (RBC, February 15). Meanwhile, their clash over Libya adds intensity to the main target of Russian-Turkish quarrels—the rebel-held Syrian province of Idlib (Nezavisimaya Gazeta, February 13). Neither frequent chats between the leaders nor military-to-military talks help in discharging these tensions, and risk assessments on both sides are distorted by political posturing (Izvestia, February 13). Moscow is irked by Washington's statements in support of Turkey, but it still has to acknowledge the potentially disastrous consequences of trying to stop the looming Turkish counter-offensive against Syrian President Bashar al-Assad's forces (Rosbalt, February 13). Europeans are concerned about the humanitarian disaster unfolding in Idlib but are helpless to influence the Russia-Turkey power play.
One relevant point from the discussions in Munich was about Russia persistently aiming to punch above its weight and pretending to be far stronger than its "Putemkin state" really is (Nezavisimaya Gazeta, February 10). The strategic trap in Syria and the growing costs and casualties in Libya are inevitable consequences of this ambitious and reckless behavior, which grasps for short-term gains but denies the incurred losses (Moscow Echo, February 15). Putin seeks to secure for himself a position of absolute power and zero responsibility for "temporary difficulties," but his authority is eroding, and the level of trust in him has fallen from 59 percent in late 2017 to a mere 35 percent today (Levada.ru, February 12). His orders to ensure accelerated economic growth are proving impossible for the new government, and the hit from the coronavirus epidemic may tip the trajectory from stagnation to recession (Svobodnaya Pressa, February 16). Oil price, the single most important determinant of Russia's economic health, is under strong pressure, while old-fashioned cartel deals in the OPEC+ format cannot compensate for the impacts driving it down (Forbes.ru, February 12).
The Kremlin may find comfort in the assessments of disarray in the West caused by the confluence of various security challenges, from Ukraine to Libya to pandemic diseases; and the Munich debates have provided plentiful evidence for such confusion. Putin may even presume that the quality of his leadership, capricious and ignorant as it really is, is superior to the constant change of Western politicians—even German Chancellor Angela Merkel has been unable to organize an orderly succession in her own party. Western societies are, indeed, struggling with multiple challenges, to which Russia is eager to add. But their democratic systems still look resilient and adaptable—and attentive to the preferences of their citizenries. Dictatorships, to the contrary, abhor change and cling to rigid stability, expecting that denials of societal dynamics will be enough to preserve the status quo. Putin now faces the futility of autocratic control, perhaps much sooner than he imagines and with more unforgiving consequences than he may fear.