MOSCOW EXPLOITING THE KOSOVO CONTEXT TO TAKE OVER SERBIA'S ENERGY SECTOR
Publication: Eurasia Daily Monitor Volume: 5 Issue: 4
By: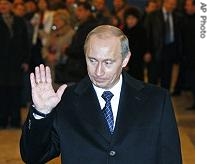 The European Union looks like a bystander to Russia's step-by-step capture of energy markets and infrastructure in EU territory. This time, Moscow is using an opening through Serbia, a country that Russia has tempted into isolation from the West by encouraging Serbian past-oriented nationalism over Kosovo. If the Kremlin has its way again, President Vladimir Putin will meet with Serbia's president and prime minister, Boris Tadic and Vojislav Kostunica, on January 18 in Bulgaria for the signing of a multilateral agreement on the South Stream gas pipeline project that also involves Greece and Italy.
Moscow plans to use Serbia's territory as a gateway to break into Central Europe with Gazprom's South Stream pipeline. Russia is exploiting a political context currently defined by the Kosovo issue. On December 27, Serbia's parliament overwhelmingly adopted a resolution threatening to abandon negotiations for a cooperation agreement with the EU, and to give up European integration altogether, because of the EU's stance on Kosovo. The resolution also rejects the EU's intention to send a mission to Kosovo without United Nations Security Council approval — a position championed by Russia, which can use its veto power to prevent the sending of the EU's mission (Interfax, December 27-28, 2007).
Thus, Moscow must calculate that Belgrade is currently in no mood to listen to the EU, even if the EU wanted to intercede and offer Serbia some option other than South Stream. Whether Brussels intended such intercession seems far from certain however, in light of the EU's passivity when its own member countries Bulgaria, Greece, and Italy joined Gazprom's South Stream project.
Apart from the current political context, Gazprom is also exploiting Serbia's chronic gas shortage. Its negotiating position implies that building an arm of South Stream through Serbia would be a quasi-favor to that country. It hints that it might choose other transit options that would bypass Serbia. It demands 51% control over joint companies to be formed with Serbia Gas as part of the package. And, as part of a South Stream deal with that country, Gazprom insists on taking over a 51% stake in Serbia's Petroleum Industry (NIS, the state monopoly for oil refining and product marketing).
Gazprom only offers $400 million in cash and $500 million in subsequent investments in NIS. Along with this it demands a monopoly on refining and product marketing for at least five years. And it wants to be exempted from EU environmental standards for a similar period.
Serbs across party lines deem Gazprom's price offer for NIS unacceptably undervalued. Belgrade was planning an international competitive tender for NIS, but Gazprom wants the tender to be canceled. The Russian government all but openly supports these demands, as could be seen when the Russian ambassador — rather than Gazprom officials — handed over the terms to the Serbian government. The Russian government is thus signaling that the NIS issue forms a part of Moscow-Belgrade political relations, implicitly linked to the Kosovo issue.
A novel trend in Gazprom's acquisitions policy is emerging with its demand for oil assets in return for "guaranteeing" gas supplies. Gazprom had until now demanded shares in gas transport and storage infrastructure in various countries, as part of gas supply agreements. Recently, Gazprom also displayed an interest in electricity-generating plants in Europe as part of package deals for gas supplies. Now, however, Gazprom is hunting also in the oil sector. This incipient policy is a corollary to the continuing expansion of Gazprom's oil subsidiary, Gazpromneft. At the end of 2007, Gazpromneft formed a joint company with Lukoil, under Gazpromneft's 51% control, for all types of operations in the oil sector, including crude refining and product marketing. Gazprom's attempt to take over NIS is an early test of this acquisition policy in the oil sector.
The Serbian government is currently negotiating based of a "Platform" that it adopted on December 29 by consensus among the coalition's parties. A working group of ministers is in charge of the negotiations. However, Economics Minister Mladan Dinkic has resigned from the working group in protest against the platform's unilateral concessions to Russia. Ultimately, the government could set a price for NIS depending on the volume of South Stream gas that would transit Serbia, the level of transit fees, or the capacity of the gas storage site that Gazprom promises to develop in Serbia.
Kostunica and his Serbian Democratic Party seem more willing than other parties in the governing coalition to sell NIS to Gazprom at a low price, although not as cheap as Gazprom's offer. Other parties, as well as Tadic, would prefer to hold out for a significantly better price. But Kostunica and other hardliners seem eager to come to terms before the January 18 deadline, in time for the meeting with Putin in Bulgaria and signing the agreement there. The Kremlin undoubtedly wishes to conclude the agreement for South Stream's Bulgarian and Serbian sections at one stroke during Putin's visit to Sofia.
(Borbam Blic, Sutra, Tanjug, January 3-9; see EDM, January 9)