Moscow Initiates Mediation Between Tripoli and Benghazi
Publication: Eurasia Daily Monitor Volume: 8 Issue: 98
By: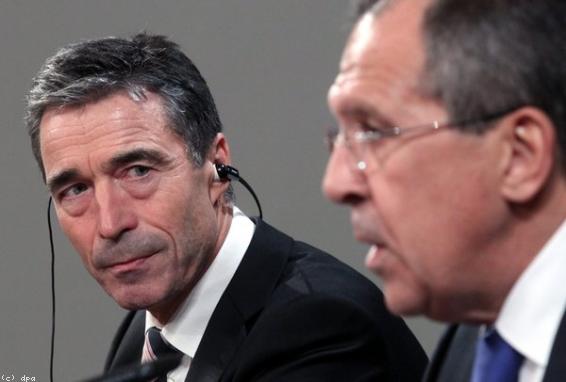 As anticipated (EDM, April 26), Russia is offering its mediation services in Libya to capitalize on NATO's predicament. The Russian government has invited emissaries from both Libyan sides, Tripoli and Benghazi, to Moscow for separate talks. Russian Foreign Minister, Sergei Lavrov, is using foreign dignitaries' Moscow visits as opportunities to snipe at NATO's mission almost on a daily basis.
NATO's operation is self-confined to an air war of attrition against Tripoli's forces. Moscow, however, must realize that the attrition process will inevitably knock out Gaddafi's army (and splinter the leader's entourage) in a matter of weeks, perhaps months, even if it continues at its moderate tempo. Consequently, Moscow seeks to head off that outcome, gain time for the Tripoli authorities, insert itself as a possible mediator, gain a seat at international negotiations on Libya's future, and damage NATO's credibility through a premature, inconclusive end of combat.
On May 16, Lavrov had received the UN Secretary General's special envoy for the Libya conflict, Abd-al-Ilah al-Khatib, in Moscow. Lavrov urged a "ceasefire as soon as possible. If this can be agreed, there will be no reasons for continuation of NATO bombings." Lavrov cryptically referred to "our [diplomatic] work with Tripoli and Benghazi" in that sense (Russian MFA press release, May 17).
On May 17, Lavrov received Libya's "World Islamic Call Society" General Secretary, Muhammad Ahmad Al-Sharif, identified as "representative of the Libyan government," in Moscow. According to Lavrov at a follow-up briefing, Sharif reaffirmed Tripoli's readiness for a ceasefire and negotiating an internal political settlement, based on the African Union's road map. [Benghazi rebels had rejected that road map]. Lavrov further cited Al-Sharif as fully accepting the terms of UN Security Council Resolutions 1970 and 1973 [protection of civilians], conditional, however, on reciprocal steps by the rebels and the cessation of NATO bombing (Russian MFA press release, May 18)
Russia had also invited a delegation from the Benghazi authorities to Moscow. That visit was scheduled for May 18, the day after the talks with Tripoli's representative. Almost certainly, Moscow intended to host a tripartite session or at least proximity talks. However, Benghazi postponed its delegation's visit at the last moment "for technical reasons." But "we will wait until they are ready to come, we will hold talks, [and] we will send the necessary signals via other channels to both Tripoli and Benghazi," Lavrov offered (Russian MFA press release, Interfax, May 18).
Russian President Dmitry Medvedev, in successive statements on May 18 and 19, chided the Western belligerents (without naming them) for "flouting the [UN] resolution on Libya, undermining the United Nations," and he called for negotiations in Libya, without the use of military force (Interfax, Nezavisimaya Gazeta, May 19).
In its recent, quasi-daily statements on Libya, Russia's foreign ministry insists that: NATO's use of force "exceeds by far the terms of the UN Security Council Resolution 1973; this must stop;" "coalition forces continue hitting non-military targets in Tripoli;" Russia calls for an immediate ceasefire and "an end to the bloodshed;" "Russia is watching with serious concern the continuing aggravation of the humanitarian situation;" "humanitarian crisis and foreign interference in Libya have reached dangerous levels" (Interfax, May 13-20).
Thus, Moscow is turning the propaganda tables against the US/NATO humanitarian mission in Libya. Easily posing as more humanitarian than thou, Russia seeks to create a moral and political basis for emerging as a mediator in the Libya crisis within a UN framework.
In preparation for such a role, Moscow is positioning itself equidistantly between Tripoli and Benghazi. It opposes regime-change through force, but takes no position on Gaddafi's personal situation; and opposes the international criminal indictment of Gaddafi and his entourage, on the grounds that it feeds intransigence on both Libyan sides. Russia calls for political negotiations over "Libya's future" or a "new Libya" based on an agreed reform program, while referring to "Tripoli" and "Benghazi" even-handedly.
Russia is not a member of the Contact Group on Libya and does not recognize its legitimacy. The Contact Group comprises the United States, a large number of European countries, the EU and NATO in their collective capacities, the African Union, and several conservative Arab monarchies, which are proving to be stable and reliable allies of the United States. According to Lavrov, the Contact Group is "illegitimate" for supplanting the UN Security Council [i.e., circumventing Russia's veto there] (Interfax, May 13).
Moscow's main tactical goal at this stage is to promote a ceasefire in place and help start negotiations between Tripoli and Benghazi, under non-Western mediation –including its own. This would severely embarrass NATO and the United States militarily and politically. Their forces would, in that case, be perceived as having been held to a draw by Colonel Muammar Gaddafi's modest force; and the Western belligerents' goal of unconditional regime-change would become subject to negotiation with that same regime or its remnants, with or without Gaddafi.