Moscow Pushes to Derail Macedonia's NATO Membership
Publication: Eurasia Daily Monitor Volume: 15 Issue: 117
By: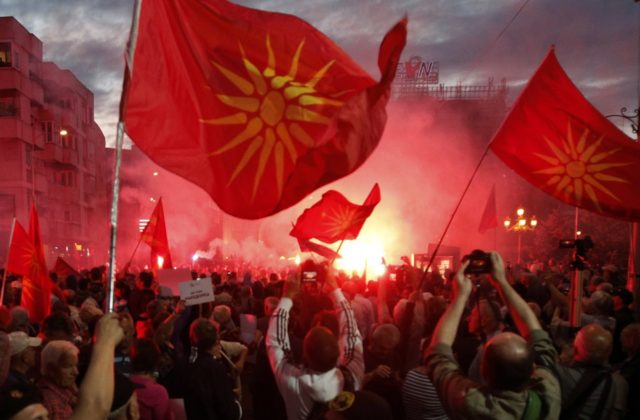 Macedonian nationalist groups, led by the small, pro-Russian political party United Macedonia, have announced a campaign to boycott the September referendum on changing the country's name to the Republic of Northern Macedonia. On August 5, a coalition of 28 minor right-wing political parties, civic associations and non-profit organizations launched the "Macedonia Boycotts" campaign to sabotage the upcoming poll on September 30 (Balkan Insight, August 6). The referendum is part of a historic agreement with Greece that would open the way for Skopje's accession to the North Atlantic Treaty Organization (NATO) and the European Union.
Recent revelations of an elaborate Russian subversive operation in both Macedonia and Greece underscore the risks and challenges to the Balkans. The scheme is notably similar to the one used by Russian intelligence services in October 2016 to prevent Montenegro from joining the North Atlantic Alliance and similarly involves collaboration with Serbian counterparts (Occrp.org, July 16, 2018; June 4, 2017).
For over two decades, Greece has obstructed Macedonia's accession to NATO and the EU, citing concerns that the country's usage of the name Macedonia implies potential territorial claims on the northern Greek region with the same name. The name dispute finally saw a chance of resolution when Macedonian and Greek foreign ministers, Nikola Dimitrov and Nikos Kotzias, respectively—in the presence of their countries' prime ministers, Zoran Zaev and Alexis Tsipras—signed a landmark agreement on June 17. The deal involved changing the name of Macedonia to Northern Macedonia in exchange for Greece's full support for its northern neighbor's NATO and EU membership, as well as recognition of the Macedonian nation and Macedonian language (Balkan Insight, June 17). The agreement was welcomed by most Balkan countries, which were worried that growing frustration with Macedonia's slow Euro-Atlantic integration, particularly among the Macedonian Albanians, could cause violent turmoil and a potential spillover in the region.
Following this summer's Greek-Macedonian agreement, Moscow has intensified efforts to prevent Macedonia from joining NATO by financing operations to incite violent protests against the deal in both countries. During NATO's July 11–12 Brussels Summit, Athens expelled two Russian diplomats for their attempts to undermine the agreement with Skopje, while Macedonian Prime Minister Zaev disclosed an elaborate scheme financed by Russian businessmen to disrupt the upcoming referendum. Zaev told BuzzFeed News that Greek businessmen sympathetic to the Russian cause had reportedly made payments to various Macedonian organizations to incite violence ahead of the referendum (BuzzFeed News, July 16).
Macedonian investigative journalists have uncovered the source of some of the payments. The Investigative Reporting Lab Macedonia reported that Greek-Russian billionaire Ivan Savvidis, a former member of the Russian Duma from Vladimir Putin's United Russia party who currently resides in Greece, paid opponents of renaming Macedonia at least 300,000 euros ($347,000). The recipients include Macedonian politicians, newly established radical nationalist organizations and soccer hooligans from the Vardar club, who staged violent protests in front of the parliament in Skopje the day after the agreement was signed (Occrp.org, July 16).
Video footage of the riots shows a large group of young people throwing stones and flaming objects at the police (YouTube, June 17). After law enforcement dispersed the crowd of nationalists and soccer hooligans with tear gas and shock grenades, retreating protesters attacked nearby restaurants and set a car on fire. The police said it had prevented the protesters from storming the parliament (BalkanInsight, June 20).
Ten of the soccer hooligans, associated with the Komiti fan club of the Vardar soccer team, were arrested and subsequently confirmed to reporters from the Investigative Reporting Lab that they had received funding from Savvidis. The owner of the Vardar soccer club is Russian millionaire Sergei Samsonenko, currently serving as Russia's honorary consul in the Macedonian city of Bitola (Occrp.org, July 16).
This is not the first incident of Russian interference in Macedonia's internal affairs recorded by the Macedonian intelligence services. For the last ten years since the NATO summit in 2008, when Macedonia was not invited to join the Alliance, the country has been "undergoing strong subversive propaganda and intelligence activity implemented through the Embassy of the RF [Russian Federation]" in line with Moscow's strategy to create frozen conflicts, according to intelligence documents obtained by investigative reporters. These official documents state that Russia's main purpose is to isolate Macedonia from Western influence and secure the country's military neutrality. The subversive policy implemented through diplomatic channels and through energy dominance also uses soft power means, such as the media and cultural institutions. It aims to strengthen Macedonia's pan-Slavic and Orthodox Christian affiliation, placing it "in a state of exclusive dependency on Russian policy" (Occrp.org, June 17, 2017).
According to a leaked Macedonian intelligence brief, three agents of Russia's Foreign Intelligence Service (SVR) conducted Russian subversive activities from the Russian embassy in Skopje. Oversight was provided by a Russian intelligence-gathering station in the Serbian capital Belgrade and four agents of the military Main Intelligence Agency (GRU), all coordinated from Sofia, Bulgaria (Occrp.org, June 17, 2017).
The collection of leaked documents and wiretaps also inform about the involvement of Serbian intelligence services to boost nationalism in Macedonia. The accredited representative of Serbia's Security Information Agency (BIA) in Macedonia, Goran Živaljević, allegedly has been involved in attempts to obstruct Macedonia's Western integration since 2015, often working with pro-Russian Macedonian members of parliament. He was present in the parliament on April 2017, when demonstrators backing the opposition party Internal Macedonian Revolutionary Organization–Democratic Party for Macedonian National Unity (VMRO-DPMNE) physically attacked lawmakers, including Zoran Zaev, who subsequently became prime minister (NOVA TV, May 26).
An alliance of Russian and Serbian intelligence agencies has been working to obstruct Macedonia's NATO accession. And this enduring operation strongly resembles an earlier attempt to overturn the government of Montenegro, including an October 2016 assassination attempt against then–prime minister Milo Đukanović (since elected president). Reportedly, former Serbian military and intelligence officers worked under orders from two Russian GRU officers to conduct the plot.
Over the last two decades, Đukanović has become the symbol of Montenegro's strivings for independence from Yugoslavia and pursuit of a pro-Western foreign policy. Now, Macedonia's Zaev has quite quickly managed to turn his country around from isolation and potential inter-ethnic conflict to an officially invited NATO candidate that enjoys radically improved relations with neighbors Bulgaria and Greece. The entire region and Western governments will need to cooperate with Macedonia's current leadership to prevent any further Russian plots to derail the country's security and stability.