Moscow Unsure How to React to South Ossetian Referendum on Accession to Russian Federation
Publication: Eurasia Daily Monitor Volume: 19 Issue: 73
By: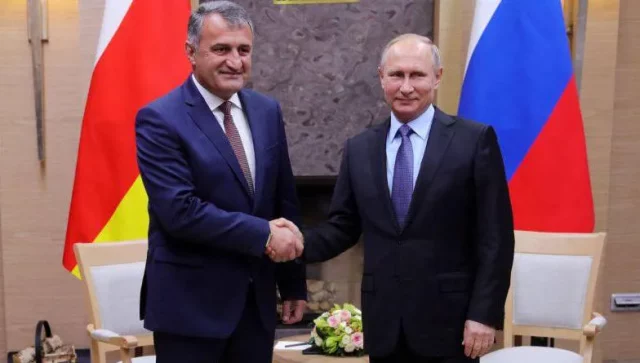 On July 17, the Russian-occupied Georgian breakaway region of South Ossetia will hold a referendum on joining Russia (Radio Tavisupleba, May, 13). Anatoly Bibilov, who is serving out his term as the head of the separatist regime in Tskhinvali, signed a decree to hold the referendum shortly after he lost the May 8 presidential election to Alan Gagloev, the leader of the Nykhas party (Civil.ge, May 14). Gagloev, a former Soviet intelligence officer, will formally be "inaugurated" on May 20.
The plans for this decree were in fact announced even earlier, apparently when Bibilov realized that Gagloev was ahead of him in the polls (see EDM, April 8; OC-Media.org, May 9). Bibilov knew that joining Russia is a popular aspiration among the majority of the residents of the breakaway region, and so he was likely hoping that the announcement would tilt the election in his favor. Yet in the final tally, he garnered only 43.3 percent of the vote, while Gagloev obtained 54.2 percent (Bezformata.com, May 10).
While the referendum's success may be certain, the reasoning behind its sudden scheduling remains unclear—political maneuvering on the part of Babilov notwithstanding. For instance, was this initiative in part or wholly undertaken at Moscow's request, and in any case, why now? What does Russia want? Are there objectives that the Kremlin feels it cannot simply pursue via the highly Russia-cautious Georgian Dream government?
Ambassador Batu Kutelia, a member of the board at the Atlantic Council of Georgia and a Next Generation Leader Fellow at the McCain Institute for International Leadership, addressed some of these questions in his May 16 interview with this author. "The short answer is [Moscow's pursuit of] a formal and full [Georgian] denouncement of its pro-Western foreign orientation. So with this 'referendum' Russia is trying to pressure Georgia's ruling Russian oligarch, [Bidzina] Ivanishvili, and his government into expressing formal loyalty by denouncing the United States and the West," Kutelia stipulated. He further argued, "Considering [Russia's] global isolation and it losing the war in Ukraine in all its dimensions, making Georgia officially pro-Russian is strategically important." The ambassador listed several possible motives driving Moscow: 1) Preventing Georgia's membership in the European Union and the North Atlantic Treaty Organization (NATO) as well as averting NATO's increased presence in the Black Sea; 2) subverting alternative east-west energy and logistical routes that bypass Russia; 3) exploiting a "captured state" to help Russia evade sanctions and relocate threatened financial assets there; and 4) demonstrating a propaganda "success," meant for domestic consumption, of Russia having expanded its borders. No matter the motivation, the Georgian expert community recognizes the aggressive nature of Moscow's intentions and behavior.
Perhaps surprisingly, therefore, Russian State Duma member Konstantin Zatulin—widely perceived as the main architect of Russian policy in the post-Soviet space—criticized Anatoly Bibilov for calling a referendum on the grounds that the timing is bad. Zatulin said that Bibilov's decision is inappropriate for two reasons. First, if the incumbent president loses the election, it is his successor who should call the referendum. And second, "Russia does not need this referendum now" (Kommersant, May 16). South Ossetia's "president-elect" appears to be amplifying Moscow's message, expressing bewilderment that Bibilov "did not warn Russia about the plans to hold a referendum, although he was obliged to conduct preliminary consultations according to the agreement between South Ossetia and Russia of 2009" (Cominf.org, May 14).
David Avalishvili, from the independent news agency Nation.ge, asserted that Russia faces a difficult dilemma. On the one hand, Russian President Vladimir Putin cannot ignore the referendum, but on the other hand, a direct refusal would also be perceived as a sign of weakness. Furthermore, if the Kremlin does decide to formally annex South Ossetia, Moscow will have to find quick solutions to several problems. First, how should it delimit and demarcate the new state border with Georgia? Second, what should be done with the Georgian villages on the border between Georgia and South Ossetia, where the Georgian police and European Union observers are stationed? Should some form of ethnic cleansing be pursued in the border zone? (Author's interview, May 16).
Then there are the broader regional and international concerns. How will Russia respond to apprehensive questions from Azerbaijan and Turkey about Russia's state border moving that much closer to strategically crucial transportation and energy pipeline corridors (such as the Baku–Tbilisi–Kars Railroad, the South Caucasus natural gas pipeline, or the Baku–Tbilisi–Ceyhan oil pipeline)? And how will other post-Soviet countries react to the annexation of new territories of a neighboring state? Avalishvili mused that this could lead to even greater rapprochement between Kazakhstan and China on the one hand and between Azerbaijan and Turkey on the other hand. NATO's and the US's reaction to the Russian decision to annex South Ossetia would likewise be difficult for Moscow to navigate. While inside Russia itself, will Moscow be successful in reassuring other North Caucasus elites about this unprecedented strengthening of a united Ossetia in the region? As the Nation.ge analysts pointed out, there are well-known historical tensions between Ossetians and both the Kabardians (Circassians) and Vainakhs (Chechens and Ingushs) (Author's interview, May 16).
If Russia's Ukraine policy is any indicator, Moscow will be unable able to find easy answers to these complex Caucasian and broader regional questions. By setting in motion or permitting the South Ossetian referendum, Russia may well be creating an unwanted crisis in and around the most turbulent corner of the country.