MOSCOW WANTS TO STRENGTHEN CIS AND OTHER POST-SOVIET GROUPS
Publication: Eurasia Daily Monitor Volume: 5 Issue: 114
By: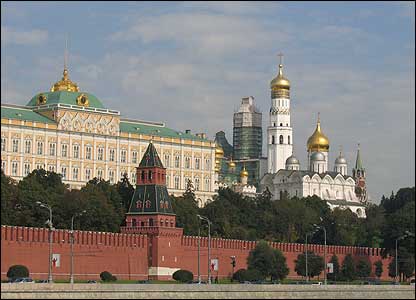 Russia pushed for stronger ties among members of the Commonwealth of Independent States (CIS), while promoting integration with its closer allies, members of the Eurasian Economic Commonwealth (EEC) and the Collective Security Treaty Organization (CSTO). Moscow's efforts have, however, been produced limited results so far.
The CIS executive secretary Sergei Lebedev described an informal summit of the CIS held in St. Petersburg earlier this month as a complete success. All participants advocated further integration within the CIS and pledged to draft a blueprint on CIS development until 2020, he said (Interfax, RIA Novosti, June 6).
Russian President Dmitry Medvedev told the St. Petersburg summit that the CIS nations should develop cooperation and prioritize issues of energy security. He also suggested moving toward a common energy market within the CIS (Interfax, ITAR-Tass, June 6).
Russian officials lost little time in hailing the St. Petersburg summit. President Medvedev established good contacts with CIS leaders, the president's foreign policy aide Sergei Prikhodko announced on June 7. Continuity of Vladimir Putin's foreign policy work was secured, Prikhodko said (Interfax, RIA Novosti, June 7).
Russia's top officials also insisted that post-Soviet groups still had significant economic clout. The CIS was no longer an instrument of "civilized divorce" of former Soviet states as it had transformed into a dynamic economic entity, Sergei Naryshkin, head of the presidential administration, announced on June 7. He also claimed that a customs union of Russia, Belarus and Kazakhstan would be created by 2010, adding that other CIS states would be able to join the union eventually (Interfax, RIA Novosti, June 7).
Russia has long been pursuing a new Moscow-dominated trade body, the so-called EEC customs union. On June 10 EEC Secretary General Tair Mansurov told Russian Prime Minister Vladimir Putin at a meeting in the Novo-Ogaryovo residence that the customs union of Russia, Belarus and Kazakhstan would become operational by 2010. Trade turnover among Russia, Belarus and Kazakhstan was up 3.4 times from $30 billion in 2000 to more than $100 billion in 2007, Mansurov said. The customs union should be patterned after the EU and involve common customs tariffs and customs territory, he said (Interfax, ITAR-Tass, June 7).
On June 7 Andrei Belyaninov, head of the Russian Federal Customs Service, told Putin that the CIS nations had decided set up a joint committee to combat customs violations. Belyaninov conceded, however, that Georgia and Turkmenistan had declined to join the committee. He also said that the Federal Customs Service prioritized efforts to create the customs union of Russia, Belarus and Kazakhstan (Interfax, RIA Novosti, June 7).
The EEC member states include Russia, Belarus, Kazakhstan, Kyrgyzstan, Tajikistan and Uzbekistan, while Armenia, Moldova and Ukraine have observer status. Moscow has a 40 percent quota in EEC voting and financial rights; Kazakhstan, Uzbekistan and Belarus have 15 percent each, while Kyrgyzstan and Tajikistan have 7.5 percent.
In January the prime ministers of Russia, Belarus and Kazakhstan signed nine trade agreements, which represented only 9 of the total of 29 issues to be solved in order to create the new union. WTO-member Kyrgyzstan as well as Tajikistan and Uzbekistan, however, remained reluctant to join.
In the meantime, yet another Russia-dominated group, the CSTO, pledged to continue its military build-up. Russia was strengthening its military presence in Central Asia, thus showing its responsible attitude toward its CSTO commitments, CSTO Secretary General Nikolai Bordyuzha announced on June 5. Russia was beefing up its military bases in Tajikistan and Kyrgyzstan, Bordyuzha said, but conceded that the process was hampered by Uzbekistan's reluctance to allow Russian military transit (Interfax, RIA-Novosti, June 5).
The CSTO has long been mulling over the creation of its own peace-keeping forces. In May 2007 the CSTO indicated plans to form a joint army group in addition to the existing CSTO fast deployment forces. Bordyuzha has said that the CSTO peace-keeping forces could become operational later this year.
In January Bordyuzha also announced an initiative to convene a top level meeting of regional organizations, including the CSTO, the CIS, the EEC, the OSCE and the SCO. Meanwhile, the CSTO appeared struggling to convene a summit meeting of its own.
On May 20 Bordyuzha briefed Medvedev on preparations for the CSTO summit. The CSTO prioritizes military cooperation, including revival of the military infrastructure around Russia and creation of new bases, he told Medvedev. Bordyuzha claimed that the CSTO had successfully developed coordination among member states but would not announce the dates of the CSTO summit, which had been due in Moscow in May or June this year (Interfax, RIA-Novosti, June 5).
The CSTO summit delay apparently came as an indication that some member states remained skeptical about the group's prospects. Notably, at a meeting with Medvedev in St. Petersburg on June 6, Uzbek President Islom Karimov suggested that the CSTO and the EEC merge. Both groups had overlapping agendas, and a merger would allow them to achieve more significant results, he said (Interfax, RIA Novosti, June 6).
Karimov's initiative did not come as a complete surprise, because the CSTO, which includes Armenia, Belarus, Kazakhstan, Kyrgyzstan, Russia, Tajikistan and Uzbekistan, has overlapping membership with the CIS and the EEC.
Therefore, the Kremlin is continuing to pursue its attempts to boost the international standings of post-Soviet institutions. Moscow appears to be struggling, however, to prop up its client groupings, the EEC and the CSTO, as important international organizations.