NATO Demonstrates Renewed Cohesion in Resolute Response to Missile Strike on Polish Soil
Publication: Eurasia Daily Monitor Volume: 19 Issue: 177
By: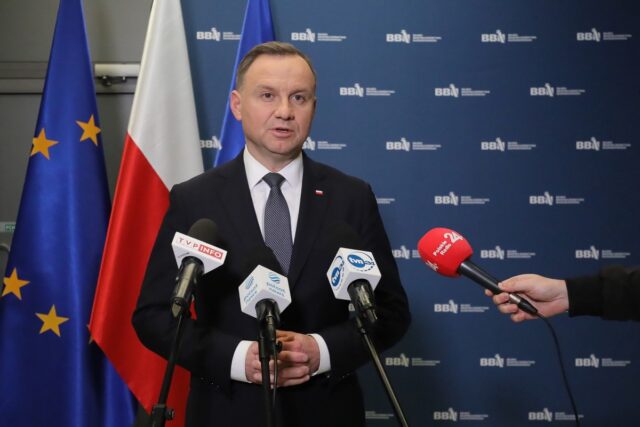 On November 15, at approximately 3:40 p.m. local time, an explosion killed two people in the Polish village of Przewodów, located in Lublin Province, around six kilometers from Poland's border with war-torn Ukraine. Due to massive Russian missile strikes that had been targeting Ukraine at the time, the explosion almost immediately triggered a number of speculations about the cause of the detonation. Only a few hours after the incident, a senior US intelligence official was quoted as stating that the deaths were the direct result of Russian missiles that had crossed into Polish territory (Euractiv, November 15).
The Polish investigation team, which included military experts, approached the site of the explosion almost immediately. In the face of the Western media's reporting, Warsaw's reactions remained quite restrained and balanced, waiting on concrete evidence to be gathered and analyzed. In the meantime, a series of urgent meetings were called.
Shortly before midnight, during a hurried press conference, Polish National Security Bureau Chief Jacek Siewiera explained that, while the investigation was ongoing, the Polish Armed Forces had been put on high alert. Furthermore, Warsaw hoped to consult on the issue with representatives from the United States and considered whether to call for consultations under the North Atlantic Treaty Organization's (NATO) Article 4 (BBN, November 15). Soon after, the Polish Foreign Affairs Ministry published an official statement summoning the Russian ambassador, proclaiming that "a Russian-made missile dropped on the village of Przewodów" and that Poland demands an explanation (Gov.pl, November 15). It is important to note in this regard that "Russian-made" did not necessarily mean launched from, or by, Russia.
This event also triggered a series of bilateral talks on various levels between Warsaw's representatives and their counterparts from the major allied countries and organizations. Polish President Andrzej Duda held talks specifically with US President Joe Biden, NATO Secretary-General Jens Stoltenberg, British Prime Minister Rishi Sunak, German Chancellor Olaf Scholz and Ukrainian President Volodmyr Zelenskyy, among other
During these conversations, Duda reassuringly emphasized that all of Poland's allies confirmed the validity of their security guarantees. The Polish president paid particular attention to the US, which he referred to as Poland's "greatest ally" (Prezydent.pl, November 16). The unity of NATO's collective response was essential, as it further solidified the Alliance's increased cohesion and gave added legitimacy to its willingness to potentially fulfill Article 5 of the NATO treaty. As accurately assessed by Polish Institute of International Affairs Director Sławomir Dębski, the way Poland communicated with its allies about the recent tragedy set a precedent for future analogous strikes on Polish, or NATO, soil (Twitter.com/SlawomirDebski, November 16).
Not every reaction from Poland's strategic partners was that restrained, however. Latvian Minister of Defense Artis Pabriks openly accused Russia of propagating the deliberate strike (Twitter.com/Pabriks, November 16). Furthermore, Zelenskyy and other high-ranking Ukrainian officials immediately proclaimed Russia as solely responsible for the explosion (Twitter.com/ZelenskyyUa; Twitter.com/DmytroKuleba; Twitter.com/oleksiireznikov; November 15).
These allegations were, however, tempered by Warsaw, which made such accusations conditional on the investigation's results. The dust settled a bit on the morning of November 16 following a press conference held by Biden after an emergency roundtable meeting of the G7 and NATO members on the sidelines of the G20 summit in Indonesia. On that occasion, the US president stated, "It's unlikely, in the minds of the trajectory, that it was fired from Russia" (Whitehouse.gov, November 16).
The timing here is essential, as Biden made such a claim even before the Polish authorities did. Nevertheless, Warsaw reaffirmed the US president's assessment, additionally stating that it was "most likely" a Ukrainian projectile launched from an S-300 surface-to-air missile system in an attempt to shoot down an incoming Russian missile (Prezydent.pl, November 16). In response, Zelenskyy was simultaneously adamant that "it was not their [Ukraine's]" missile, which opened the door for further speculation (Ukrinform, November 16).
Moreover, some regional experts, academics and diplomats, from both NATO and non-NATO states, questioned the official Polish narrative, even claiming that Washington may have pushed Warsaw to present the issue in a certain way so as not to escalate the conflict with Russia. Such musings even appeared in Polish society. That is exactly why Duda so strongly emphasized that all statements made by the Polish authorities were based on the reports of "our own agencies and our own investigative materials" (Prezydent.pl, November 17).
That being said, it seems that the premature nature of Biden's statement had an overall negative impact, and the resulting Ukrainian denials elicited similar results. Thus, Poland's decision to allow Ukrainian investigators to join the proceeding, as requested by Zelenskyy, was of particular importance (Polish Press Agency, November 17). As a result, the Ukrainian president eventually tempered his narrative, claiming that he does not know for sure who launched the missile (Ukrinform, November
Ultimately, a number of decisive factors helped stabilize the situation. In Poland, the main political parties made the mature decision to not politicize the issue, even when they could have used it to their advantage to further complicate an already tense domestic situation. In-country security experts also played a commendable role in calming down the national narrative. Most importantly, the event was widely and immediately addressed via a series of bilateral and multilateral consultations, and most of Poland's NATO allies immediately reaffirmed their commitments to the collective security guarantees.
Nevertheless, some key communication errors were made. First and foremost, it should have been up to Poland, as the victim, to quickly and accurately identify the suspected perpetrators. This would have perhaps tempered the harmful speculations. Furthermore, the Ukrainian authorities should have coordinated their allegations with Western partners beforehand. As a result, this failure to communicate was misconstrued by some as yet another Ukrainian attempt to "internationalize" the war (see EDM, March 15). It may also serve to undermine public support for sending future arms shipments to Ukraine among the more hesitant Western allies.
Thus far, the threat does not appear to have materialized, as, according to Stoltenberg's declaration, which was quickly adopted by most NATO states, including Poland, "Russia bears ultimate responsibility, as it continues its illegal war against Ukraine" (Nato.int, November 16). Yet, we should bear in mind that these events, and the resulting Western communication errors, will be deliberately used in future pro-Russian propaganda campaigns (Twitter.com/EUvsDisinfo; Twitter.com/SlawomirDebski, November 16).
Finally, this accident may trigger a debate about further NATO military deployment on the allied territories bordering Ukraine, including the deployment of anti-missile systems. NATO has some experience with such an operation, as a similar request was made by Turkey in 2013 (Nato.int, February 19, 2013). Nevertheless, such decisions will be politically sensitive since these systems will only be effective if they can hit targets over Ukraine's western territories. Germany has most recently proposed two of its Patriot batteries to be deployed in Poland; however, the proposition may be rejected by Warsaw (Breakingdefense.com, November 29), which would only deepen the schism in their bilateral relation (see EDM, Oct 26). In lieu of this, on November 17, Siewiera stated that Polish authorities are considering the introduction of a special system that would warn citizens in Poland's borderlands of incoming missile strikes in western Ukraine (YouTube, November 17).
Ultimately, as it continues to wage its war against Ukraine, Moscow has contributed greatly to NATO's recent revival. Nevertheless, the explosion in Przewodów demonstrates that the Alliance must remain resolute and react maturely and coherently. After all, it is NATO's security and reputation that are at stake.