NATO-Georgia: A Pause in the Integration Process?
Publication: Eurasia Daily Monitor Volume: 18 Issue: 109
By: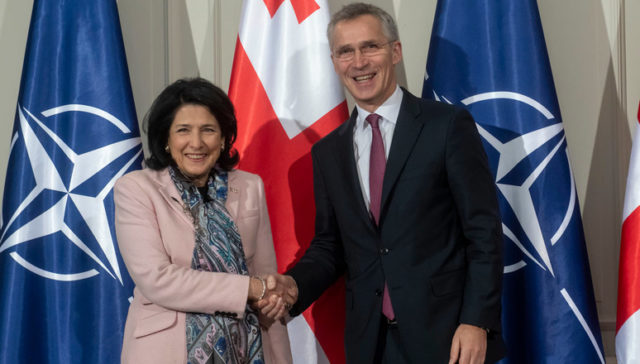 In early July, James Appathurai, the North Atlantic Treaty Organization's (NATO) special representative for the Caucasus and Central Asia, held a series of top-level meetings in Georgia.
The Georgian authorities greeted their guest from Brussels warmly and with much fanfare. President Salome Zurabishvili awarded Appathurai with the Order of the Golden Fleece for his special contribution to strengthening NATO-Georgian relations and his support for Georgia's sovereignty and territorial integrity (Civil.ge, July 3). Prime Minister Irakli Garibashvili tweeted that he and the NATO envoy discussed Tbilisi's cooperation with the Alliance, Black Sea security, as well as Georgia's significant achievements along its Euro-Atlantic path and the need to move forward on the political dimensions of the integration process (Twitter.com/GharibashviliGe, July 2). In turn, Foreign Minister Davit Zalkaliani described Appathurai as "a big friend of Georgia, who has done his utmost to make Georgia's NATO integration progress irreversible." The top Georgian diplomat added that the NATO summit in Brussels last month (June 14) again reaffirmed the Alliance's open door policy toward Georgia, and he assured that his country already possesses all the practical instruments needed to eventually join NATO (Agenda.ge, July 2).
But this glowing diplomatic rhetoric could not hide the indisputable fact that, in recent years, relations between NATO and Georgia have mostly plateaued, moving no closer toward Tbilisi's goal of full membership. Tellingly, neither Georgian representatives, nor the representatives of any other partner countries hoping to join, were invited to NATO's Brussels Summit. And the final summit communiqué simply repeated largely verbatim the wording on Georgia's membership prospects that was written in previous years' communiqués (see EDM, June 17): "We reiterate the decision made at the 2008 Bucharest Summit, that Georgia will become a member of the Alliance with the Membership Action Plan (MAP) as an integral part of the process; we reaffirm all elements of that decision, as well as subsequent decisions, including that each partner will be judged on its own merit." The document further notes that the Alliance members "highly appreciate Georgia's substantial contributions to NATO operations, which demonstrate its commitment and capability to contribute to Euro-Atlantic security" (Nato.int, June 14).
Dr. Vakhtang Maisaia, a scholar in political and strategic studies, noted that Georgia remains on what he termed the "third level" of the NATO integration process—Intensive Dialogue. "The fourth level is a Membership Action Plan, or MAP, which officially bestows membership candidacy; and the fifth—full membership," Maisaia explained in a July 5 interview with this author. He recalled that Georgia is successfully implementing most of the NATO Annual National Programs (ANP), but these programs are just a "transitional stage from Intensive Dialogue to MAP." The strategic studies expert stipulated that "the final communiqué of the Brussels Summit is weaker than the decisions that the Alliance took during the 2014 Welsh Summit, when Georgia was granted the Substantial NATO-Georgia Package (SNGP) as part of NATO's Defense and Related Security Capacity Building Initiative (DCB)."
The SNGP is meant to improve Georgia's defense capabilities, increase its resilience, enhance interoperability with the North Atlantic Alliance, and support the NATO membership preparation process. The program presently consists of 14 initiatives or areas of support: the NATO-Georgia Joint Training and Evaluation Center (JTEC), Defense Institutional Building School (DIBS), logistic capability development, intelligence sharing and secure communications, aviation, air defense, special operations forces, military police, acquisition, maritime security, cybersecurity, strategic communications, crisis management, and counter-mobility. A 15th initiative, on strategic and operational planning, was successfully concluded in October 2017 (Mod.gov.ge, accessed July 7).
The majority of Georgian experts are convinced that Georgia fulfills the annual NATO programs much more successfully than some of the states that have already received MAP; but the Alliance cannot make a similar decision with regard to Tbilisi, fearing an escalation in relations with Russia. Professor Tornike Sharashenidze, who heads the International Relations master's program at the Georgian Institute of Public Affairs (GIPA), is sure that in the conditions that have developed in the region, including around Ukraine, "NATO has a hard time coming up with something new for Georgia." Sharashenidze doubts that United States President Joseph Biden and his administration "are planning to change something fundamentally in [former US president] Donald Trump's policy toward Georgia and Ukraine." This sad reality, according to the expert, "is fully confirmed by the results of the Biden–[Vladimir] Putin summit in Geneva [on June 16]" (Author's interview, July 6).
On the other hand, political consultant Gela Vasadze has argued that the level of relations between Georgia and NATO is already quite high and creates certain security guarantees for a small Caucasus country even without MAP or full membership: "I understand that, emotionally, Georgians expect quick decisions from NATO; but in big politics, the result is achieved with careful, small steps. The current level of relations with the Alliance gives our country a chance to conclude a strategic military-political alliance with regional countries under the 'NATO umbrella': Turkey, Poland, the Baltic States and Ukraine. This is very important for the creation of a collective security system, and the North Atlantic Alliance will even welcome such decisions." As an illustrative example, Vasadze pointed to the recent consolidation of the strategic alliance between Azerbaijan and Turkey (see EDM, June 23), with the latter country "considered the NATO leader in our region," he noted (Author's interview, July 5).
Vasadze's optimistic opinion seemed to be validated by recent developments in in the maritime domain. Namely, the United Kingdom's air-defense destroyer HMS Defender—following its highly publicized military incident near the Crimean peninsula (see EDM, June 24)—made a port call in the Georgian Black Sea city of Batumi, were the British officers were greeted as heroes (Agenda.ge, June 27). Subsequently, HMS Defender, together with other NATO member states' warships and Georgian Coast Guard vessels, participated in a joint naval exercise designed to boost interoperability between the respective crews and develop Georgian capabilities (Agenda.ge, June 27).
During the August 2008 war, Russian forces destroyed the ships of the small Georgian naval fleet. But Georgia's active participation in the annual NATO-led Sea Breeze maneuvers in the Black Sea has helped to reinforce for the Alliance that the country should be seen as an important partner for ensuring regional security.