Navalny Has Set a Damning Dilemma for Putin's Regime
Publication: Eurasia Daily Monitor Volume: 18 Issue: 9
By: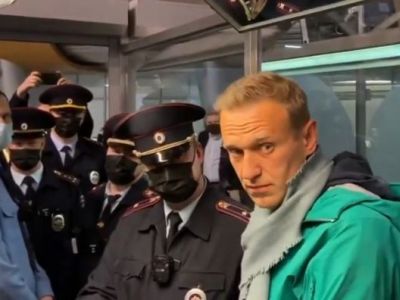 The decision of Russian democratic opposition leader Alexei Navalny to return to Moscow was announced on January 13 in a deliberately matter-of-fact way—and produced a full-blown political storm. His message on Instagram was as plain as it gets: "The air-ticket for Sunday is just purchased, come meet me" (Moscow Echo, January 13). What turned this long-promised step into a daringly brave challenge to the Kremlin was the stream of strong warnings from various Russian law enforcement agencies about the criminal investigations against him; a warrant for his arrest was issued last December (RIA Novosti, January 14). The authorities clearly expected him to accept the fate of a political émigré and gradually fade into irrelevance. Navalny, however, refused to follow that script and wrote his own, in which the arrest upon arrival was a necessary step to the goal of liberating Russia from the corrupt autocracy (MBK Media, January 17).
The saga of Navalny's political struggle is rich in arrests and fabricated accusations, but his persecutors now have to deal with an entirely new scope of the problem. In just a few months, Navalny has gained international recognition and domestic fame of such unprecedented scope that one opposition politician had good reason to assert: "The president is coming to us" (Moscow Echo, January 14). Russia's democratic opposition remains split into many camps, but Navalny has the capacity for uniting these "tribes," comparable perhaps only to Vaclav Havel's role in Czechoslovakia in the late 1980s (Snob.ru, January 14). This transformation is a direct result of the botched operation of the Federal Security Service (FSB) aimed at poisoning Navalny with the nerve agent Novichok during his trip to Tomsk in August 2020. International investigation exposed not only the shocking details of that assassination attempt but also the appalling incompetence of the operatives, who suffered no punishment for their crime (Meduza, December 17).
President Vladimir Putin has also contributed to the remarkable rise of Navalny's political profile, and not only by covering up the FSB operation from any investigation but also by refusing to discuss the matter with concerned European officials (New Times, January 13). This inflexible stance goes beyond the usual denials of Russia's many transgressions of international rules and norms, from doping in sports to "hybrid" attacks on elections. Putin's conversations with the leaders of Germany, France and other key counterparts have become contentious and lacking any hint of trust (Carnegie.ru, January 13). The Baltic states were the first to condemn Navalny's arrest, where concerns about this breakdown of minimally normal connections between Moscow and the EU are punctuated with reflections on the brutal—and failed—attempt of the Soviet leadership to suppress their desire for independence by the use of tanks in Vilnius, Lithuania, 30 years ago. (Deutsche Welle—Russian service, January 13). Putin still sticks to his odd phobia of never calling Navalny by name, seeking to set a disparaging tone in official propaganda, but his nemesis returned to Russia not as a blogger/troublemaker but as a politician of all-European eminence (Newsru.com, January 13).
This loss of control by the Kremlin over the political agenda has a striking resemblance to the development of the political crisis in Belarus, where the majority  of voters firmly rejected the autocratic reign of Alyaksandr Lukashenka, who now claims that a war is unleashed against his country (Lenta.ru, January 16). Just a year ago, this maverick authoritarian leader was taken by many Western politicians and experts for a partner they could do business with, and presently he is subjected to deserved ostracism (Nezavisimaya Gazeta, December 25). Maria Kalesnikava, a brave leader of the opposition, refused to leave the country and remains incarcerated, but Sviatlana Tsikhanouskaya, who became an improbable winner in the presidential elections last September, travels around Europe and is treated as a legitimate representative (RBC, January 12). Putin cannot fail to recognize Lukashenka as a liability, but is stuck with propping his failing autocracy fearful that any plan for replacing him would backfire not only in an explosion of protests in Belarus but also in a fast erosion of his own grasp on power (Rosbalt, January 6).
The only consideration that encouraged Putin's siloviki to respond to Navalny's challenge as they saw fit was the assumption that the new US administration was too busy with managing the extraordinary domestic crisis to pay any attention to Russia's internal affairs (Carnegie.ru, January 11). Much to the Kremlin's irritation, the US response came fast and strong (RIA-Novosti, January 17). Putin's courtiers tend to downplay the newly strengthened US discourse on restoring the international solidarity of democratic states, but clearly anticipate president-elect Joe Biden's experienced team to take a tough course on Russia (Nezavisimaya Gazeta, January 14). The New START treaty negotiated with the Obama administration back in 2010, might be saved from expiring, but this would not signify any new "reset" in US-Russian relations (Russiancouncil.ru, January 15). The announcement of Russia's withdrawal from the Open Skies Treaty (1992) is supposed to be a signal of Moscow's readiness to engage in hard bargaining and to deliver resolute responses to any US pressure (Izvestia, January 15).
Navalny has boldly pushed aside all these geopolitical intrigues and challenged the authorities with a dilemma: ignoring his return after all the warnings could be seen as a sign of weakness but arresting him would be a proof of even greater weakness (Republic, January 15). Putin was forced to organize yet another "special operation" ordering the flight carrying Navalny and a sizeable crowd of journalists to be diverted from the Vnukovo airport (where hundreds of supporters gathered) to Sheremetyevo and taking him into police custody immediately after passing through passport control (Kommersant, January 18).
Whatever fake felonies are attributed to Navalny, his arrest makes him a political prisoner of unique profile and moral authority. It has also laid bare Putin's fear of anger accumulating among millions of Russians and threatening to overthrow his seemingly solid regime. Beneficiaries and loyalists of this regime will find it difficult to preserve any remnants of self-respect and reputability in the West, while expressing support for Navalny's imprisonment, even through silence. In the few moments of freedom on home soil, Navalny said that he was happy and had no fear. Even behind bars, he remains a free man and gives heart to millions of Russians to stand for their dignity and the future of their country.