New Dimension in Trilateral Foreign Policy of Azerbaijan
Publication: Eurasia Daily Monitor Volume: 13 Issue: 72
By: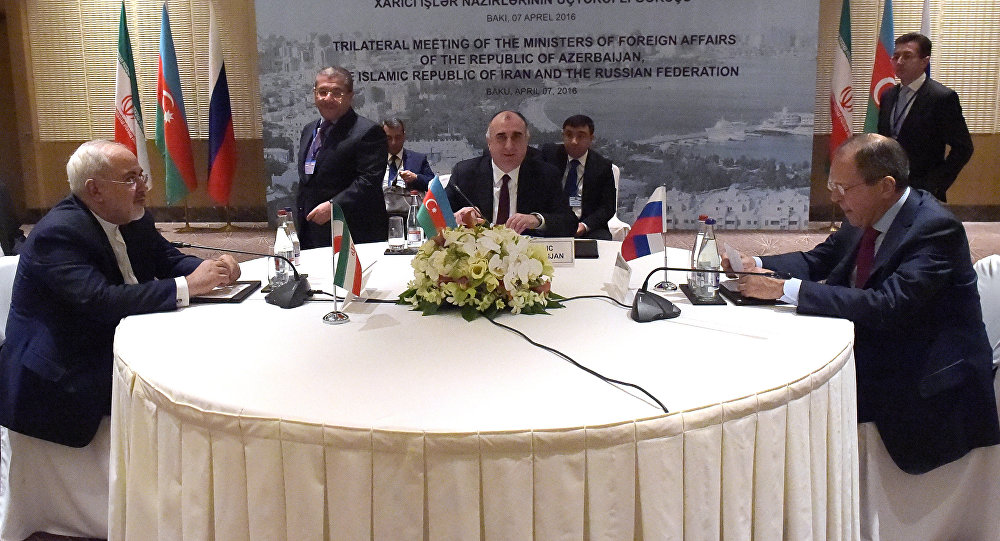 The recent escalation of violence between Armenian and Azerbaijani forces along the line of contact (see EDM, April 6) overshadowed another crucially important event occurring around the same time in the region—the April 7 trilateral meeting, in Baku, of the ministers of foreign affairs of Azerbaijan, Russia and Iran. This meeting had been scheduled well before the eruption of the deadly skirmishes near breakaway Karabakh, and was designed as a platform to discuss regional projects and new perspectives in trilateral relations (Mfa.gov.az, April 7).
Traditionally, Baku's policies since the mid-1990s have tended to stress strategic regional projects along an East–West dimension. This was true regarding Azerbaijan's oil contracts signed with Western companies in 1994, culminating in the Baku–Tbilisi–Ceyhan (BTC) pipeline, which carries Caspian hydrocarbon resources westward to a Turkish port on the Mediterranean. The Baku–Tbilisi–Kars railway, currently under construction, is another case in point. Thus, much of the agenda of the April 7 trilateral ministerial—especially discussions on developing the North–South Railroad project, which will connect Iran and Russia via Azerbaijan—might seem like a deviation from Azerbaijan's usual policy focus. In fact, however, the recent meeting is actually a good reflection of Baku's multifaceted foreign policy orientation since the 1990s.
In seeking to balance among several competing regional and global powers while still pursuing its own national interests, Azerbaijan has, in recent years, successfully used active diplomacy to maintain strategically fruitful relations among many diverging actors and poles of power. Notably, Azerbaijan has been able to formulate a number of promising regional multilateral formats (Sam.az. January 8). These have included the Azerbaijan-Georgia-Turkey (Ispionline.it, July 5, 2015), Azerbaijan-Turkmenistan-Turkey (Usak.org.tr, 2014) and the Azerbaijan-Iran-Turkey triangles.
The Azerbaijan-Iran-Russia trilateral dimension can be considered the newest complement to Baku's trilateral foreign policy strategy. And it bears pointing out that on April 5, just two days before the meeting of the foreign ministers of Azerbaijan, Russia and Iran, Azerbaijani Minister of Foreign Affairs Elmar Mammadyarov paid a visit to Iran for the fourth ministerial-level meeting of the Azerbaijan-Turkey-Iran triangle (Trend.az, April 5).
The development of cross-regional transportation routes is a core focus of all these formats. Indeed, after achieving international sanctions relief, President Hassan Rouhani's government in Tehran has been paying particular attention to developing regional transit infrastructure to diversify Iran's access to global markets. Recently, the Islamic Republic successfully completed its section of the Iran–Turkmenistan–Kazakhstan railroad, which enables Iranian goods to reach markets in Central Asia. And on December 23, 2015, officials from the railroad companies of Azerbaijan, Georgia and Iran signed a protocol on cooperation outlining plans to connect the Persian Gulf with the Black Sea region (Sputnik.az, December 23, 2015).
Iran is especially interested in developing northward export outlets since the country's northern areas are more heavily populated and include its largest cities. Prior to the breakup of the Soviet Union, Iranian goods could reach Soviet Russia via the Nakhchivan Autonomous Soviet Socialist Republic (part of the Azerbaijan SSR) though the Armenian SSR and northward across the Georgian SSR. But this railroad has not operated since 1991, because of regional conflicts between Armenia and Azerbaijan as well as in Abkhazia.
Azerbaijan has already built a railway line all the way up to its southern border with Iran, where it will be connected with the Iranian Qazvin–Rasht railroad network. The initial annual capacity of this railroad will equal 1.4 million passengers and 5–7 million tons. On February 23, 2016, during Azerbaijani President Ilham Aliyev's official visit to Iran, two of the eleven signed documents between the two governments pertained to the framework agreement on connecting both countries' railroads as well as building a bridge across the Astarachay river, which forms the eastern border between the two states (Ng.ru, February 25). Baku and Tehran have agreed to finish the construction of the bridge by the end of 2016. They also pledged to launch a new trilateral format to deepen regional cooperation—such as an Azerbaijan-Iran-Turkmenistan or an Azerbaijan-Iran-Georgia triangle (Azertag.az, February 23). Together, Azerbaijan, Russia and Iran are also working on establishing the North–South energy corridor, which will enable Russia to sell electricity to Iran (Minval.az, February 10).
Last year saw important developments for establishing the East–West "Silk Road" transit corridor, an overland network of road and rail lines connecting markets in East Asia with Europe. Notably, the first Europe-bound cargo train from China passed through the South Caucasus after arriving at the International Baku seaport on August 3, 2015 (see EDM, October 2, 2015; Trend.az, August 3, 2016). This year, the developments along the North–South dimension promise to be equally important for Azerbaijan. As President Aliyev noted on April 9, Azerbaijan is actively working on both East–West and North–South transport corridors, which will make this Caspian littoral state a strategic juncture for a number of important inter-regional transit routes (Trend.az, April 10).
Since the 1990s, Azerbaijan has initiated numerous regional projects—several of which are of clear global importance. At the same time, Baku has done everything in its power to isolate its rival Armenia from all these regional projects in order to pressure Yerevan into relinquishing control over Azerbaijan's occupied territories. This month's trilateral meeting of Azerbaijani, Russian and Iranian foreign ministers, which took place immediately following the ceasefire capping the recent fighting near Karabakh, is thus remarkable in terms of Azerbaijan's ability to achieve its goals vis-à-vis Armenia. Until now, Yerevan had tremendous hopes that the North–South transit corridor connecting Iran and Russia would pass through Armenian territory, thus ending its two decades of isolation (Prnewswire.com, January 24, 2013). But this railroad will now definitely pass through Azerbaijan instead. It is, therefore, obvious that despite Yerevan's best efforts (Armenianow.com, March 27, 2015; Vestnik Kavkaza, September 10, 2010), Armenia will not be able to break out of its regional isolation or halt the deterioration its socio-economic situation until the conflict over Karabakh is resolved.