New Public Demarche by Lukashenka
Publication: Eurasia Daily Monitor Volume: 15 Issue: 175
By: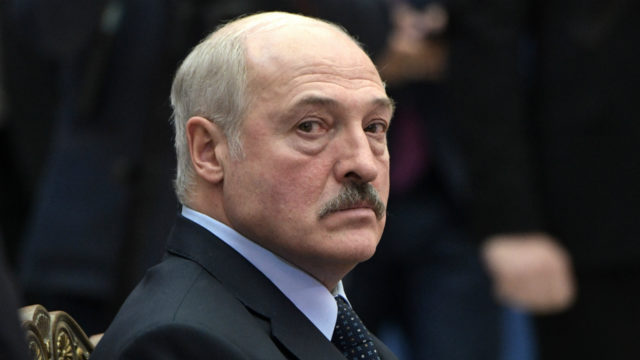 Belarusian President Alyaksandr Lukashenka took part in the summit of the Eurasian Economic Union (EEU) in St. Petersburg, Russia, on December 6. During the televised segment of the meeting, Lukashenka launched into a diatribe against unequal natural gas prices that undermine the entire idea of economic integration within the Moscow-led regional bloc. Indeed, according to the agreement finalized earlier, Belarus is to pay $127 per 1,000 cubic meters, whereas in Russia's Smolensk Oblast, which borders on Belarus, the price is only $70. Lukashenka's interview to the Russian television channel Russia 24, recorded on November 29, in Minsk, and aired on December 1 (Vesti, December 1; YouTube, December 4), set the stage for his later demarche in St. Petersburg. In that interview, Lukashenka forewarned the EEU against repeating the mistakes made by the European Union, including those that led to Brexit. Thus, the tone was set; and on December 6, a public war of words broke out. Russian President Vladimir Putin tried to shrug off Lukashenka's criticism and proposed to debate the issue once the journalists left (Naviny, December 6).
Belarusian analysts have offered up at least three possible explanation for Lukashenka's sharp demarche last week. According to Valer Karbalevich, the Belarusian leader was acting on evidence that Russia was planning to postpone energy price harmonization in the EEU beyond 2025, the target year that was earlier designated by the Kremlin (Svaboda.org, December 7). In turn, Yury Drakakhrust argued that the chief reason was just a warm up in anticipation of the tough negotiations over Belarus's putative compensation by Russia for its so-called petroleum tax maneuver (Tut.by, December 6). Specifically, Russia set out to lower its export tax on oil from 30 percent (as it is currently) to zero over the course of six years, starting from January 2019, and to boost the natural resource extraction tax instead. That would require Belarus to stop charging export tax on oil, too, and vastly reduce it on refined oil. As a result, the Belarusian budget stands to lose up to $2 billion (Vedomosti, August 9). According to Alexander Shpakovsky, however, Lukashenka's outburst in Saint Petersburg is hardly breaking news at all, just a continuation of those same justifiable demands to level the playing field on energy prices. Without such true energy price harmonization, there can be no economic integration in principle, Shpakovsky asserts. But, he adds, Russian corporate business greed is standing in the way (Facebook.com, December 7).
One can offer an additional version, which explains not so much the reasoning behind Lukashenka's public spat with Putin, but its timing. Specifically, in early December, Russia's VTSIOM, a state-run polling agency, revealed that Lukashenka enjoys the trust of 65 percent of Russians. Of the Commonwealth of Independent States' (CIS) national leaders, Nursultan Nazarbayev of Kazakhstan came in second, with 49 percent, and President Ilham Aliyev of Azerbaijan was third, with 14 percent. Belarus and Kazakhstan are also assessed, by the same poll, as the most stable and successful post-Soviet countries, with 68 percent of Russian respondents saying that about Belarus and 52 percent about Kazakhstan (Naviny, December 4). Lukashenka's trust rating among Russians has gone up from just 16 percent in 2010 to 65 percent in 2018 (Tut.by, December 5). And this high grade persists despite repeated jibes and, at times, insults leveled at Lukashenka by Russian TV and by some of Russia's popular media outlets, notably Lenta.ru, Regnum and many others.
While some sources claim that in Belarus itself, Putin is more popular than Lukashenka (Segodnya, July 3), this suggestion is only partly backed up by polling evidence. Based on data collected by the Belarusian Analytic Workroom, headed by the sociologist Andrei Vardomatski, 67 percent of Belarusians have favorable opinion about Putin while only 2.4 percent favor Petro Poroshenko of Ukraine (Gazeta.ru, May 25, 2017). Still, Lukashenka is the most popular leader in the entire East-Slavic triangle, as his trust rating in Ukraine was recently 63 percent (Politnavigator, July 17, 2017). Whereas, the Russian leader understandably lost popularity in much of Ukraine, and his Ukrainian counterpart is unpopular in all three East Slavic countries. Fresh evidence of Lukashenka's high rating in Russia may have boosted his chances of presenting his point and even achieving his goals.
Lukashenka's hand would be further strengthened by increased consolidation among his fellow countrymen, at least on some issues of national importance. At present, however, this sounds like wishful thinking. Bitter disagreements continue to dominate language issues inside Belarus. It is a fact that even a partial switch from Russian to the Belarusian language by a local media outlet tends to sharply diminish its audience. And yet, even the most popular and independent outlets like Tut.by continue to draw scourge from some opposition pundits just because they broadcast or publish in Russian (Svaboda.org, December 5). Other observers strongly disagree, however. And—pointedly, in Belarusian-language rebuttals—they contend that simply expressing grudges about the domestic language situation does nothing for the country's future; whereas, fighting attempts to revive censorship and gratuitous legalistic attacks on independent media (like Tut.by) is much more important (Svaboda.org, December 5).
More unity presumably would be desirable, particularly in the face of seemingly impromptu pronouncements by someone like Margarita Simonyan, who directs Russia's propaganda channel RT: "Perhaps I am jumping the gun, but it could make sense to simplify obtaining Russian citizenship by citizens of Belarus, which is spiritually close to us. After all, everybody understands that, perhaps not this year but soon, one more 'point of tension' will emerge there" (Reform.by, December 4). Simonyan's words were evidently meant to suggest that the situation in Belarus is evolving according to the Ukrainian scenario.
More Belarusian social consolidation would also presumably be desirable in the face of some blunt Russian responses to the verbal duel between Putin and Lukashenka in St. Petersburg. The most explosive of those arguably has been the statement by the online newspaper Vzglyad. Specifically, Piotr Akopov, the paper's premier columnist, wrote, "As a Russian Soviet man, Lukashenka cannot but understand the fleeting and accidental nature of the emergence of the Republic of Belarus; that Belarusians and Russians are parts of the same people, and that a return to unity would be a desired outcome for both" (Vzglyad, December 7). The ability to withstand such pressure, therefore, will require the continued strengthening of Belarusian identity.