No Retreat Permitted for Putin's Hapless Conscripts in Ukraine
Publication: Eurasia Daily Monitor Volume: 19 Issue: 60
By: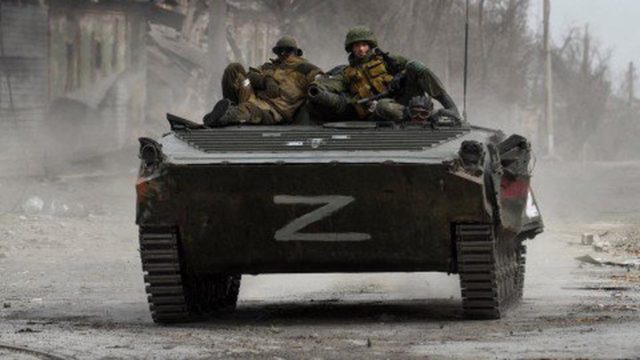 In a throwback to Stalinist-era practices, Russian forces in Ukraine may have been using some of their own detachments as "barrier troops"—a term originating in World War II for so-called anti-retreat forces (Gazeta.ua, March 11; T.me/SBUkr, March 12). The deployment of such units to deter frontline waverers or to punish insubordination among Russian service members has been reported in Kyiv, Sumy, Mykolayiv and Zaporizhzhia oblasts. Zaporizhzhia military administration spokesperson Colonel Ivan Arefyev described the most recent incident of this type as follows: "According to Ukrainian intelligence, Russian troops began to mutiny yesterday in the Polohy Raion of [Zaporizhzhia] Oblast: Russian soldiers refused to fight because they had not received their promised payouts. However, 'kadyrovtsy' brutally killed three of the instigators of the riot who were ready to lay down their arms and head home" (T.me/zoda_gov_ua, April 19).
The Russian Ministry of Defense, for its part, paints a no less dire picture of morale within the enemy ranks, claiming that in the Luhansk region Ukrainian barrier detachments "killed four officers of Ukraine's Armed Forces" to stop them from retreating, and that "the Kyiv nationalist regime" has given orders "to shoot on sight anyone among Ukrainian servicemen and foreign mercenaries wanting to lay down their arms" (Tvzvezda.ru, February 27; Mil.ru, March 17).
Although none of these assertions can be subjected to objective empirical scrutiny at this stage, the claims about the apparent involvement of the kadyrovtsy—elite forces loyal to Chechen Republic head Ramzan Kadyrov—arguably fits their profile, experiences and prior activity. The Chechen regime has frequently been accused of "systematic serious human rights violations by members of law enforcement forces, including torture and ill-treatment, enforced disappearance, arbitrary arrest, extrajudicial killings and secret detention" (Humanrightscommission.house.gov, April 15, 2011). The victims of the atrocities documented by various human rights bodies are primarily Chechen civilians, but some evidence suggests that Kadyrov's forces would have no qualms about opening fire on their supposed Russian comrades-in-arms. At least one such incident has been reported before (see EDM, March 8, 2022) but was hushed up, probably to avoid any blowback from anti-Kadyrov and/or anti-Chechen elements within the Russian administration.
Another compelling reason why the claim that the kadyrovtsy are acting as blocking squads looks plausible is that Chechnya seems to have taken a step toward reviving another war-time practice: penal military units. Last month, Kadyrov announced that one of his "experienced fighters," Apty Alaudinov, will be "in charge of a thousand volunteers from the Chechen Republic" on their way "to participate in the special operation for the denazification and demilitarization of Ukraine [sic]" (T.me/RKadyrov_95, March 17). Alaudinov had been removed from his position as deputy minister of the republic's interior ministry just a year earlier (Kommersant, March 18, 2021), likely over his ties to the former mayor of the industrial town of Argun, Ibrahim Temirbayev. Temirbayev, a well-connected and power-hungry official whom Kadyrov had long suspected of disloyalty, was dismissed from his post in the fall of 2019 and found dead in a ravine in southern Chechnya 18 months later (Kavkazsky Uzel, April 8, 2021). Like his patron, President Vladimir Putin, the Chechen leader is not known to subscribe to the oft-quoted maxim "keep your friends close and your enemies closer"; but for Alaudinov, a police major general, he made an exception by appointing him his personal security advisor (Grozny-inform.ru, March 23, 2021). When Russia re-invaded Ukraine on February 24, 2022, Kadyrov may have felt it expedient to send Alaudinov into the conflict zone to let him prove his loyalty. Now, the disgraced former police official inundates his boss with daily dispatches from the front lines boasting of captured Ukrainian soldiers and "liberated" villages (T.me/RKadyrov_95, April 20, 21).
Both barrier squads and penal troops within the Red Army (known in Russian as "shtrafbats" or "shtrafniki") owed their emergence to Joseph Stalin's infamous 1942 order No. 227, which decreed the creation of special units to punish soldiers and commanders "who have violated discipline due to cowardice or instability." Former criminals, deserters or purged former military personnel were similarly given a chance "to redeem their crimes against the Motherland by blood." Kadyrov's shtrafniki, however, appear to be primarily individuals who might potentially pose a security risk, rather than miscreants or soldiers who flinched in the line of duty.
Among those recently dispatched to Ukraine was, for instance, Rustam (Ruslan) Chakhkiev (YouTube, April 8), who at a young age participated in the Chechen wars and was sentenced in 2002 to 24 years in prison for his alleged involvement in the bombing of a Vladikavkaz market (see EDM, September 16, 2010). It is not clear when Chakhkiev was released and why he did not serve the whole term, despite the severity of the offense attributed to him. But the fact that a former rebel was sent to fight in Russia's war may well reveal the start of a trend.
Even more telling is the plight of Ramzan Khalitov, who was dispatched to Ukraine to command a 100-man unit of irregulars, although there is no record of him having any military training or experience (YouTube, April 9). Last September, Khalitov together with his siblings and 75-year-old father were detained by Chechen police in what looks like an attempt by Grozny to exert pressure on Ramzan's younger brother, Hasan Khalitov, an anti-Kadyrov blogger and activist who lives in exile in Turkey (Kavkaz Realii, September 7, 2021). Hasan Khalitov has long been a thorn in the side of the Chechen authorities with his outspoken criticism of their abuses, alleged ties to organized crime and involvement in targeted assassinations abroad. The authorities have repeatedly sought to silence the blogger without much effect. The Khalitovs even became the target of a family blood feud (see EDM, November 9, 2021). Ramzan Khalitov has had to publicly denounce his brother on multiple occasions. His most recent video, in which he challenges Turkish- and European-based Chechens (never once mentioning his brother by name) to meet him for a showdown in Ukraine, was posted by Kadyrov's top propagandist, Chingiz Akhmadov (T.me/Noh_Che, April 22).
The Chechen leadership's embrace of the anti-Ukraine banner (just like its pretense of safeguarding the rights of eastern Ukrainians from "Nazis" and "Banderites") is blatantly insincere, being little more than an opportunistic way to exalt Kadyrov as Russia's ultimate patriot while simultaneously ridding Chechnya of undesirable elements. The latter is demonstrated by how selectively self-interested Kadyrov's approach is to forming "volunteer" battalions. More importantly, however, practices first tried and tested in Chechnya are frequently adopted elsewhere in Russia (The Guardian, December 1, 2010; YouTube, September 15, 2016; Rand.org, March 30, 2022). If the conflict in Ukraine drags on, the Russian defense ministry may well seek to address its apparent military mobilization problems (Critical Threats, March 23) by forming its own modernized and sanitized version of shtrafbats to send to the war zone.