Opposition Slams Yanukovych for Promising to Renounce Highly Enriched Uranium
Publication: Eurasia Daily Monitor Volume: 7 Issue: 77
By: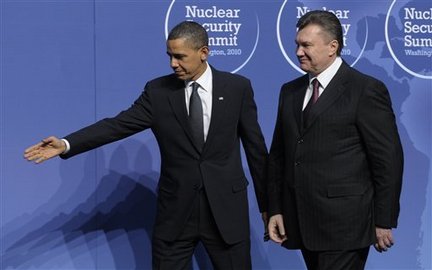 Ukrainian President, Viktor Yanukovych, promised his US counterpart, Barack Obama, to renounce the nation's stockpile of highly enriched uranium (HEU) during their meeting on the fringes of the nuclear security summit in Washington on April 12. In return, Washington offered financial and technical assistance, in particular $250 million to enhance security at the decommissioned Chernobyl nuclear plant. The agreement was touted as a great success by the government. However, the nationalist opposition lambasted the uranium deal as a betrayal of national interests.
Ukraine's stockpile of HEU amounts to some 90 kilos kept at nuclear research centers in Kyiv, Sevastopol and Kharkiv. This would be enough to make several nuclear warheads, according to Ukrainian people's deputy and energy expert, Oleksandr Hudyma (Komsomolskaya Pravda v Ukraine, April 13). Officially, this was a voluntary move designed to make it harder for terrorists to obtain fissile material for use in building a nuclear bomb. Deputy Prime Minister, Volodymyr Semynozhenko, whose remit includes science, said that Ukraine would work more closely with the US in nuclear technologies as a result of the agreement (UNIAN, April 18).
Ukrainian Foreign Minister, Kostyantyn Hryshchenko, said that HEU should be transported to Russia, while Ukraine would receive in exchange low enriched uranium for scientific studies from Russia and the US. He also said that Ukraine needed "the most modern and unique equipment" for nuclear research (Inter TV, April 16). Among Yanukovych's other achievements during the Washington summit, Hryshchenko listed Obama's promise to support financial stabilization in Ukraine and an agreement that US Secretary of State, Hillary Clinton, will visit Kyiv in the summer (Zerkalo Nedeli, April 17).
Opinions about the HEU agreement were less enthusiastic outside the main ruling Party of Regions. Parliamentary, Speaker Volodymyr Lytvyn, whose eponymous bloc is a junior member of the ruling coalition, said on the parliamentary TV channel that the international community would not have allowed Ukraine to keep HEU anyway, but he suggested that it must demand tangible compensation. "The question is what Ukraine will receive for this," he said (Rada TV, April 16). Liberal politician, Arseny Yatsenyuk, who came fourth among 18 candidates in the first round of the presidential election in January, opined that Yanukovych "paid" with HEU for the West's positive attitude. He suggested that the West should first solve the problems of Iran, North Korea and terrorism, and recalled that Ukraine renounced its nuclear arsenal in the 1990's "under pressure from Russia and the US" (Channel 5, April 13).
The nationalist opposition was very unhappy with the government's intention to abandon HEU. Their main argument is that domestic science would be damaged and that the West must give Ukraine additional security guarantees. People's deputy Taras Stetskiv compared relations with the US in the nuclear field to "a one-way street." He recalled that Ukraine renounced the nuclear weapons inherited from the USSR in exchange for the Budapest Memorandum signed by Russia and the US in 1994. It was meant to contain security guarantees, but did not, according to Stetskiv. He also said that the US failed to compensate Kyiv for its agreement in the late 1990's not to build a nuclear plant in Iran (Komsomolskaya Pravda v Ukraine, April 13).
People's deputy Andry Paruby, who is close to former President Viktor Yushchenko, accused Yanukovych of betraying the country's national interests. He also noted that Ukraine "did not receive any official security guarantees" (focus.ua, April 14). Oleh Tyahnybok, the leader of the far-right Freedom party, was the most outspoken. He called the renunciation of HEU "treason," explaining that "the government nonchalantly eliminated even the possibility of the resumption of Ukraine's nuclear status which could become a security guarantee." He predicted that Ukrainian universities would stop training nuclear specialists and lose its scientific potential in the field (www.utro.ua, April 13).
Yulia Tymoshenko, striving to lead a united opposition since her defeat in the presidential election, repeated most of Tyahnybok's arguments in a statement she released several days later. Tymoshenko said that although she supports international nuclear disarmament and anti-terrorism efforts, the HEU agreement was detrimental to the country's national interests. Tymoshenko argued that Ukraine would never let terrorists steal its HEU as there are sufficient control mechanisms, and that "a country that has HEU has more weight in international relations." She pledged to submit to parliament a bill that would ban HEU export, so it would be impossible for Yanukovych to keep his promise (www.byut.com.ua, April 16).
Yanukovych's Spokeswoman, Hanna Herman, reacted by jokingly suggesting that only Bin Laden could be Tymoshenko's ally internationally after issuing such a statement. She suggested that Tymoshenko's statement was not carefully thought through (UNIAN, April 15). Her threat should not be overestimated, as the pro-Yanukovych coalition controls a strong majority in parliament (EDM, April 14) and her bill, if submitted, would most likely be rejected.