Oscillating Between Israel and Iran, Will Georgia Tilt Toward the Islamic Republic?
Publication: Eurasia Daily Monitor Volume: 13 Issue: 131
By: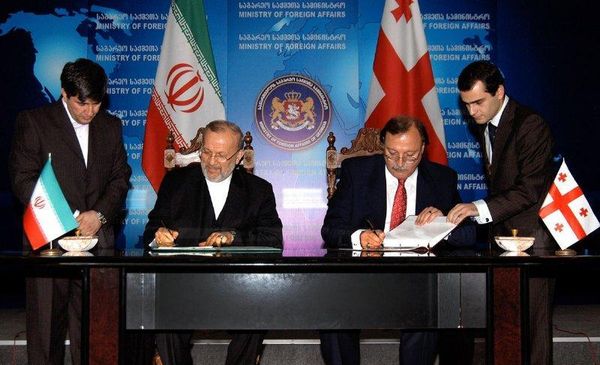 Israeli Prime Minister Benjamin Netanyahu's upcoming trip to Azerbaijan (APA, July 6) highlights his country's growing interest in the nearby South Caucasus region. And indeed, the Republic of Georgia often boasts of its own strategic relationship with Israel. Just this past May, Georgia's industrious Minister of Economy and Development Dimitry Kumsishvili was in Jerusalem to discuss plans with the Knesset's Deputy Speaker Hilik Bar on "further political, trade and economic development" between the two countries (PNG, May 27). A day earlier, at the parliament in Tbilisi, Bar was himself visiting with the "Georgia-Israel Friendship Group" (Parliament.ge, May 26). The Georgians thanked the Israeli delegation for the country's 2014 visa liberalization and requested the introduction of additional working visas for Georgians overstaying them. Bar congratulated the country on its 25 years of independence.
Notably, on April 7, the Israeli company Elbit Systems Cyclone closed the construction deal for a civic aviation plant near Tbilisi with the state-owned investment firm "Partnership Fund" (Facebook.com/PartnershipFund, April 7). Minister Kumsishvili had inspected the company's assets in March, greenlighting a project estimated at $85 million (Commersant.ge, March 8). Yet such activities remain low profile. Even as the National Tourism Administration attempts to drive up visits by Israelis with an advertising campaign (IPN, May 26), Israeli exports to Georgia remains largely insignificant: reaching only $22.6 million in 2015, down from $70.9 million in 2009. Meanwhile, Israel's regional nemesis Iran increased its exports to Georgia from $29.2 million (2009) to $122.7 million by 2014, with a slight dip to $92.3 million in 2015 (Geostat.ge, July 15); Iranian exports are expected to grow further following the nuclear deal. Moreover, the numbers of Iranian tourists to Georgia already registered a five-fold surge in the first six months of 2016 (Civil Georgia, May 3).
Georgia's relations with Israel fall drastically short of the soaring promises announced by then–Georgian prime minister Ivanishvili on his first official visit to the country, in 2013. At that time, Ivanishvili raved of his "dream of Israel as a strategic partner" (Jerusalem Post, June 20, 2013). However, despite persistent assurances of the "26-century-old friendship" between the two nations (Parliament.ge, November 5, 2015), not much can be reported on the ground. Most notably, no military and security cooperation have been reintroduced. Is the proclaimed "dream of a strategic partnership" with Israel just another wishful promise made by the ruling Georgian Dream (GD) coalition?
Ivanishvili had declared mending fences with Israel his foreign policy priority after relations between the two countries—most dynamic prior to the 2008 Russia-Georgia war, and including highly demanded military supplies and training—had stalled in the war's aftermath, only to completely deteriorate in the following years. In mid-2011, then-president Mikheil Saakashvili of the United National Movement (UNM) staged a media-event arrest of Israeli businessmen Rony Fuchs and Zeev Frenkiel, not bereft of some anti-Semitic clichés (Netgazeti, April 6, 2011). An Israeli construction company saw its contracts in Georgia prematurely terminated the year before (Resonancedaily, August 17, 2010); payments for Israeli drones delivered to Georgia were canceled (Civil Georgia, April 9, 2011). In response, an Israeli delegation of military experts visited Abkhazia for consultations (Civil Georgia, April 14, 2011), although no weapons were sold to the breakaway territory. Shortly after Ivanishvili's visit to Israel, Saakashvili accused that country of secretly providing the Russian aggressor with "data-link codes" to Georgia's Israeli-made reconnaissance drones (Civil Georgia, July 6, 2013). The Israeli government conducted an investigation rebutting these claims, which appeared to be based only on Wikileaks wires (Netgazeti, December 16, 2013).
The GD government simultaneously proclaims its commitment to "normalizing relations with Russia" and deepening integration with the European Union and the North Atlantic Treaty Organization (NATO). Such easy espousal of apparently contrary policy directions helps explain why Ivanishvili in Jerusalem also embraced the notion of a possible nuclear deal with Iran (Jerusalem Post, June 20, 2013)—a country that, arguably, poses a grave existential threat to Georgia's presumed "strategic partner." Since the passage of the Joint Comprehensive Plan of Action (JCPOA) on Iran's nuclear program, Georgian top-ranked officials have jumped into the fray of "economic cooperation" with the Islamic Republic (Civil Georgia, May 20, 2015). Although Iran is a prolific sponsor of radical Islamic terrorism throughout the region and an ally of Bashar al-Assad's ruthless regime in Syria, some Georgian officials are also considering cooperating with Iran on issues impacting Georgia's "security dimension" (Civil Georgia, August 9, 2015). For centuries, Iran has viewed Georgia as its domain of influence. With Russia having joined the pro-Assad coalition and increasingly tightly cooperating with Iran, while Iran's other regional adversary Turkey appears in danger of distancing itself from NATO, Tehran evidently sees a welcome opening.
It was after his 2013 visit to Israel that Ivanishvili reintroduced a visa regime for Iranian citizens traveling to Georgia. Yet, less than a year after the passage of the JCPOA, Prime Minister Giorgi Kvirikashvil lifted visa requirements (Netgazeti, February 8), well-prepared for this by a series of meetings with high-level Iranian officials (GPB, January 25, 2015; PIA, May 18, 2015). While the government in Tbilisi is mainly focusing on cooperation in tourism (Commersant.ge, February 10) and energy transit (Tabula, April 13), parts of the GD coalition, represented by Deputy Speaker Gubaz Sanikidze of the pro-Russian National Front party, welcome a "new era" with Iran. Sanikidze envisions that the "rapprochement between the West and Iran will create very significant levers for the Georgian system of security" (Parliament.ge, August 9, 2015).
One of the main negotiators with Iran, Sanikidze in the past saluted Fareydani Georgians for having "two homes" in Iran and Georgia, thus invoking Iran's "brotherly support," while praising the Islamic Revolution as an act of liberation from the West (YouTube, February 3, 2015). Seconded by Speaker Davit Usupashvili, who thanked Iran for its contribution to "the sovereignty and integrity of the Georgian state" (GPB, January 25, 2015), Iran could eventually be welcomed in Georgia as a security guarantor, a role that Iran's leaders themselves have repeatedly urged (FP, September 20, 2010). For the pro-Russian GD faction, Moscow rather than NATO is the more desired provider for Georgian sovereignty, and its recent ally Iran is, therefore, evidently more valued as a potential military partner than Israel.
So far, Georgia is eagerly expanding economic ties to Iran, but it is also gingerly considering possible security collaboration with the Islamic Republic. Israel's economic involvement, on the other hand, remains, at best, moderate, while no military cooperation is even on the agenda. If the GD wins the upcoming elections in October—with its last pro-Western wing, the Republican Party, having already departed the coalition—the pro-Russo-Iranian preference in Georgia's regional politics may further gain steam.