OSSETIAN SEPARATISTS ARE PROVOKING A MAJOR RUSSIAN INTERVENTION
Publication: Eurasia Daily Monitor Volume: 5 Issue: 151
By: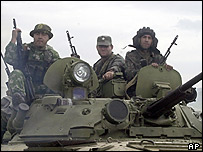 Military tension in Georgia's separatist region of South Ossetia has been building up for several months. In June the head of the OSCE Mission to Georgia Teri Hakala told me in Tbilisi that military clashes were happening on an almost daily basis, that OSCE monitors are also being attacked and that the "sides are not speaking." Since then the situation has gotten worse. Last week the tension escalated into clashes that left at least six Ossetians dead and dozens of Ossetians and Georgians wounded (Interfax, August 1). Further shooting incidents have been reported. The Georgians say the Ossetian claims are exaggerated, but all agree that tension is high and further escalation is possible (RIA-Novosti, August 5, 6).
The latest outbreak of hostilities began on July 31 after two roadside bombs hit a Georgian police Toyota SUV near the Georgian village of Eredvi. Six Georgian policemen were wounded (Interfax, August 1). Russian peacekeepers, according to the Russian Defense Ministry, discovered that the bombs were made out of 122 mm artillery shells (www.mil.ru, August 2). The road leading to Eredvi was built by the Georgians to bypass Ossetian roadblocks near the South Ossetian capital of Tskhinvali. Last November I traveled that road in a similar Toyota to visit the Georgian-controlled part of South Ossetia. This road has been a thorn in the side of the Ossetian separatists for some time. On July 4 a car with the pro-Georgian leader of South Ossetia Dmitry Sanakoyev, whom the separatists consider a renegade, was hit by a roadside bomb and shot at on the same road in almost the same spot. Three bodyguards were wounded, but Sanakoyev was unhurt. A surge of tension followed the attack (RIA-Novosti, July 4; Kommersant, August 4).
The roadside bomb attack on July 31 was followed the next day by bloody clashes. Both sides accused the other of initiating the fighting. The Ossetians admitted six dead and 15 wounded, many hit by sniper fire. The Georgians admitted nine wounded. Both sides accused the other of using mortar fire. The Ossetians announced that 29 Georgian solders had been killed but did not substantiate the claim (RIA-Novosti, August 4). The Ossetians began an evacuation of women and children to North Ossetia (a Russian autonomous republic), called for volunteers from the North Caucasus to join the fight against Georgia, and threatened to attack Georgian cities and to cleanse the Georgian forces out of South Ossetia. The South Ossetian President Eduard Kokoity claimed that Georgians living in South Ossetia were begging to be "liberated" from the forces of the regime in Tbilisi (RIA-Novosti, August 2, 3, and 4).
Kokoity has announced that some 300 volunteers have arrived in South Ossetia to fight the Georgians and that more are coming (www.newsru.com, August 5). Most of the "volunteers" seem to be South Ossetians that were serving in police and other militarized formations in North Ossetia and were sent south as reinforcements. Kokoity has ordered that these "volunteers" be integrated into the South Ossetian Interior Ministry forces (RIA-Novosti, August 6). Yesterday the Ossetians were reporting fierce battles with Georgian forces, while Georgian authorities and Russian peacekeepers reported only shooting incidents in which no one was injured (Interfax, August 6).
The Ossetian authorities have announced the cancellation of a planned meeting with the Georgian side in Tskhinvali on August 7, while the Russian Foreign Ministry said that it believed the meeting had to go ahead (RIA-Novosti, August 6). Russian peacekeepers say that after the initial flare up of fighting on August 1, the situation in South Ossetia has somewhat calmed. The Ossetians insist that it is getting worse (Interfax, August 6). High-ranking Russian officials, including President Dmitry Medvedev and Prime Minister Vladimir Putin, have remained silent about the conflict in South Ossetia.
A public gap has opened between the Ossetian and Russian authorities. The South Ossetian spokeswoman Irina Gagloyeva has publicly expressed dismay: "War is coming, but everyone, including Russia, is turning a blind eye. Russian statements are not helping us" (Kommersant, August 5).
Moscow may have been considering supporting a limited operation against Georgian forces (say, in the Kodori Gorge in Abkhazia) that would undermine the present Georgian government of President Mikheil Saakashvili but could be presented to the world as Abkhaz separatist forces acting on their own (see EDM, May 2). In South Ossetia, no limited action is possible. The Georgians are holding back from outright offensive action, but if the Ossetians succeed in provoking a major confrontation, they will be in trouble. Tskhinvali is semi-surrounded by Georgian positions and is virtually indefensible. To prevent the fall of Tskhinvali thousands of Russian troops with hundreds of pieces of armor must invade South Ossetia through the Rokki tunnel and be rushed forward. High casualties are possible and this would be a clear act of aggression.
Kokoity and other Ossetian officials seem to be bent on provoking a major Russian intervention, but apparently not everyone in Moscow is ready to plunge headlong into war.