Pakistan Confronts Resurgent Baluch Ethno-Separatist Militancy 
Publication: Terrorism Monitor Volume: 18 Issue: 15
By: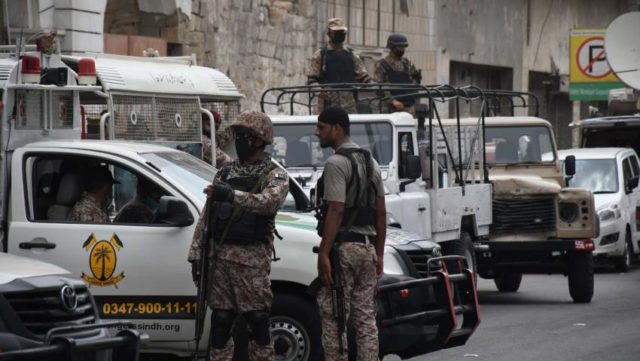 Pakistan has recently faced a renewed ethno-separatist militant surge targeting its financial and energy infrastructure. Four recent attacks indicate a resurgence within the multiple secessionist groups fighting for Baluchistan independence.
On June 29, the Baluchistan Liberation Army (BLA), a banned ethno-separatist militant group, claimed a fidayeen (suicide) attack on the Pakistan Stock Exchange (PSX), in the port city of Karachi. Eleven people died, including four heavily armed BLA militants who attempted to storm the PSX building. Subsequently, the BLA's suicide squad, the Majeed Brigade—named after the deceased, would-be assassin of former Prime Minister Zulfiqar Bhutto, Abdul Majeed Baloch—claimed responsibility for the attack through its media unit 'Hakkal' (Telegram, June 30; see TM, January 25, 2019). Images of slain militants and threats of future operations surfaced on social media platforms, including through Hakkal's dedicated Telegram and Twitter handles.
A week later, on July 5, the BLA again staged multiple attacks targeting security checkpoints belonging to the Levies Force and Frontier Corps, along with a coal mine in Zard Aloo and Chappar Lat area of Hernai in the restive Baluchistan province. BLA claimed responsibility for all three attacks through its spokesman Jeeyand Baloch (Telegram, July 5). On July 14, another Baluch militant organization, the Baluchistan Liberation Front (BLF) claimed responsibility for an ambush on a military convoy in the Kahan area of Panjgur district in Baluchistan, killing three soldiers and injuring several others (Dawn, July 14). BLF spokesman Gwahram Baloch, however, exaggerated the damage, stating that more than 20 security personnel were killed in that assault in a statement later released by the group.
The U.S. Department of State designated the Baluchistan Liberation Army (BLA) as a Specially Designated Global Terrorists (SDGTs) under Executive Order (E.O.) 13224, in July 2019. [1] Pakistan, which imposed a ban on the BLA in 2006, hailed the U.S. designation, as the move limits the groups' funding lifelines.
The BLA and BLF are the oldest and most violent Baluch militant organizations active in the country. However, there are several new armed splinter groups such as the United Baluch Army (UBA), Baluch Republican Guard (BRG), Lashkar-e-Baluchistan, and Baluch Republican Army (BRA) have emerged and joined the insurgency. Baluch Raji Aajoi Sangar (BRAS), a militant conglomeration, was established in late 2018 with a purpose to consolidate the factionalized Baluch separatist movement and to orchestrate concerted attacks against Pakistani security forces and Chinese targets, especially on infrastructure projects associated with the China–Pakistan Economic Corridor (CPEC). BRAS registered its first major attack on  April 18, 2019, when its militants killed 14 people in the remote Ormara area of Baluchistan (Al Jazeera, April 18, 2019). Like BLA and BRAS,  the UBA was also in the limelight this year when its militants targeted a security convoy of an oil and gas exploration company at Peer-Ghaib in Bolan on May 18, killing six Frontier Corps personnel (The News, May 19; Dawn, May 20).
Pakistan often accuses Indian and Iranian intelligence agencies of supporting Baluch militants. Following the PSX violence, Pakistani Prime Minister Imran Khan, named India as a co-conspirator behind the Karachi terrorist attack. Pakistan often perceives Indian or Iranian involvement when the indigenous militant groups unleash violence against state infrastructure and challenge Pakistan's authority. However, investigations into the PSX attack case traced the alleged facilitators and located their handler's location to Kandahar city in Afghanistan (The News, July 1).
These unverifiable accusations against India and/or Iran notwithstanding, Pakistan has successfully diluted and subdued the Baluch independence movement over the years through extrajudicial means and exploited the ideological and operational cleavages between self-exiled Baluch separatist (often termed as nationalist) leaders abroad, such as Hyrbyair Marri and Brahamdagh Bugti, and militant commanders on the ground. However, broader aims and objectives to carve out an independent Baluchistan remain intact among the resurgent armed formations. Influential militant leaders such as Bashir Zaib Baloch, Gulzar Imam, and Mureed Baloch have led the violent strategy against Pakistani security forces and Chinese infrastructures for the last several years.
While Baluch militant groups have intermittently carried out armed assaults in and around Baluchistan province, they have also often ventured into attacking Pakistan's major financial hubs such as Karachi, the provincial capital of Sindh province. However, the latest PSX violence that targeted the backbone of the Pakistani economy and Chinese investments were reminiscent of a similar campaign by Baluch militants when the BLA's Majeed Brigade targeted the Pearl Continental Hotel in the port city of Gwadar on May 11, 2019 (Dawn, December 23, 2016; The Business, May 12, 2019). The hotel was hosting around 40 Chinese nationals at the time of the siege. No Chinese citizens were hurt, but nine people, including four militants, were killed and several injured in that prolonged besiegement. Like PSX in Karachi, the Pearl Continental is known as a hub for Chinese engineers and business travelers and a symbol of Chinese investments in the Gwadar (Express Tribune, May 13, 2019).
The BLA foreshadowed its anti-Chinese intentions by targeting the Chinese consulate in Karachi's Clifton area in November 2018. The consulate attack, though partially foiled, still resulted in seven deaths, including two police officials and three attackers (Dawn, November 23, 2018). The attack was intended to target Chinese officials inside the consulate, directly assaulting the multi-billion-dollar China-Pakistan Economic Corridor project. CPEC, a part of China's massive Belt and Road Initiative, is considered to be a symbol of the exploitation of the Baluch people and Baluchistan's natural resources and has been opposed by separatists since the beginning of the project. Under CPEC, an approximately 2,000 kilometer-long road and rail infrastructure project worth billions aims to connect Xinjiang, China with Gwadar port in Baluchistan. This is the motivating force behind Baluch resentment against Pakistan and the reasoning behind the perception of Chinese exploitation of natural resources. The other reason for anti-Pakistani sentiment among Baluch separatists is the demographic changes in the region due to CPEC and associated developments in the region. This change is mostly due to the exodus of Punjabis and Pashtuns to the province that have made ethnic Baluch people into a minority group.
Now, with the renewed violent campaigns across Baluchistan and beyond, Pakistan is seemingly facing resurgent Baluch ethno-separatism. If groups such as BLA or conglomerations like BRAS remain active and successful in targeting security and infrastructure, Pakistan will likely find it difficult to maintain a robust grip on a matured and motivated Baluch movement.
Notes
[1] "Terrorist Designations of Balochistan Liberation Army and Husain Ali Hazzima and Amendments to the Terrorist Designations of Jundallah", July 2, 2019,  https://www.state.gov/terrorist-designations-of-balochistan-liberation-army-and-husain-ali-hazzima-and-amendments-to-the-terrorist-designations-of-jundallah/