Pakistan PM Imran Khan Offers Talks to Baluch Insurgents: Will it Work?
Publication: Terrorism Monitor Volume: 19 Issue: 16
By: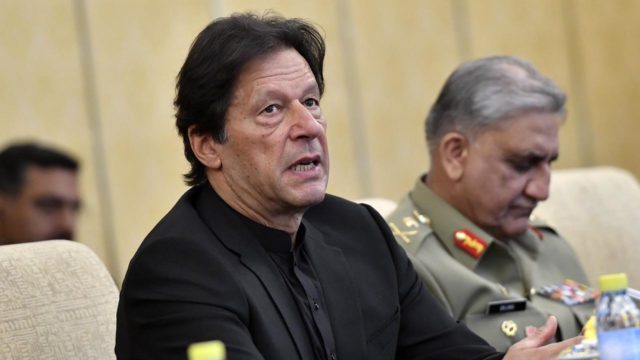 On July 5, Pakistan's Prime Minister Imran Khan announced that his government is considering "talking to insurgents" in Baluchistan province. Speaking at a meeting with local elders and students in Baluchistan's coastal Gwadar district, Khan observed that if funds meant for the province's development had been put to good use rather than channeled away by corrupt politicians, Pakistan would not have had to worry about insurgency in the province. The Baluch people had "grievances," Khan said, which "other countries" like "India may have used… to spread chaos" in the province (Dawn, July 5). A day later, Minister for Information and Broadcasting Fawad Chaudhry stated that the government was "working on a plan for talks" with "disgruntled or nationalist Baloch leaders who were not directly linked with India" (Samaa.tv, July 6). Soon after, the government appointed Jamhoori Watan Party (JWP) head and member of the National Assembly, Shahzain Bugti, as the Prime Minister's special assistant on reconciliation and harmony in Baluchistan (Geo News, July 7).
This is not the first time that Islamabad offered talks to the Baluch rebels. Successive governments have engaged in dialogue with them, even talking to those in self-imposed exile (Dawn, July 12, 2011; Dawn, January 31, 2014 and Dawn, August 15, 2016). However, none of these initiatives bore fruit or even took off.  Will this be the fate of this latest initiative?
Protracted Conflict in Baluchistan
The roots of the Baluch conflict can be traced back to 1947-1948, when the leaders of newly created Pakistan promised the Khan of Kalat, the ruler of the largest princely state in the erstwhile Baluchistan Agency, independence, but then backtracked to annex it in March 1948 (Express Tribune, June 14, 2011). Alienation from the Pakistani state runs deep among the Baluch. Baluchistan's forcible annexation in 1948, the centralization of political power and decision-making in Islamabad, and economic exclusion of the Baluch are among the main reasons for this alienation (The News on Sunday, July 16, 2017).
In recent years, successive governments in Islamabad have hailed the China-Pakistan Economic Corridor (CPEC) for bringing economic development to Baluchistan, ending its economic exclusion, and improving the well-being of the Baluch people (Gulf News, July 5). However, although Baluchistan plays a central role in CPEC, and especially Gwadar port, which is the project's lynchpin, the province has benefited little. Of a total investment of $60 billion in CPEC projects, just $400 million has been spent in Baluchistan. Little investment has accordingly been made in road and energy infrastructure in Baluchistan (Gandhara, January 14, 2019). Moreover, only a small percentage of Baluch figure among those employed on CPEC projects (Balochistan Voices, December 29, 2019).
Pakistan views the Baluch conflict through the lens of law and order and hence has framed the solution in military terms, and has poured tens of thousands of troops to quell 'unrest' and eliminate terrorists. But this military approach has resulted in bloodshed and forced disappearances of Baluch youth. This has intensified Baluch anger, prompting more people to desire independence over provincial autonomy and pick up arms against the state.
Responding to Rising Attacks in Baluchistan
The Baluch insurgency has waxed and waned over five phases, the most recent erupting in 2006. While Pakistani authorities claim that the situation in the province has improved, "terrorism-related incidents" in Baluchistan have increased. For example, they rose from 72 incidents in 2019 to 122 incidents in 2020. Most of the attacks have been carried out by the Baluch Liberation Army (BLA). In addition to attacking the Pakistan security forces, Baluch militants have targeted infrastructure projects, especially those related to CPEC. At least six attacks on oil and gas installations took place in Baluchistan in 2020, up from two the previous year (South Asia Terrorism Portal, 2021).
Several Chinese workers and nationals have been attacked and killed, both inside Baluchistan and outside the province. On July 14, for instance, an explosive-laden car rammed into a bus carrying Chinese and Pakistani personnel to a Chinese-funded dam project at Dasu in Khyber Pakhtunkhwa province killing nine Chinese citizens and four Pakistanis (Dawn, July 17). The Baluchistan Liberation Front (BLF), which claimed responsibility for an attack on two Chinese engineers in Karachi on July 28, accused China of "abetting Pakistan in its exploitation and rampant human rights abuses in Balochistan" (Balochistan Post, July 28).
Lack of Seriousness
Will Khan's plans for talks with the Baluch rebels have a positive outcome, or even get off the ground? His first steps do not bode well. He may have erred by choosing Shahzain Bugti as his peace envoy. Shahzain belongs to Baluchistan's powerful Bugti clan and is the grandson of Nawab Akbar Bugti, whose assassination by the Pakistani military in 2006 catalyzed the current phase of the insurgency. However, he lacks the stature among Baluch tribes that is essential to bring them on board peace talks, and the general view among prominent Baluch people is that Khan's appointment of Shahzain signals his lack of seriousness about the dialogue (Voicepk.net, July 11).
Moreover, the Khan government has not kept the Baluchistan provincial government in the loop. It was not taken into confidence by Islamabad and the elected representatives of the Baluch people were not consulted on the issue of talks with insurgents or the choice of the peace envoy. This has left the impression that the federal government is not seriously interested in the peace initiative [1]
Is the Military on Board?
Even if Prime Minister Khan wanted to hold talks with Baluch leaders, he may not have the authority to do so, as it is the military that calls the shots on almost everything related to Baluchistan. [2] For the Pakistan Army, talks are at best tactical. According to Baluch separatist leader Hyrbyair Marri, when the government talks "about negotiation and peace they [the military] mean to hit us harder than before" (Scroll.in, October 2, 2015). Even in those instances where the political and military leadership had tasked an elected representative of the Baluch people with engaging Baluch nationalists in self-exile abroad and militants, "the military leadership did not show any interest in pursuing the peace process with the nationalists" (Voicepk.net, July 11).
While it is unlikely is that Prime Minister Khan would have announced talks with Baluch rebels without receiving some kind of a green signal from the military—whether the latter is serious about a negotiated settlement is doubtful. For meaningful progress to be made, the government must initiate confidence-building measures and convince the military to release thousands of civilians who were abducted and in custody or were disappeared, a key demand of Baluch nationalists (Gandhara, February 17).
It is likely that the talks offered has been made not so much because Islamabad is seeking a negotiated settlement to the Baluch conflict as much as it is trying to manage the conflict in Baluchistan and put a lid on the violence there. With the situation in Afghanistan deteriorating and Islamabad worried about the rise of the Pakistani Taliban, it could be seeking to calm the Baluch insurgency by initiating talks with the leaders. Khan seems to believe that tackling corruption and ushering in development will resolve the conflict. A serious effort to resolve the conflict requires Pakistan to recognize that the Baluch conflict is mainly a political one, however, and needs a political solution. There are no signs that Khan or the military have sufficiently appreciated the political underpinnings of the conflict.
Notes
[1] Author's Interview, noted Pakistani journalist Umair Jamal, Lahore, Pakistan, August 11.
[2] Ibid.