Pakistan's Most Wanted: A Profile of Tehrik-e-Taliban Leader Baitullah Mahsud
Publication: Terrorism Monitor Volume: 7 Issue: 10
By: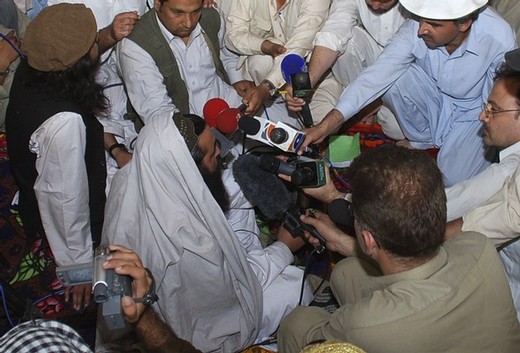 By threatening to attack the White House and making a bizarre claim of responsibility for the shooting rampage at a U.S. immigration center in Binghamton, New York, the Tehrik-e-Taliban [TTP] chief in Pakistan's restive tribal areas – Baitullah Mahsud – has been making big headlines in global media. Once regarded as a "soldier of peace" by Pakistani military officials and more recently as a "patriotic Pakistani," the hardened militant commander is now considered to be Pakistan's enemy number one (see Terrorism Focus, January 9, 2008; Daily Times [Lahore], April 6; Dawn [Karachi], March 26).
Baitullah is the second Pakistani to carry a U.S. government bounty of $5 million on his head. The first Pakistani on the U.S. wanted list was Mir Aimal Kasi, who was deported from Pakistan to the United States, where he was tried and executed in 2002 for the murder of two CIA agents outside the agency's headquarters in 1993. Baitullah Mahsud, who is locally referred to as "Amir Sahib," has been designated by the US State Department as a key al-Qaeda facilitator in the South Waziristan tribal region of Pakistan (BBC Urdu, April 8).
From Seminary to Top Taliban Commander
Only five years ago, Baitullah Mahsud was an unknown talib (student). His name first surfaced when he filled the vacuum after the Taliban commander in South Waziristan, Nek Muhammad Wazir, was killed in a 2004 U.S. drone attack. Baitullah shot to prominence as a charismatic Taliban leader when he signed a peace deal, known as the Sararogha agreement, with the Pakistani government in February 2005.
Now in his mid-30's, Baitullah was born in Dawud Shah village of the Bannu district of the North-West Frontier Province (NWFP), bordering the restive North Waziristan tribal agency. As his name indicates, Baitullah Mahsud belongs to the Shubi Khel branch of the Mahsud tribe. Baitullah's father Maulana Muhammad Haroon Shah was not a well-off man. He was the imam of a small mosque in Dawud Shah where the local people had collectively rented him a house. Baitullah had five brothers – the youngest, Yahya Mahsud, was killed last year by unknown assailants in Bannu. Among the others, Baitullah's elder brother Zahir Shah and a younger brother, Muhammad Ishaq, are both associated with the banned TTP. Baitullah's father died a few years ago and his mother now stays with Baitullah in South Waziristan (BBC Urdu, April 8).
Until recently, Baitullah lived in Bannu. He received his early religious education in a village madrassa (seminary). Baitullah also had some formal/secular education in a government school but dropped out, leaving his education incomplete. He then went to a religious seminary in Miranshah, North Waziristan, headquarters of the militant Haqqani Network. Even here, Baitullah did not complete his grades but nevertheless went back to Bannu and served there as an imam for a short period of time (BBC Urdu, April 8).
Baitullah was soon inspired by the Taliban movement in Afghanistan. He already had an acquaintance with some Taliban leaders from his stay in a seminary close to the Haqqani madrassa. He joined the movement and fought alongside the Taliban against the Northern Alliance in Bagram. Victory there encouraged him to fight on other fronts in Afghanistan as well.
Baitullah fled Afghanistan and settled in the Mahsud area of South Waziristan after the Taliban regime was overthrown by the U.S.-led invasion in late 2001. Baitullah married a few years ago in Bannu, but contracted another marriage last year with the daughter of tribal elder Malik Ikramuddin because he had no children from his first wife.
Baitullah's Links with the Media
Until recently, Baitullah was not as media-savvy as his predecessor Nek Muhammad or other local Taliban leaders like the late Abdullah Mahsud. Baitullah used to shun media appearances but has now realized the importance of both media and media-men. Local tribal journalists say that he is very friendly to them now. In January 2008, he made his first TV appearance on al-Jazeera. Four months later he invited a group of journalists from Islamabad and Peshawar for a feast and his first-ever public press conference in South Waziristan. When a journalist in Swat, Musa Khan Khel, was killed in February 2009, Baitullah issued special directives to his deputies to look into the matter. The journalists based in tribal areas and the frontier province claim to feel more threatened by Pakistani intelligence agencies than Baitullah and his commanders (Geo TV, April 11).
Baitullah has exploited this trust relationship with the journalists to get his message across. Despite his hatred for the West (and the United States especially), he has appeared in interviews on the BBC and even the U.S. Voice of America network (BBC, January 29, 2007; VOA, March 31). Baitullah has avoided having his picture taken by the media, a trait he shares with the Taliban Supreme leader, Mullah Muhammad Omar, to whom he has pledged his allegiance.
Baitullah's Military and Political Acumen
Despite the fact he has very little education, Baitullah is known for his political acumen and tactical skills. He has the charisma to unite local fighters and keep his following intact. He has a private militia of more than 20,000 who are skilled in various guerilla tactics. Baitullah demonstrated his military might in late 2007 when his men arrested some 250 Pakistani soldiers and kept them hostage for more than two months in South Waziristan. They were released in exchange for 25 Taliban militants, among them several who had been trained to carry out suicide bombings (Dawn [Karachi], December 31, 2007). Baitullah is believed to have sharpened his guerilla skills under the leadership of veteran jihadi commander Jalaluddin Haqqani – who fought against the Soviet Union and then sided with the Taliban before providing a safe haven in the North Waziristan tribal agency to top al-Qaeda militants after the U.S. bombing of Afghanistan's Tora Bora Mountains in early 2002.
Baitullah Mahsud has used the terms "shari'a" and "jihad" to consolidate his power-base in South Waziristan before extending it to the rest of the tribal areas and parts of the NWFP. He introduced the tactics of suicide bombing and beheading of anti-Taliban "spies." More than 200 pro-government tribal elders have been killed on such charges in order to silence any voice of dissent or traditional authority. The phenomenon of suicide bombing was something new for Pakistani society when it was introduced in 2007. Commander Qari Hussain, a close aide to Baitullah, has trained numerous suicide bombers, most of them poor and uneducated boys, some as young as 7 years-old. Qari Hussain was a member of the banned anti-Shi'a outfit, Sipah-e-Sahaba, before joining Baitullah's TTP. In the last year alone, some 725 people were killed in suicide bombings across Pakistan – mostly police and army officials, along with a significant number of bystanders (Daily Times [Lahore], December 31, 2008).
Baitullah has tactfully exploited almost all the "peace deals" and "cease-fire agreements" reached with the government and military officials in his own favor. He struck the first peace deal in February 2005 and the second in February 2008. Both raised his stature and allowed him time and space to raise his militia. These deals, however, were made to be broken, with a huge consequent loss to the government of Pakistan. The peace deals in nearby Swat and Bajaur were also inked after Baitullah gave a green light to his deputies.
After forming the TTP in December 2007, Baitullah Mahsud faced tough resistance from Commander Maulvi Nazir in Wana and Hafiz Gul Bahadur in Miranshah, which he overcame by bringing them under the umbrella of the Shura Ittihad al-Mujahideen (United Mujahideen Council – UMC) in February 2009 (Daily Khabrain [Islamabad], March 10). Baitullah still faces a challenge from the local Abdullah Mahsud group, consisting of followers of the late commander led by Qari Zainuddin Mahsud and Turkistan Bitani. On March 26 a TTP suicide bomber killed 11 people in an attack on a restaurant where fighters belonging to Turkistan Bitani's command were eating. A TTP spokesman said the attack was revenge for the killing of 35 TTP fighters by Bitani's men last year (Al-Sharq al-Awsat, March 26).
Baitullah Mahsud is still a suspect in the murder of Pakistan's former premier, Benazir Bhutto, a case in which he denies any involvement. However, he has accepted responsibility for several suicide and guerilla attacks in various places, including the recent attacks on a police training academy in Lahore, a police station in Islamabad and a suicide attack on a military convoy in Bannu. He has threatened more serious attacks inside Pakistan unless the U.S. drone strikes are halted (Daily Times [Lahore], April 3). As a revenge for the drone attacks, he claimed to have engineered the Binghamton shooting on April 3, but such statements have only made him a laughing stock (The News [Islamabad], April 5).
Conclusion
Despite Baitullah's recent boasts, he is still very cautious and calculated. He avoids being photographed and moves with heavy security and special guards. He may think he could still be a strategic asset for the Pakistani security establishment but he also fears the risk to his life from the targeted drone attacks and the U.S. bounty on his head. His claim that he is planning an attack on the White House actually indicates that he has no intention of doing so – if he was planning such an attack he wouldn't specify the target in advance. Baitullah has the ability to conduct terrorist attacks inside Pakistan and Afghanistan but has not acquired the capacity to engineer transnational operations.
As well as being a regional force with the skills needed to unify the scattered local jihadis, Baitullah Mahsud acts as an al-Qaeda facilitator. He has sufficient acumen to be a player in local politics but plays only a small role in global politics. He can send a young suicide bomber to attack an easy target inside Pakistan or Afghanistan but cannot transport him to a European country or the United States. In his ideology, Baitullah is more impressed by Mullah Omar than Osama bin Laden. Like Mullah Omar he is waging jihad aimed at creating an Islamic government in Pakistan and Afghanistan. He still has a localized agenda but wants foreign troops to leave Afghanistan. Despite several peace deals with the Pakistani government, he has never stopped his men from attacking U.S. and NATO forces across the border in Afghanistan.