PEOPLE OF NORTH CAUCASUS BELIEVE THEIR HOPES FOR JUSTICE DIED WITH POLITKOVSKAYA
Publication: Eurasia Daily Monitor Volume: 3 Issue: 186
By: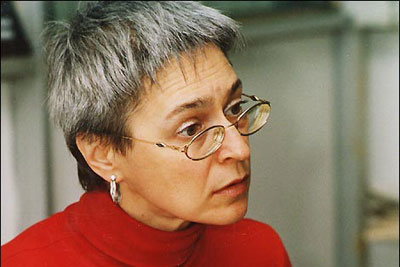 The October 7 murder of Anna Politkovskaya, the Russian journalist who wrote about human rights violations in the North Caucasus, has enraged the people of the region. "I regard the death of Anna Politkovskaya as an act of political terror," Chechen student Osam Masaev told Kavkazky Uzel. "Many people in power did not like her reports on Chechnya. She was a Human Being and a Journalist — with capital letters," he added. Taisa Isaeva, director of the Chechen Human Rights Information Center, echoed many reactions, commenting, "Anna Politkovskaya was one of those few Russian journalists who were really respected and liked in Chechnya. She was respected for her bravery to write the truth about what was going on here. That is why her assassination was taken very hard here. Many Chechens regarded her as one of them, because she had known too well the situation in the republic."
Residents of Kabardino-Balkaria expressed similar feelings. "Politkovskaya's reporting was the only alternative to the official propaganda that tried to conceal the real situation in the North Caucasus," said Valery Khatazhukov, a local human rights activist (Kavkazky Uzel, October 8).
Politkovskaya was very popular in the North Caucasus and the West. Her articles and clippings can be found in almost every home in Chechnya or Ingushetia. Her fame spread to Kabardino-Balkaria after the bloody October 13, 2005, rebel raid on the regional capital, Nalchik. When the authorities refused to return the bodies of the rebels or bystanders suspected of being rebels, Politkovskaya wrote several articles about the relatives' desperate attempts to make the authorities change their minds and release the corpses for proper burial.
But as she became increasingly admired in the North Caucasus, Politkovskaya became increasingly unpopular in Russian society. While Caucasians regarded her as a defender of their rights, many Russians, including the Russian establishment, regarded her as "a traitor" linked with the "Chechen bandits." Many Caucasians fear that, following her death, no one else in Russia will dare speak out against the massive human rights violations in the North Caucasus, especially in Chechnya.
The Chechen rebels also expressed their sorrow at Politkovskaya's murder. Akhmed Zakaev, the rebel envoy in Europe, issued a statement saying: "On behalf of the Chechen president Doku Umarov and the Chechen [rebel] government I feel it necessary to condemn the murder of Anna Politkovskaya, which is aimed at terrorizing all independent journalists in Russia. The memory of the great Russian woman who sympathized with the tragedy of the Chechen people will be forever in our hearts and one day will be commemorated in the Chechen Republic" (Chechenpress, October 8).
The pro-Russian Chechen authorities' reaction to the murder was rather confused. In an interview given to Gazeta newspaper, Alu Alkhanov, the pro-Russian Chechen president, recognized the fact that Politkovskaya had been an honest journalist who "had been writing about corruption among officials not only in the Chechen Republic, but also in the whole North Caucasus." However, Alkhanov then made a rather odd observation: "Sometimes Anna wrote something that looked like just the fruit of her imagination, not facts, but this is not a reason to kill a human being, especially a journalist." Then he said more directly, "I doubt that anybody among us [the pro-Russian leaders of Chechnya] can be connected with her death. It is nonsense that Ramzan Kadyrov could be involved in her death." Then Alkhanov unexpectedly admitted that Politkovskaya had been writing not only about corruption, as he had just mentioned, but also about human rights violations and torture. "Everything that she had been writing about was true," Alkhanov added, sounding as if he forgot what he had just said about Politkovskaya's "imagination." At the end of the interview Alkhanov rejected again any speculation about possible involvement of the pro-Russian authorities of Chechnya in her death, saying, "It would have been much easier to kill her in the North Caucasus than in Moscow."
Ramzan Kadyrov, the prime minister of the pro-Russian Chechen government, commented on Politkovskaya's assassination only briefly. His press service issued a statement saying that Kadyrov hoped for an objective investigation and that there were no grounds to connect this murder with Chechnya (Gazeta, October 8).
Kadyrov's terse comment and Alkhanov's very contradictory interview have only strengthened suspicions that Kadyrov might have ordered Politkovskaya's murder. Recently Politkovskaya had been sharply critical of Kadyrov, calling him "a state bandit" and "Putin's most tragic mistake." In an interview given to Radio Liberty just three days before her death, Politkovskaya said that she had acquired documents and photos that linked Kadyrov's personnel with the kidnapping and murder of innocent Chechens. Dmitry Muradov, the editor-in-chief of Novaya gazeta, the newspaper where Politkovskaya worked, reminded readers that last May Khairudin Visengireev, then secretary of the Chechen Security Council, had warned him, "Politkovskaya is asking for trouble" and advised Muradov not to send the journalist to Chechnya (Kavkazky Uzel, October 9).
There are many theories today about who could be behind Politkovskaya's death, but residents of the North Caucasus, who have considerable experience with "state terror," would not be surprised if one day they discover that Kadyrov or even Russian President Vladimir Putin could have been behind the murder of the person whom they regarded as their last hope for justice.