Polish Natural Gas Projects Threaten Gazprom's Position in Central and Eastern Europe
Publication: Eurasia Daily Monitor Volume: 13 Issue: 105
By: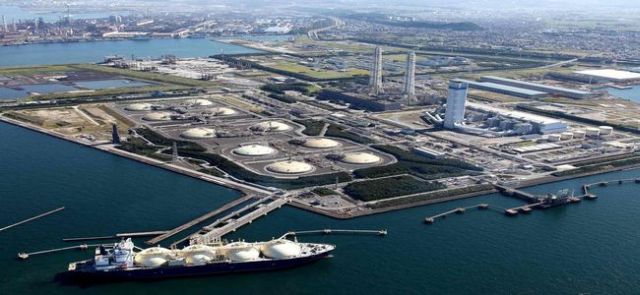 On May 17, Polish state-owned natural gas pipeline network operator Gaz-System S.A. published its updated strategy for 2016–2025. A noteworthy new element in the document is the plan to create a natural gas hub in Poland, aimed at establishing a regional gas market in Central and Eastern Europe (CEE). If successful, it would provide regional countries with new sources of natural gas, thus creating an alternative to their dependency on Russian Gazprom, and undermining Moscow's energy policy in the region (Gazeta Wyborcza, May 17).
Poland, which imports from Russia about 70 percent of the natural gas it consumes, has already undertaken several steps aimed at diversifying sources and routes of delivery. The main one is the construction of the liquefied natural gas (LNG) terminal in Świnoujście, which currently has an annual capacity of 5 billion cubic meters (bcm). Starting from June, the terminal will be capable of sending LNG deliveries directly into the Polish gas system, with plans also in the works for sending additional volumes to Ukraine (Gazeta Wyborcza, May 17). Natural gas from the LNG terminal will cause an oversupply of the domestic market. Poland is bound by a long-term contract with Gazprom (until 2022, the company will supply 10.2 bcm annually). Combined with domestic production (4.5 bcm annually), this fully satisfies Poland's gas consumption (Biznesalert.pl, June 1; Polskie Radio, June 8). The only option for the excess commodity is its export to neighboring states, thus strongly encouraging regional cooperation.
This trend will only intensify in the future. The new strategy of Gaz-System S.A. proposes the construction of additional gas import routes and provides two alternative scenarios. The first one is further development of the Świnoujście LNG terminal to increase its regasification capacity to 7.5–10 bcm per year and the construction of the Baltic Pipe (gas pipeline linking Poland with Denmark and Norway) with an annual capacity of 10 bcm. An alternative scenario also includes increasing the Świnoujście terminal's capacity; but instead of the Baltic Pipe, it proposes building a second LNG terminal, located on the Gdańsk Bay, with an annual capacity of 10 bcm. In both cases, the company envisions the construction of a new natural gas storage facility, its location dependent on which option will be chosen (Gaz System, May 17). The first option is openly favored by the Polish government, which views the Baltic Pipe as a strategic investment in the energy security of the Polish natural gas sector (Premier.gov.pl, April 18). The decision, to be made by the company before the end of the year, will be dependent on the negotiations with Denmark's Energinet.dk as well as the feasibility of the construction of the Baltic Pipe.
The realization of one of the above options promises to increase Poland's role on the European natural gas market (Biznes Alert, May 17). It will require linking the Polish gas network with the gas markets of neighboring states—first of all Lithuania and Ukraine, but also with Germany, the Czech Republic and Slovakia (Reuters, January 22, 2015). This includes both increasing the capacity of the existing infrastructure and building new pipelines. The linking of the natural gas infrastructure of Poland, the Czech Republic and Slovakia has already started. These gas pipeline interconnectors form a cornerstone of the planned North-South Corridor for energy transmission in the CEE region, which was granted Project of Common Interest (PCI) status by the European Union—thus easing financing, planning, etc. for this strategic regional project. Meanwhile, the construction of pipelines to Ukraine and Lithuania is currently being discussed. But due to continuing negotiations regarding financing, the realization of these interconnectors in the foreseeable future is not certain.
If these infrastructure upgrades go ahead, Ukraine could potentially become Poland's most important partner in creating a regional natural gas market. Ukrainian state-owned company Naftohas is seeking new routes for gas deliveries from sources other than Russia (Ukrainska Pravda, January 19, 2015). From the Polish point of view, a larger connection to Ukraine's gas system will permit access to the country's large natural gas market and its gas storage facilities—which have a capacity of 30 bcm (see EDM, July 16, 2013)—as well as provide an infrastructural link with Southeastern European gas markets.
The establishment of a natural gas hub in CEE is also dependent on extra-regional factors. The project does need EU support, especially with regard to the 55 bcm Nord Stream II gas pipeline from Russia to Germany, which would render Poland's role as a gas hub economically unfeasible. New large-scale supplies of Russian natural gas through this pipeline would enable Germany to become an alternative gas supplier for the region, yet it would not eliminate the region's dependency on Russia as a primary source of the commodity (Osw.waw.pl, April 13). Developments in the global gas market, especially the LNG sector, are also of importance. The price of natural gas has decreased due to its oversupply, yet it is uncertain if it reached a level that would make it feasible for regional states to purchase gas internationally via not only short-term, but also long-term contracts and limit their cooperation with Gazprom (Ceep.be, March 23). However, even if the region's states choose not to import LNG through the Świnoujście terminal, the very existence of such an option will increase competition in the market. CEE countries will thus strengthen their negotiating position vis-à-vis Gazprom and possibly be able to force concessions from the latter, not only with regard to price, but also in terms of contract conditions—such as duration or the "take-or-pay" clause written into many Gazprom contracts, which force buyers to purchase pre-agreed-upon volumes of gas even when they are not needed.
The creation of a regional gas market in Central and Eastern Europe will also have political consequences. Gazprom's monopolist or dominant position across the region will erode. Thus, Russia will lose one of its key instruments of political leverage in CEE. When facing states with alternative sources of natural gas, Moscow will presumably be forced to alter its aggressive energy policy. Additionally, the creation of a joint regional natural gas market in CEE is a necessary condition for the EU's Energy Union to be effective in establishing a competitive and secure European-wide gas market. Much is at stake, therefore, to make sure the project is successful.